2019's Only Watch saw a new benchmark set as a one-of-a-kind Patek Philippe Grandmaster Chime sold for over $30m, far more than the rest of the Only Watch lots combined. For 2021, Patek Philippe has thought laterally and done something completely different. Instead of offering us a one-off wristwatch, Patek Philippe has gone all-out on a one-off desk clock. Let's take a look.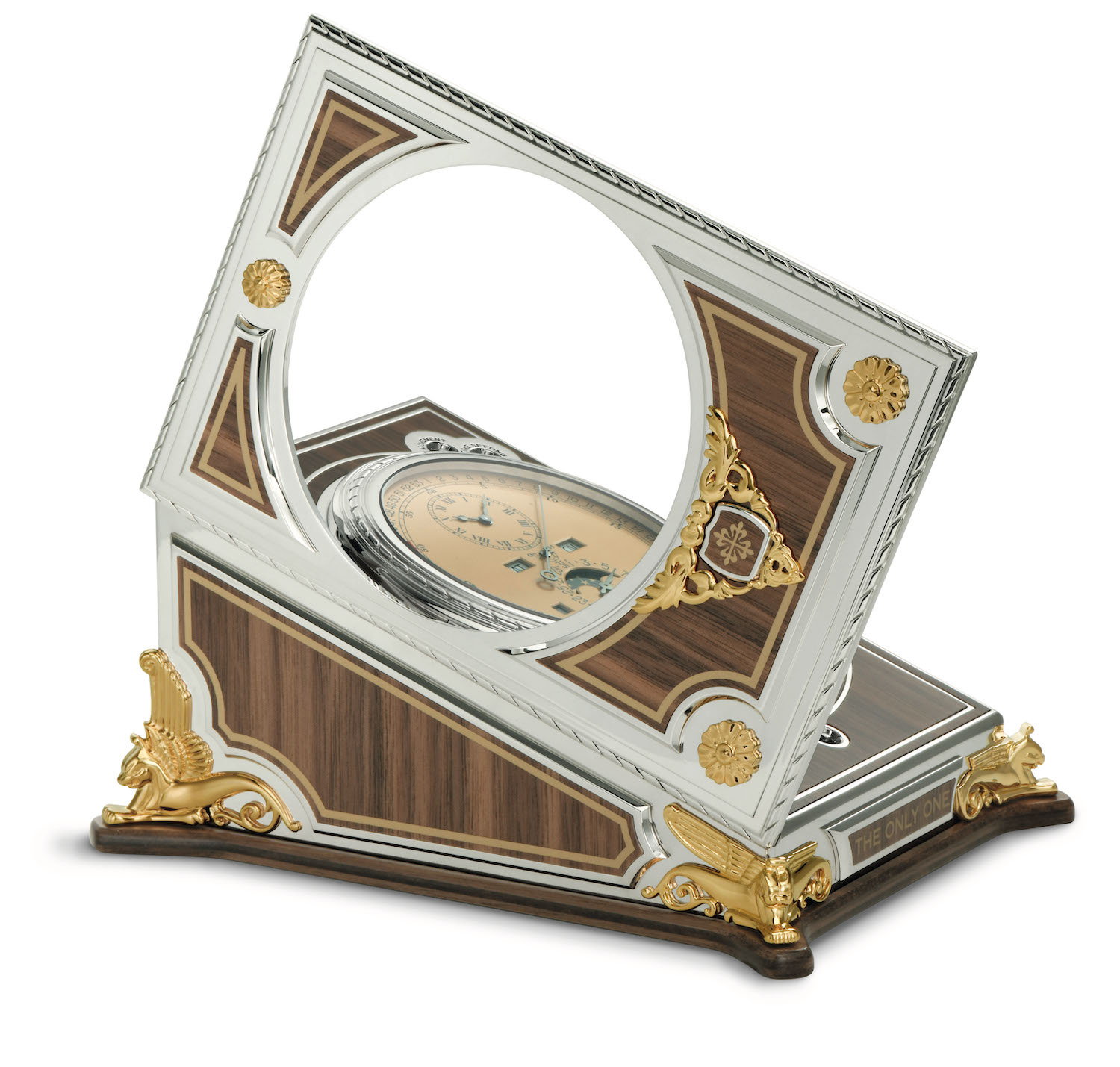 It's clear that Patek Philippe is looking to set a new record once more, and with the Grandmaster Chime done, it was unlikely they'd set that record with another wristwatch, given that the Grandmaster Chime is about as Patek Philippe's wristwatches get. This particular piece has been inspired by a Patek Philippe desk clock commissioned by American automobile mogul James Ward Packard that Patek Philippe delivered in 1923.
The face of the clock features a salmon colouration which is popular on extremely high-end Patek Philippe and A. Lange & Söhne watches at the moment. It features a peripheral week display with a red box to indicate the number of weeks in the year (including leap years), a moonphase display, a power reserve indicator and all the accoutrements of a perpetual calendar which this clock has as well. 
The movement inside this clock is a one-off piece called the calibre 86-135 PEND IRM Q SE. It has a power reserve of 31 days and is exceptionally accurate, rating at +/- 1 second per day. To keep this wound up, the cover over the top of the cabinet lifts up to reveal a winding key and the adjustments for the dial. As you'd expect, the crank for the movement is as beautifully finished as the rest of the clock, which is presented in a case with American walnut inlays and gold vermeil (.925 sterling silver plated with gold) for extra decoration. Veneer work and detailing like this wouldn't be out of place in a Bentley. It's great to see other professions working at this calibre as well.
This one-off's official estimate is between CHF400,000 and CHF500,000, but let's be honest, we can easily add one or two more zeroes on there quite comfortably. Only Watch is a bi-annual charity auction hosted at Christie's in Geneva with the funds from the unique pieces going to research into Duchenne Muscular Dystrophy, one of the most common and most severe types of Muscular Dystrophy.
Visit Only Watch here.