Since 1995, Roger Dubuis has continued to innovate with daring and Avante Garde watches that still respect the traditions of classic watchmaking. Nothing shows this better than the four releases announced at SIHH 2018.
Excalibur Spider Pirelli Reference RDDBEX0696
With electric blue highlights popping off the black DLC treated titanium case, the Excalibur Spider Pirelli Reference RDDBEX0696 is
instantly
eye-catching
.
Roger Dubuis claim that the Spider Pirelli limited editions are the only timepieces that are 100% skeletonized, and looking at the spectacular bridge work on display, I'm inclined to agree with them
.
Both watches feature the astral skeleton signature, the stylized star outline on the right-hand side of the watch, that Roger Dubuis is famous for
.
Excalibur Spider Pirelli Reference RDDBEX0705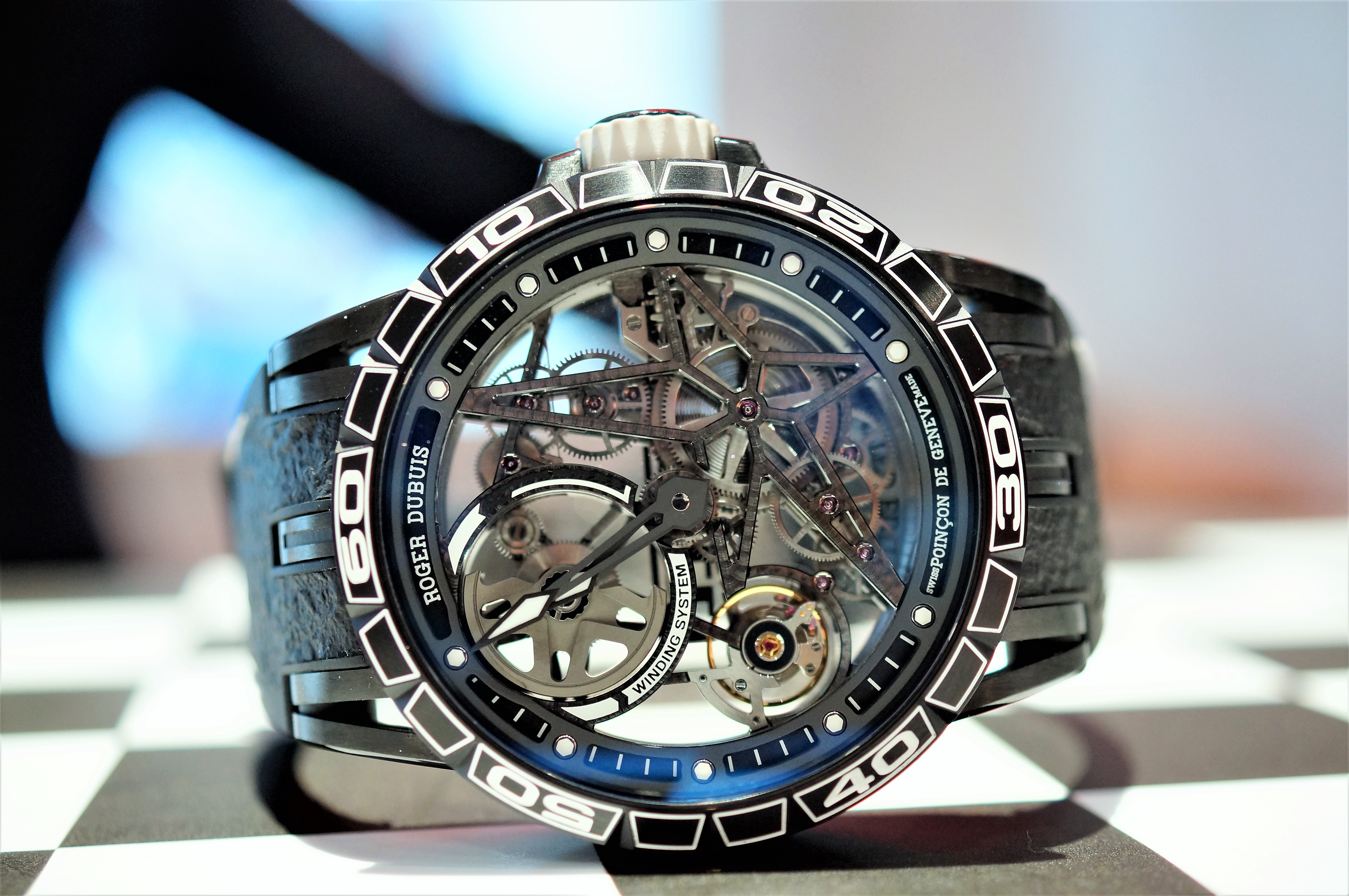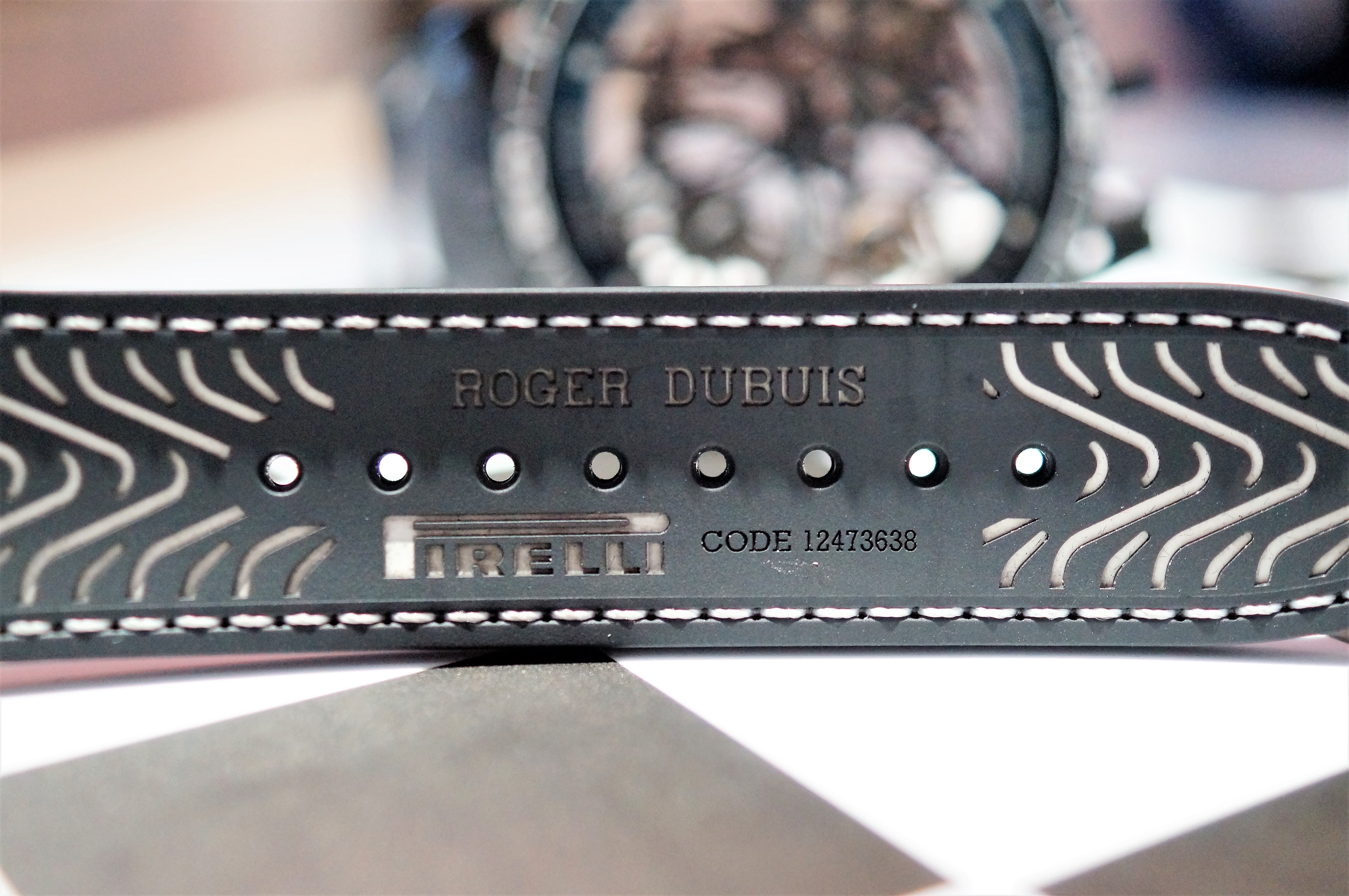 In cool white, the Spider Pirelli Ref.
RDDBEX0705 is more subdued than its blue counterpart, but its
equally
as impressive as both watches use the Caliber RD820SQ, Roger Dubuis's first automatic skeleton movement with a micro-rotor
.
Micro-rotors are exactly what they sound like, small versions of the full-size rotors
commonly
seen on watches
. 
They were first used on pocket watches and the first wristwatch with a micro-rotor was the Universal Geneve Polerouter released in 1955
.
Typically
the micro-rotor
is placed
on the back of the watch but here it
is placed
in full view at 10 o'clock and
is skeletonized
just
like the rest of the movement
.
Excalibur Aventador S Reference RDDBEX0654
Carbon fiber is a material that can make or break a watch.
Not
literally
of course as carbon fiber is
exceptionally
strong but
figuratively
, as sometimes designs
just
aren't suited to look of carbon
.
The Excalibur Aventador S Reference RDDBEX0654
perfectly
blends the modern look of carbon with the refined and timeless hue of pink gold
.
With a staggering 312 components tucked away inside the 45mm case, this is a serious work of haute horology
.
Excalibur Aventador S Reference RDDBEX0686
The Excalibur Aventador S Reference RDDBEX0686 looks like its speeding straight towards the future with an all carbon fiber case with sporty red and blue highlights
.
Yet even with the bright splashes of color, there is no hiding the double balance springs visible at 5 and 10 o'clock
.
These dual balances work together to counteract the effects of gravity and offer a higher rate of precision than a single balance
.
To highlight this accuracy, a jumping seconds display
is used
rather than a traditional sweep seconds
.
All four watches embody modern watchmaking techniques but all are stamped with the Poincon de Geneve which shows they remain true to the guiding principles of classic watchmaking. The Poincon de Geneve, also known as the Geneva Seal, is a seal of authenticity and quality and is only awarded to the finest craftsmen working in the Republic and Canton of Geneva. The standards required to be awarded the seal are too long to list here but here's an example the showcases the attention to detail required: the unseen jewels that help lubricate the movement must be graded at least semi-brilliant and must all have polished sinks. When hours upon hours are spent perfecting something you won't even see without a loupe, then you know you're dealing with quality. rogerdubuis.com