It's nearly that time of year and all the big names and rushing to get their newest and best offerings out the door ready for SIHH 2018. Montblanc is no different, releasing their new TimeWalker Collection chronographs in time for the big event.
The TimeWalker Collection
First launched January 2017 at SIHH, Montblanc has timed the new release perfectly to show off 2 of their latest additions to the collection, known as Montblanc TimeWalker Manufacture Chronograph, the second, as the TimeWalker Rally Timer Chronograph Limited Edition 100. These two works of art are set aside the outstanding history and precision engineering brought to you by Minerva. For those of us unfamiliar with Minerva, it's the Institut Minerva de Recherche en Haute Horlogerie in Villeret, in the Bernese Jura, Switzerland. This institute was set up to dedicate itself to fine watchmaking, and to uphold the traditional skills of the master watchmaker and their abilities to produce special complications.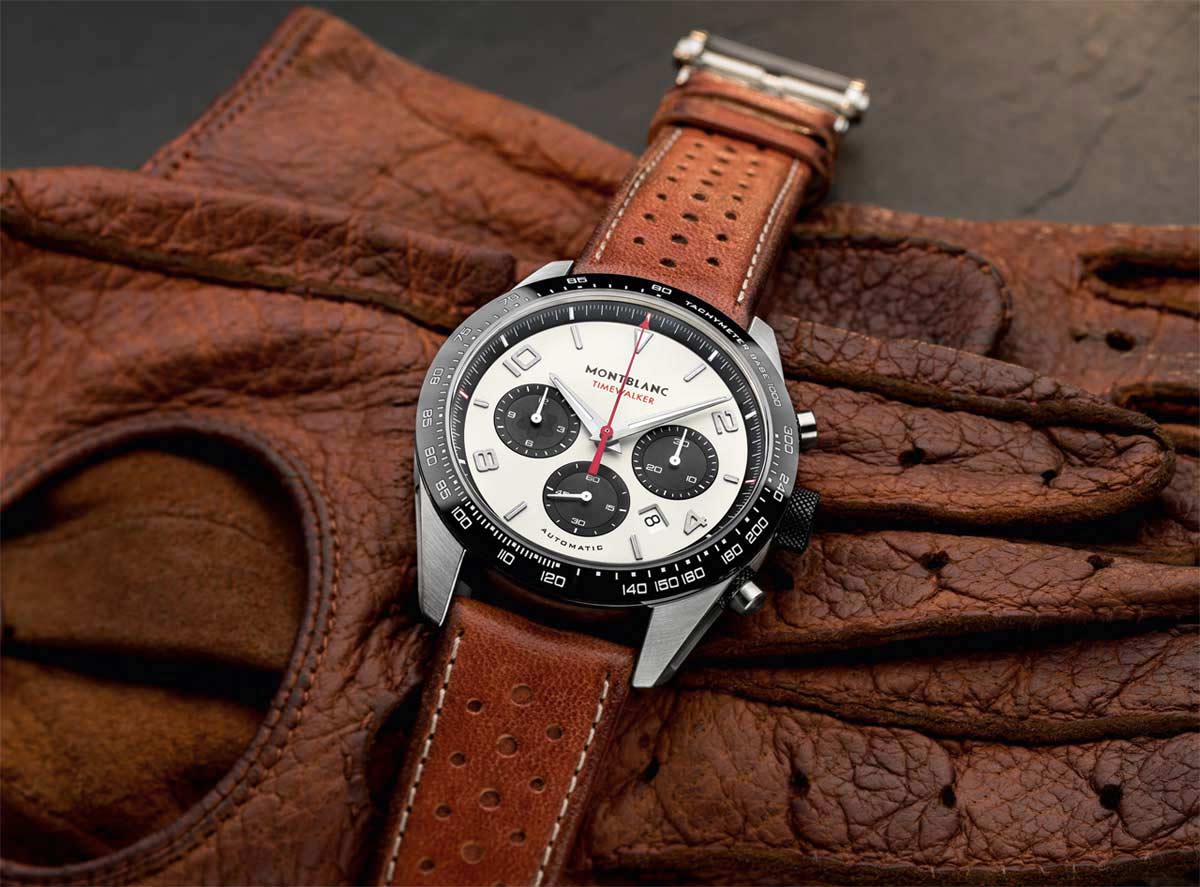 TimeWalker Manufacture Chronograph
The first timepiece is the Montblanc TimeWalker Manufacture Chronograph or (ref. 118488) if you want to get technical.
The black tri-counters of the Chronograph on the white dial has given rise to a nice description that I am not proud to re-use, and that is a 'Panda' design and looking at the color scheme it does seem to match well although a bi-counter would work better. None the less, the description is here and I am using it so it must work well enough.
We can also see that there are some design cues from the racing world. Sadly, I'm old enough to remember mechanical oil gauges and such stacked on the dashboard of cars and these counters could easily be describing classic rally or racing design, which makes for a nice masculine touch.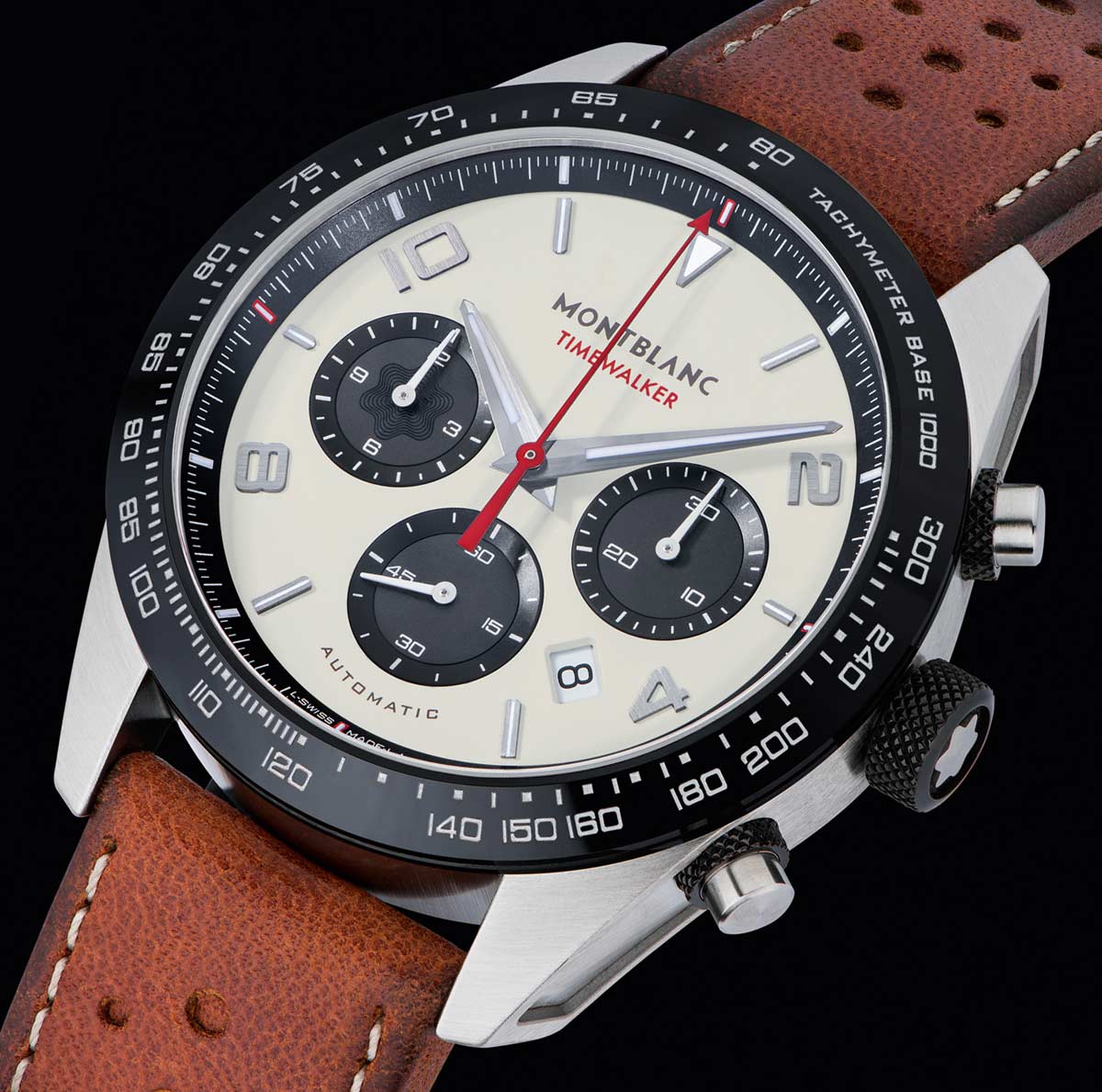 The dial is easily read at a glance with a rhodium-plated hour and minute hands, together with a red chronograph second complete with an arrow that seems consistent with a nod to the Minerva arrow and their legacy. In the 43mm stainless steel case with satin-finished the tachymeter scale around the bezel, this looks every part a piece of automotive memorabilia.
Calibre MB 25.10
This handsome piece has the tri-counter dial with a brand-new calibre MB 25.10 movement beating at 28,800 vph.
TimeWalker Rally Timer Chronograph Limited Edition 100
The second new offering presented by Montblanc is this beautiful TimeWalker Rally Timer Chronograph Limited Edition 100. It's a variation on a theme, of course, inspired by the model presented last January with the lovely looking and well described "reverse panda" dial.
We saw the standard 'panda dial' on the TimeWalker Manufacture Chronograph previously. I feel there is less to say about this piece even those it is every bit as good and possibly my favorite out of the two. The thing is, the Chronograph Limited Edition 100 does all the talking for me, just look at the presentation. What do I need to say? It's got class and bags of it!
The features on both models from last January and the latest remain the same so no learning curve if you are thinking of owning both of them and that includes something that must be unique, and that's the ability to morph your wristwatch into a pocket watch or a dashboard clock. How cool is that?!
Chronograph Calibre MB M16.29
Powered by the manually wound mono-pusher chronograph calibre MB M16.29 taking inspiration from the original Minerva calibre 17.29 of the 1930s that was used for both pocket watches and early wristwatches.
Final Word
Both these are stunning pieces and make me think twice about the brand. Previously my thoughts regarding Montblanc had been confined to just how expensive their pens are. Now with more information at hand and after taking some time to understand the brand, I am a convert.
For around $6000 these timepieces are just about the perfect luxury item with a heritage and an affordable price tag. Even, if you do have to save up to one. For my money, yes Montblanc are GO!!! montblanc.com