SIHH is nearly upon us, with less than a week until the show comes back to our screens and the watches start ticking for us, we thought we'd get a look in on one of the big brands of the show: Cartier. One of their biggest and most successful lines is the Santos, their take on the classic sporty/dressy watch which at one point gave the Rolex DateJust a run for its money. At one point, that is. Until recently, the Santos has been sort of left to its own devices while Cartier focused on other projects like the Calibre, Drive de Cartier and their excellent complications watches. Last year, though, the Santos came back in a big way, and I'm happy to see it coming back for round 2 in 2019.
Although we mention Rolex and Cartier in the same sentence, and indeed we often think of them as comparable brands given their luxury status, we can't help but remember that the Santos model is nearly as old as the Rolex company. Officially, Alberto Santos-Dumont made the first unaided heavier than air flight in 1906, supposedly wearing a watch which became the Santos, while Rolex was founded in London in 1905. Although Cartier's long history of operation dated back to 1847, it didn't help them when Rolex started innovating, launching the crown far ahead of not just Cartier, but the entire watch industry as a whole. Of course, those days are long gone, and just as Rolex left everyone behind, computer technology has left watchmaking in its dust, and now Cartier is back.
The most classic and most recognisable variation of the Santos is undoubtedly that old style two-tone setup with exposed gold screws in the bracelet and a gold bezel with screws left out in the open. This style will always be popular with certain buyers, mostly middle-aged men and upwards which provides Cartier with a solid customer base. However, it is evident to the industry that it's the younger generations weilding their wallets like old Western revolvers, ready to fire out their hard earned dosh willy nilly. If you want to survive, you play to the biggest market.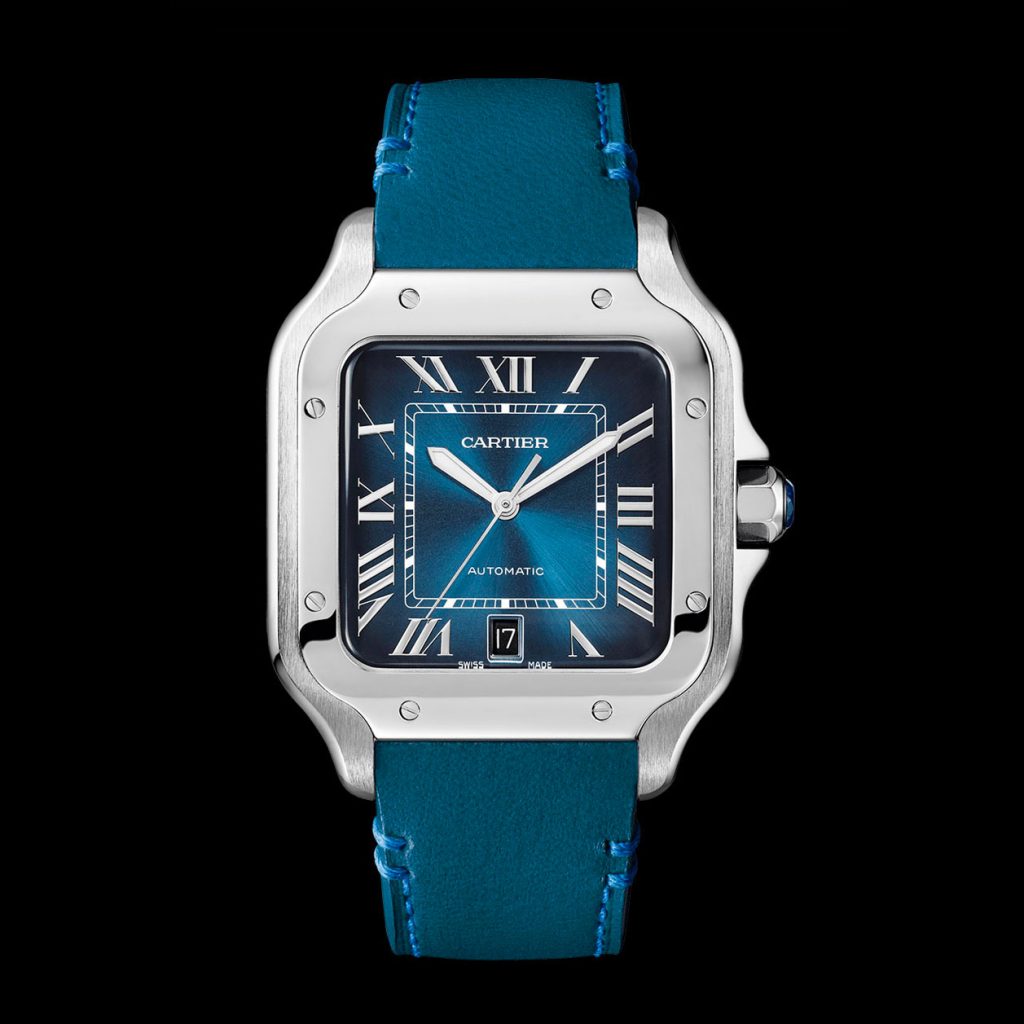 That's why for 2019 we see Cartier introduce an all steel Santos with a blue dial, tackling both young buyers and blue dial fans at the same time. Other than that the rest of the watch is identical to the range refresh we had last year. The watch still has the quick change system which allowed for fast switching out of bracelets, a common trend these days. It also features the patent-pending SmartLink bracelet tech which allows the bracelet to be sized to the nearest link without using a tool. The blue dial is only available on the larger size Santos, which sits at 39.8mm x 47.5mm. Inside the case sits Cartier's automatic 1847 movement which has a 42-hour power reserve. But no one really cares about that with the Santos, it's about the design which remains delightfully unchanged. Visit Cartier here.