Well, the title seems fitting plus as a Kickstarter project you know how this goes. Personally, I like this kind of concept watch, though most authority would detest this, though. The Rebel Time Company shows great promise with this watch. I'm honestly thrilled not only because of the lower cost but the build shown here is very interesting. When I say interesting, just think about branded watches… now you see the point. Another point of interest is that this watch showcases Brooklyn inspirations created with integrity and no compromises when it comes to style too. What's with Brooklyn you say, think quality and class as a whole.
There are 4 models to choose from: 1) Classic Rebel Chrono Black with Matte black finish dial, 2) Classic Rebel Chrono White with Matte white finish dial, 3) Rebel Aviator Black with Matte black finish with recessed sub-dials on a bronze inner ring, and 4) Rebel Aviator White with Matte white finish with recessed sub-dials on a bronze inner ring. Aside from dial differences, not much change. Personally, I prefer the white model since the time is presented elegantly plus the details are very nice to look at.
The 44 mm 316L stainless steel case sits comfortably against the leather straps made of vintage brown, oiled brown, cushioned black, and black rubber. The style is neat yet fashionable as it stands out on any occasions. It's simply handsome and progressive. The harmony between the case elements is impressive such as the nice pushers, crown and handsome lugs and bezel. The watch also uses a sapphire crystal with great scratch resistance.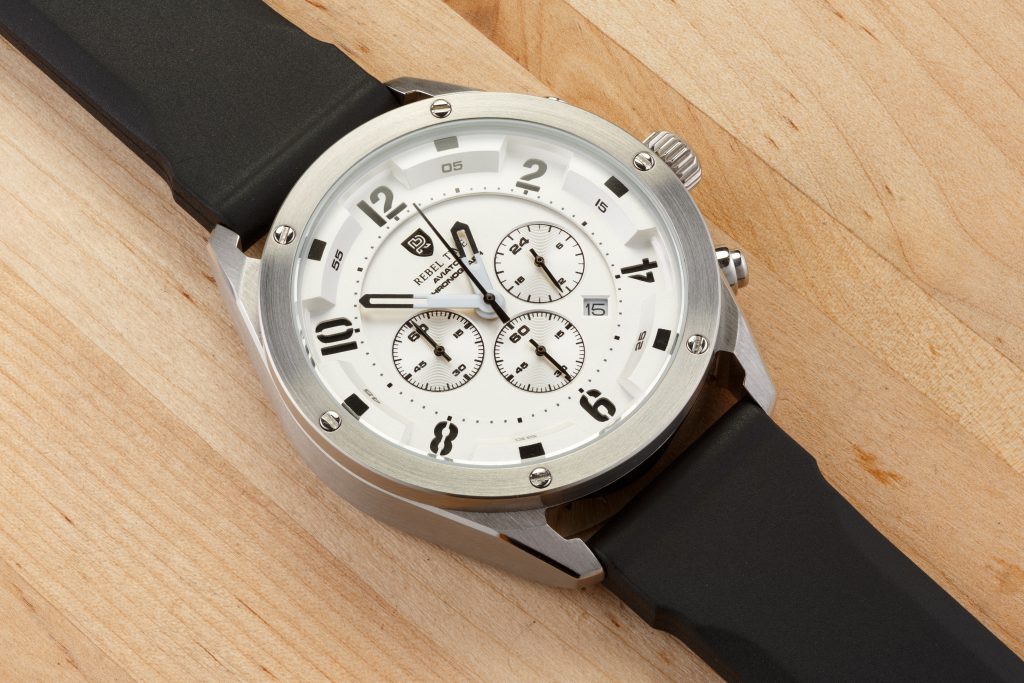 Moreover, the dial explodes with beautiful elements plus there is a bold brass option for this dial. The triple chronograph stands out nicely with beautiful index markers scattered between 9, 3, and 6 o'clock. The date display sits at 4 o'clock which for me is very unobtrusive. The hands are nicely designed and they are coated with luminous material for extra visibility in low light. Moreover, the dial is pretty much sporty. I also like to insist that the blending of the watch elements is very successful, it's very immersive. I think when the creators say that they worked with Swiss consultants, they are not really kidding. The design looks luxurious for a watch this price (a lot cheaper if you back it up!).
The creators also did not skimp on the movement since the Rebel Watch sports quality Japanese Miyota 0S20 Quarts movement. For this price, you don't expect Swiss movements with their superior quality but for a Miyota, it is already superb. Besides this watch is also certified with up to 100 meters of water resistance, this is a huge thing for many active wearers like me. The good thing about using quartz is that you don't have to worry about manually wounding your watch. I'm not so sure about the quality of the silver oxide SR927W battery found on this watch but I'm pretty sure they are easily available, besides it is a Sony so it can last up to 5 years according to specs.
This is a great watch if you are looking for a quick replacement to your trusty old watch or if you just want a working timepiece with style in mind. One more thing, the creators mentioned that they are working on making their own leather straps in new York city, and if they hit enough sales they will also make the rubber straps from recycled rubber in new York. This is great since they're proactive in going green, so no fuss for you.