When 3 legends of different fields collaborate, it often results to a mega cool product. This is very true with the unique partnership of Roger Dubuis (a watchmaker), Lamborghini (a race car expert), and Pirelli (a tyre expert). Together, they created the racing-inspired Excalibur Spider Pirelli Double Flying Tourbillon released last year. The skeleton timepiece featured twin tourbillons front and centre. Its rubber strap was also created using a Pirelli tyre that was used in a race. The trio are back at it again with the new Excalibur Spider Pirelli, this time with just one single flying tourbillon. Now before you fret because of the absence of the other one, this new Excalibur Spider Pirelli is a beast of a skeleton watch.
Moreover, the new Excalibur Spider Pirelli had a digital launch. Same things happen again as predicted, the strap is taken from a racetrack used Pirelli tyre and this time, used by an F1 car. We can see the colors of the winning car's tyres substantially integrated into the strap design. If you are familiar with the racing colors they usually involve bright hues to signify a tougher stance on the track.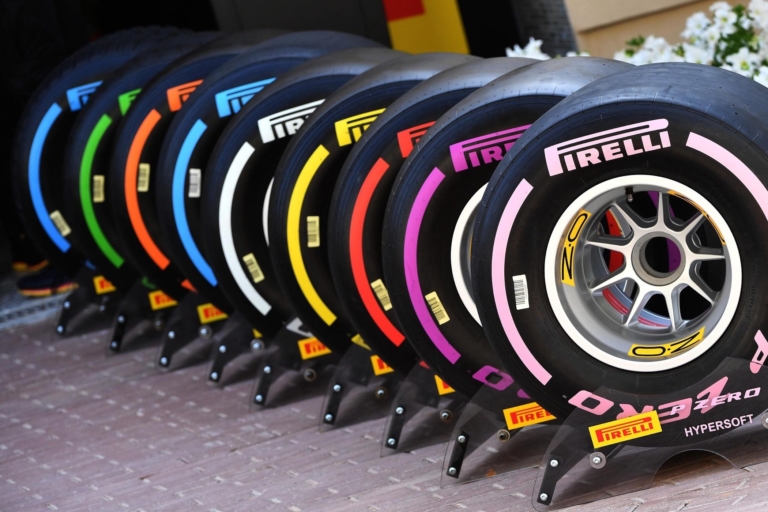 Do note that buyers are not limited to the racing colors, however a complementary Pit Stop Collector Box includes seven interchangeable straps that match the colors of Pirelli's entire portfolio of racing tyres from the last season. This is handy if you want to use a pure black strap instead. A portion of the Pirelli logo and a code used by Pirelli to track its winning tyres also appears on the strap. The code pretty much yields a Certificate of Authenticity. As per motorsport tradition, the straps have a Quick Release System (QRS) mechanism for a super fast exchange, good for trying out all those available straps.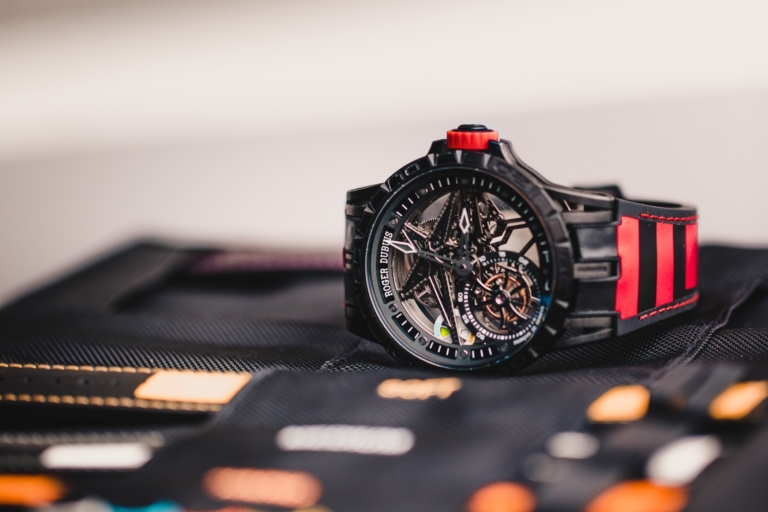 Furthermore, the design of the new watch is impressive featuring a black DLC-coated titanium case with the seconds counter appearing more like a speedometer. Also the pointers surrounding the rim perfectly preserve a race car theme. Meanwhile, the new trigger and bridge designs with a new RD508SQ hand-wound movement with a state-of-the-art black Astral Skeleton motif are fully visible from the front and back.
The new watch features a single flying tourbillon at 7 o'clock and a multi-colored power reserve indicator between 9 and 10 o'clock looking like a race car's fuel gauge but not very prominent though. Judging from the design, there is a similarity to the Roger Dubuis Pulsion Skeleton Flying Tourbillon. Since this is a true skeleton watch, the complications are on full display. Personally, this is more of a motorsports gadget than what it is as a watch but I like it a lot.
This boutique edition is limited to only 28 pieces, but the second version that lacks the boutique Pit Stop Collector Box but adds a unique strap to celebrate the new design instead will be available in select speciality stores. The retail price is EUR 164,000. For more info, visit Roger Dubuis online.