How about a mysterious watch for the much awaited SIHH 2017, any takers? You probably never heard of this joke and this is not new anyway ever since Cartier released its first mystery clocks way back in 1912. Wait, that is such a long time and what makes them mysterious anyways? Given the tech at that time, it is no doubt that this kind of style really evokes mysterious reactions but the technique involved was so simple involving two sapphire discs. For one it is unconventional and so mechanical in a sense that you will ask yourself if its is feasible using it as a go to watch considering the skeletonized look. We all want to follow routine and if there is something new, it feels kind of weird to flaunt it around. Nowadays though, this kind of watch is nothing new and it automatically falls to the classic timepiece reign which is great nonetheless.
Anyways enough with the mystery talk, let us welcome the Rotonde de Cartier Mysterious Hour Skeleton watch showcasing two of Cartier's iconic Fine Watchmaking signatures. These are the skeleton work and the mysterious movement all in one glorious timepiece. Plus Cartier is famous for its fashionable designs which is perfectly preserved on the Rotonde de Cartier Mysterious Hour Skeleton watch for SIHH 2017.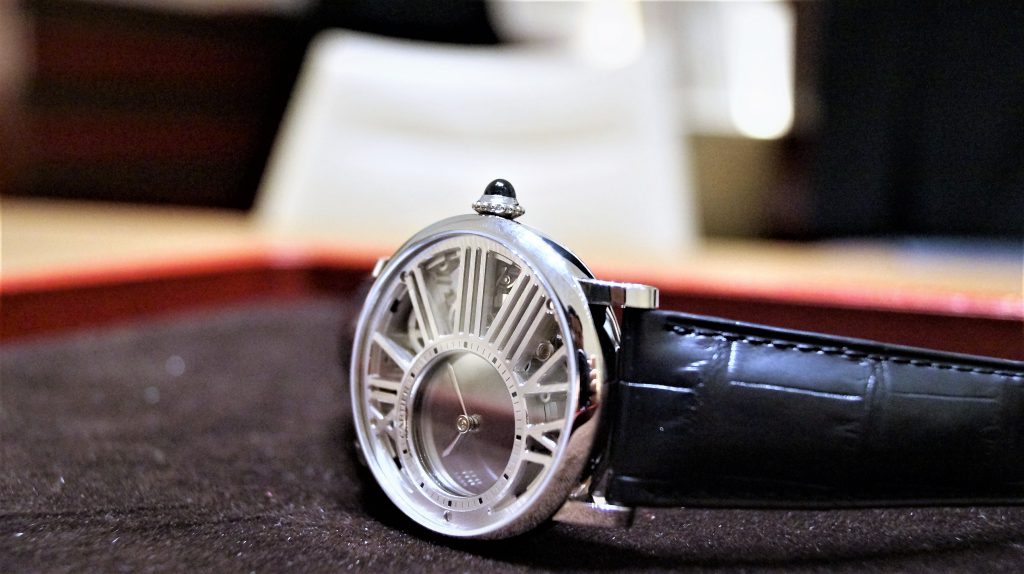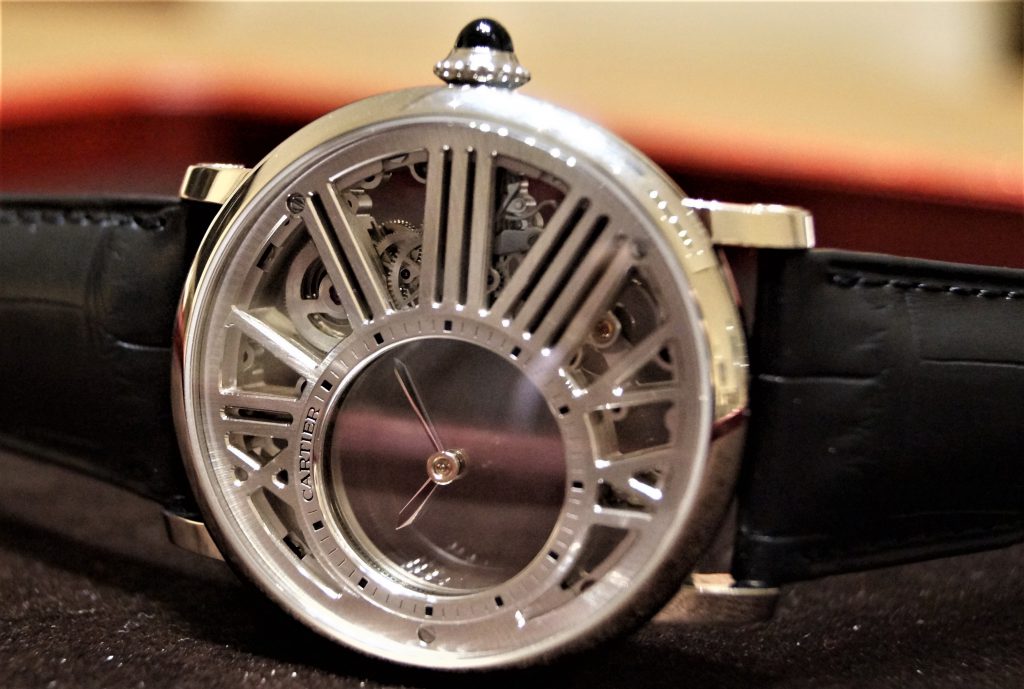 Moreover, I love skeleton watches, there is no denying that. The Rotonde de Cartier Mysterious Hour Skeleton watch is a work of art. It is simple enough to make you want to scream, I want one. What is more interesting now is that it comes in a palladium 42 mm x 11.9 mm case. It looks and feels large yet the designated dial for the time occupies about 40 percent of the dial only much of it is for the amazing movement. The design is neat allowing light to play with its smooth edges from lug to lug. Being a fashionable watch, you can easily see its stylistic enhancements particularly the beaded crown decorated with a sapphire cabochon. If you like to flaunt it for a dressy occasion, be my guest you will have so much fun with it. Admittedly, function-wise I don't see much use for it other than a fun collectible item but true enough, it's perfect for easy time reading besides the build quality is superb plus the palladium material adds more value to it.
Of course, its centerpiece other than the skeleton build is the asymmetrical and structured two-sided Calibre 9983 MC. The ingenious design of the movement is responsible for the mysterious dial that seemingly sits on nothing but air at the far left side of the watch. Its gear train is clearly visible under the large Roman numerals. It looks awesome. On the dial, the sword-shaped hands appear suspended thanks to the two sapphire discs fitted with teeth around their circumference which is then linked to the movement. One of the discs turns the minute hand while the other the hour hand.
The Rotonde de Cartier Mysterious Hour Skeleton is a great timepiece and it comes at a price point of Euro 60,000. For more info, please visit cartier.com