SIHH is the go to watch convention for those who like outlandish designs and the very best of high horology, often in the six and seven-figure price range. And one independent manufacturer who really stands out in this category is MB&F. Since 2007 Maximilian Büsser and Friends have given us watches that essentially look like spaceships through the Horological Machines collection. The new Horological Machine 7 is no exception, although it is a round watch (a Horological Machine first) with a divers bezel it does not look like any divers watch we've ever seen before.
First of all, it is huge. With a diameter of 53.8mm and a height of 21.3mm this watch certainly has some wrist presence. The blue, rotating bezel sits as a ring around the movement and rest of the case. The watch is inspired by a jellyfish so the inner part of the case with the movement is made of sapphire so you can see right into the flying tourbillon and vertically mounted gear train. This vertically mounted gear train is also what makes the watch so tall. It transfers the energy from the winding rotor at the bottom of the movement, which is shaped like a jellyfish's tentacles, up all the way to the flying tourbillon.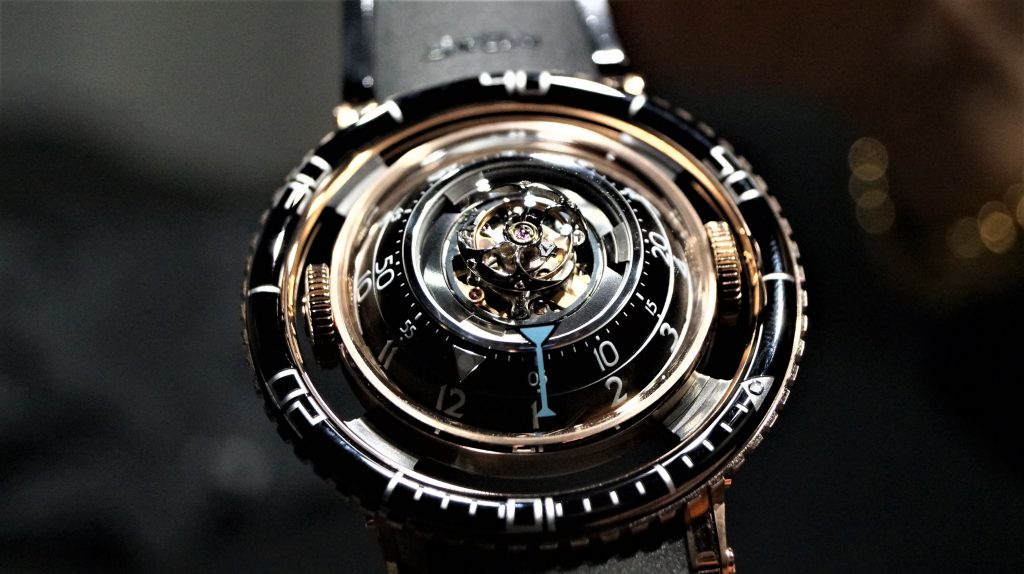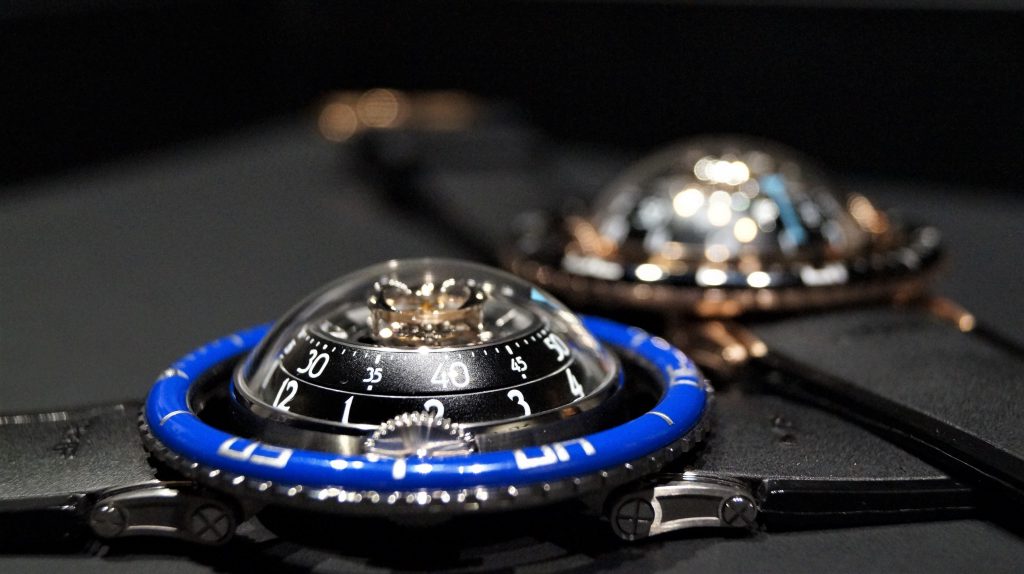 Now you may think, how do you read the time on this watch? And this is something a lot of people ask themselves while looking at a new Horological Machine. The time is displayed by two rotating discs around the flying rotor. A minute and an hour disc rotate in relation to each other to show the time. The lugs are actually what makes this 53.8mm watch sort of wearable. Instead of extending out of the ends of the case, making the watch a lot longer, the extend from the underside at a sharp angle so that they curve nicely around your wrist, while the watch sits on top, again making it look like a jellyfish from the side, or a small spaceship, whatever you prefer.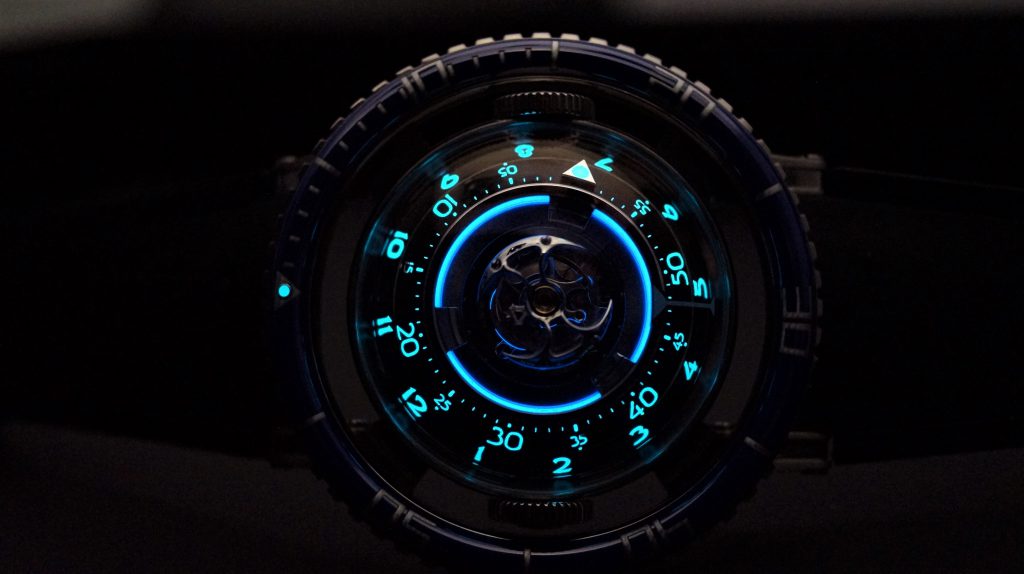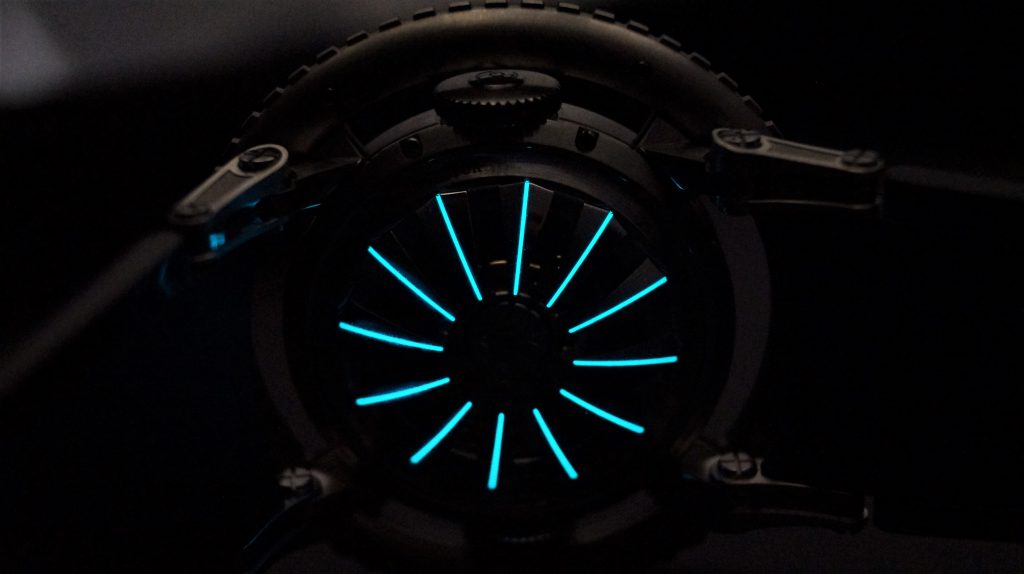 With only 50 meters of water resistance, this isn't really a watch you would take diving, but you might already have that figured out by the sapphire housed movement. If you turn the light off, you will be able to see the luminescent details on this watch, and they are simply stunning. Remember how I said that they had used inspiration from a jellyfish to make this watch? With the lights off this watch could really be mistaken for a jellyfish. The numerals on the rotating disc as well as the pearl on the bezel are of course luminescent, but in addition to that, the movement has received some attention here. There is a ring of luminescent material around the movement, which reflects off the high polished flying tourbillon as well as other components, which makes it resemble a see-through jellyfish.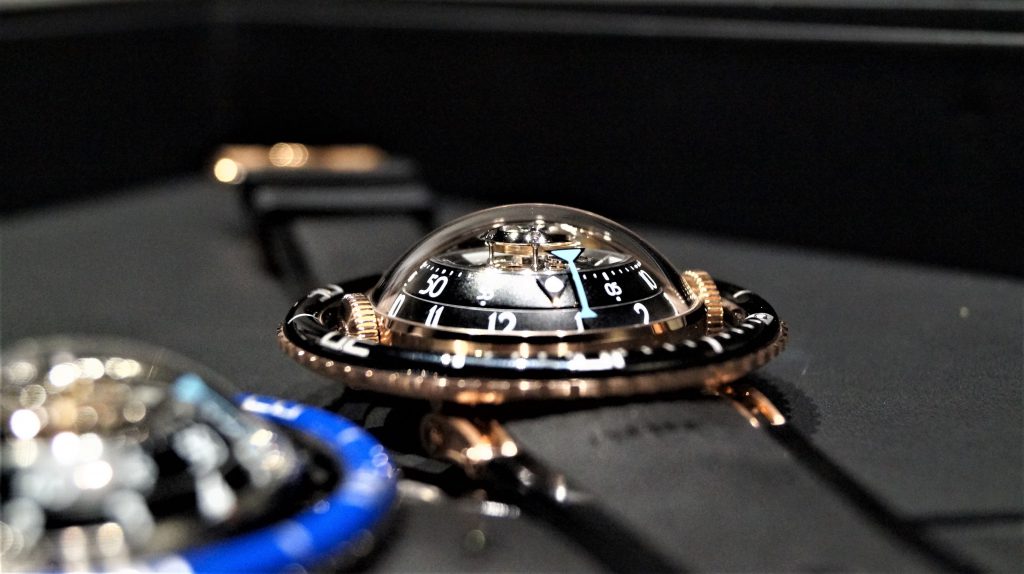 Maximilian Büsser and Friends rarely disappoints us with their Horological Machines and the Horological Machine 7 is no exception, this truly is a wonder of modern watchmaking and the price is thereafter. The MB&F is a limited edition of two models. 33 pieces will be made in Grade 5 aluminium with a price tag of 98,000 CHF while 66 pieces will be made in red gold with a price tag of 118,000 CHF. The HM7 comes on a rubber strap with a matching clasp. For more info, please visit mbandf.com