HYT produces some really cool looking watches that exhibit a fascinating interplay between the science of fluid mechanics and the complicated internals of an automatic movement. For SIHH 2018 the brand is introducing a new watch collection called H2O comprising of two limited edition variants of the same watch. Like all other watches from HYT, these new watches feature the same fluid based display to track the passage of time but with a skeletonized dial and a distinctively shaped massive sapphire crystal giving an expansive view to the inner workings of the watch.
This is not the first time that HYT is producing a watch with a skeletonized dial less (Have a look at the H2 collection), but what makes the dial on the H2O collection special is the sheer amount of transparency on offer here. A cloche shaped sapphire crystal flows seamlessly from the top to the bottom of the case, giving a nice 3-dimensional view of the mechanical internals of the watch. The box domed sapphire crystal has been rendered in a unique shape, having a slight dome at the top and then eventually sloping down at an angle to meet the bottom of the case. This, in my opinion, helps to give a broader view of the movement inside and also makes it a tad easier to read the applied hour markers behind the crystal. The minute markings have been applied cleverly using the hour markers as the base and have alternately printed red outlined rectangles and Arabic numerals on top of them. The red outline continues on the centrally mounted minute hand as well as the thermal indicator at 4.
The powerhouse behind this watch is a manually winding movement which operates at 21600 BPH, has 28 jewels and offers a power reserve of a whopping 192 hours. The movement comprises of sandblasted titanium bridges, black DLC coating and satin finishes. Integrated with this mechanical movement is HYT'S patented microfluidic module which includes two liquid filled multilayered bellows along with a borosilicate glass capillary tube through which the liquids flow to give an indication of the hours on this watch. And in case you are wondering as to how the transmission between the movement and the fluidic module happens, it is by conversion of rotation into linear movement using a cam-follower system.
HYT watches have always been designed to mark a presence and make a bold statement on the wrist of the wearer and the H2O collection certainly follows suit in this regard. The watches feature a 51mm wide and 19.95mm tall DLC coated stainless steel case. But before you get intimidated by those numbers, let me draw your attention to the lug-less case design which I believe would certainly ensure that the watch sits comfortably on varied wrist sizes.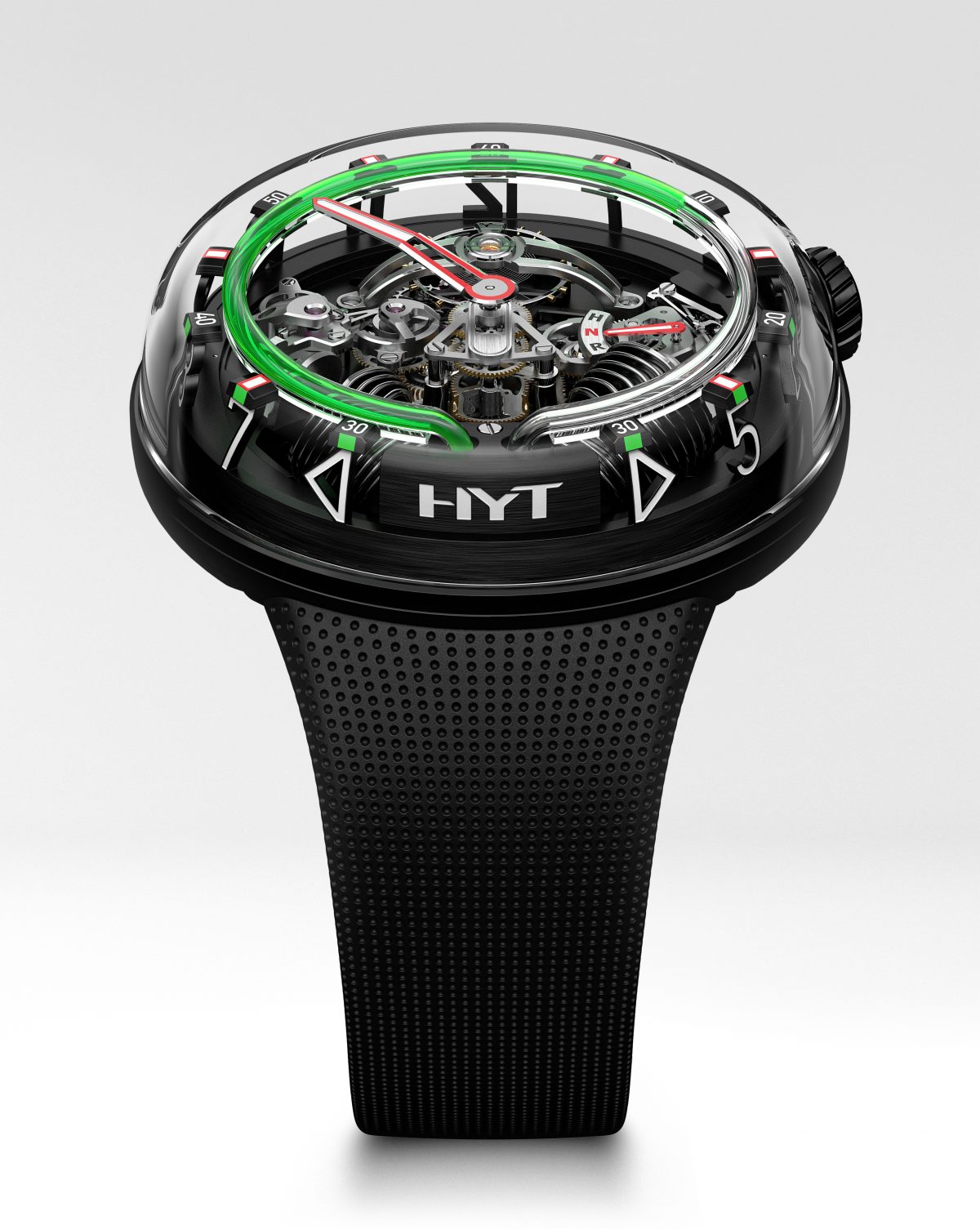 Lastly, I would like to say that the H2O collection is another worthy addition to the HYT catalog and in case you are on the lookout for a luxury idiosyncratic timepiece, this is definitely worth a look. The H2O collection comprises of 2 different variants. One is clothed in black with a bright green fluid and the other has a silver colored case and a deep blue liquid. Both watches would come attached to a black rubber strap with a titanium folding buckle and would be limited to a production run of 25 pieces each. hytwatches.com