Contemporary elegance- That's how I would describe Vacheron Constantin's Patrimony collection.
Patrimony is a legal concept whereby an inheritance comes from one's father. It is related to the term "patriarchal," and in addition to physical property, can refer to traditions and birthrights. It is what your leader hands down to you, which you then have the responsibility to hand down to the next person. It is exactly what constitutes the concept of "traditional Swiss watchmaking- applying the techniques of the past, without ruining the form of the present, in order to maintain authenticity.
The origin of the Patrimony collection stems from the 1950s. While they were preparing for their 300th year anniversary, Vacheron produced a limited edition ultra slim watch. Stemming from this success, Vacheron Constantin launched 2 versions of the same classic style dress watch in 1957, and it has become the symbol for what they are known for today. Since then, their classic lines like the Patrimony have changed in appearance very little, and much of their current line-up takes its appearance from the 1957 launch that focused on simplistic elegance.
This time for SIHH 2019, Vacheron Constantin went a notch higher with their latest variations of the Patrimony by unveiling 3 new variations. With all three variations coming equipped with an 18k pink gold case, Vacheron indulges in the trend of larger dress watches with their new Patrimony timepieces ranging in sizes from 40mm for both the Manual and Self-Winding models and 42.5mm for the Retrograde Date model.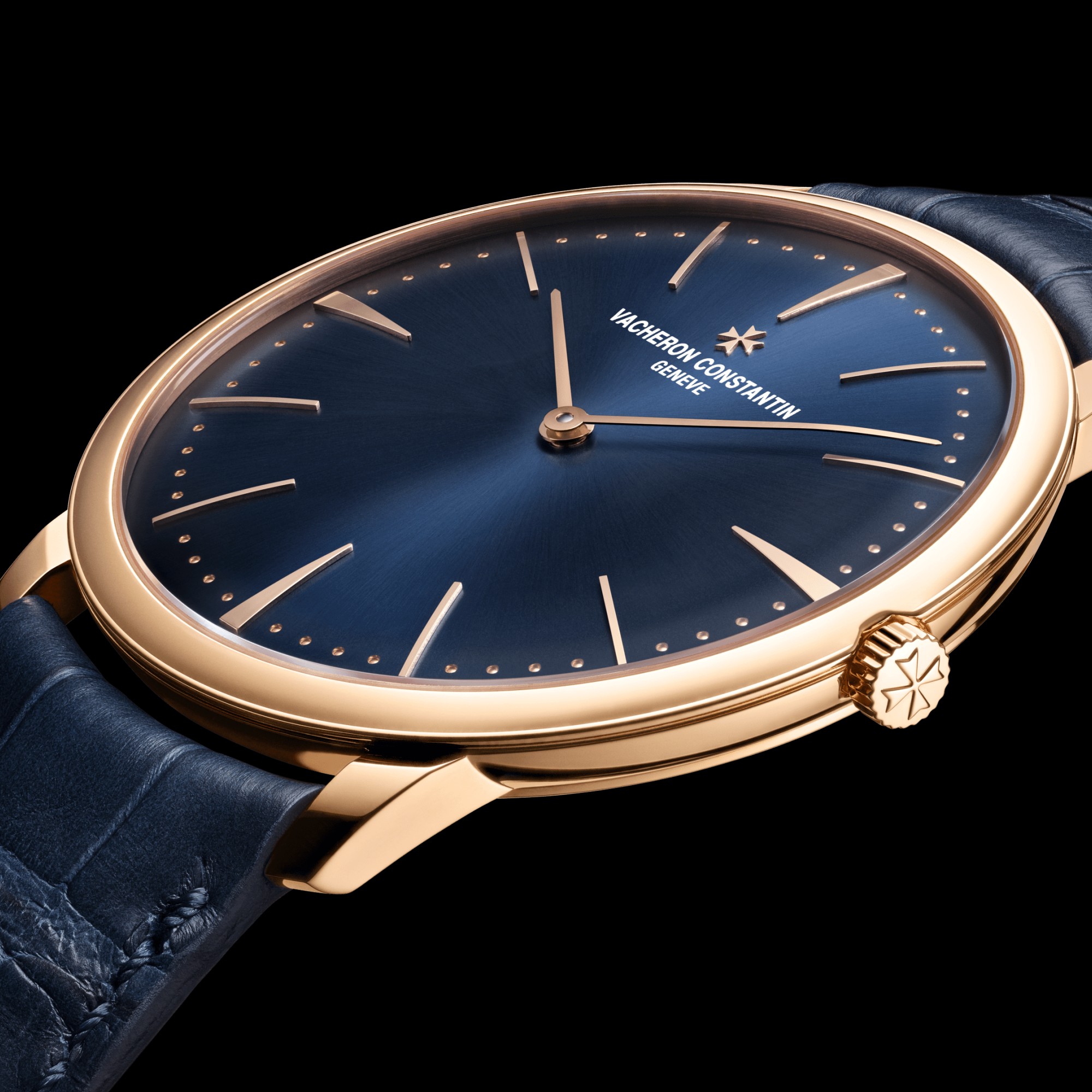 Patrimony Manual-Winding
All variations come equipped with a stunning 'Majestic Midnight Blue' dial that has a sunburst satin finishing. In true dress watch sense, the Patrimony only has a water resistance rating of 30m, however, come equipped with a 40-hour power reserve, making it a perfect weekend watch. Each Patrimony is paired with an equally beautiful blue Alligator Leather with a pink gold pin buckle clasp to match the watch case making it a complete masterpiece.
Patrimony Self-Winding
Circular perfection, a quest for essentials: The Patrimony collection is the epitome of stylistic pureness. Reflecting a deliberately minimalist approach striking a beautiful balance between taut lines and curves, it asserts its personality through slender cases radiating an elegance inspired by Vacheron's 1950s models.
Patrimony Retrograde Day Date
Simple, clean and elegant: the new Patrimony is perfect for anyone who is looking to add a dress watch from a prestigious brand that is part of the Holy Trinity of watchmakers. Prices start from $18,600 for the Patrimony Manual-Winding, $26,200 for the Patrimony Self-Winding, and $43,400 for the Patrimony Retrograde Day Date. Visit Vacheron Constantin here.