By Harleen Johal
The U-42 Unicum
U-Boat is an Italian watch brand known for making a collection of chunky timepieces with a great amount of detail. The watches are normally designed with certain metals which make the pieces quite heavy. A variety of their watches are classed as unisex, but the majority do tend to suite the male wrist.
The designer of U-Boat, Italio Fontana has created the U-42 Unicum a limited edition U-Boat watch. This particular piece has been subjected to certain treatments including being deliberately distressed to produce a historical look. This design represents just exactly what U-Boat is capable of creating, such detail and sheer luxury.
The watch has been crafted piece by piece; a lot of attention has been involved to produce such an exclusive watch. The hands on the U-42 have been painted and manually crafted to create an ageing effect. There are many other components of the watch including the titanium bezel as well as the case which have been treated with acid to increase the vintage appearance.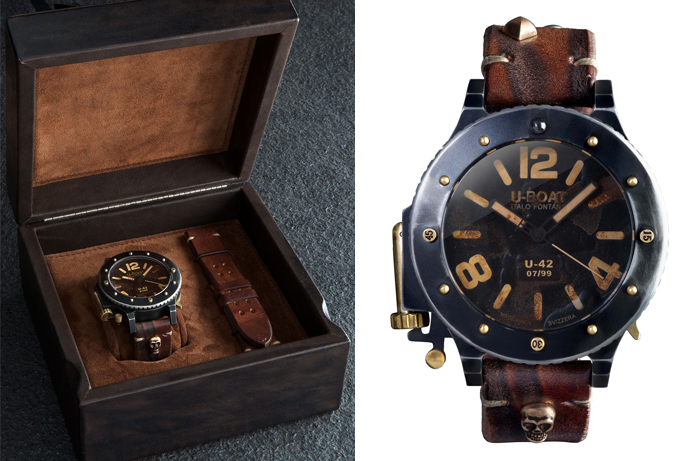 The U-42 is constructed with a double superimposed dial, one bronze and one black. It is powered by an automatic mechanical movement which had been modified and personalised to U-Boat specifications. The piece has a 53 mm diameter case which is water resistant up to 300 meters. This U-42 also has a unique serial number hand engraved on the back of the case.
This one off retro one off piece is sure to be popular amongst many, maybe not for everyday wear and just a special occasion. The lucky individuals who do purchase a U-42 will be pleased to hear that only 99 pieces will be produced world wide. The launch of the U-Boat watch has taken off at this years Baselworld 2013.