Back in September 2019, we showed you the UR-100 SpaceTime from Urwerk. This watch did quite a few exciting things, the chief among which being that it told the time using the unusual wandering hours setup, with rotating disks being used to indicate hours and minutes instead of traditional hands. The UR-100 SpaceTime watch also tracks the rotation of the Earth in 20 minutes and the distance along its orbit the Earth has covered. The reason for these odd displays is that the wandering hours, as great as it is, limits the watchmaker in what it can do, due to the layout of the dial.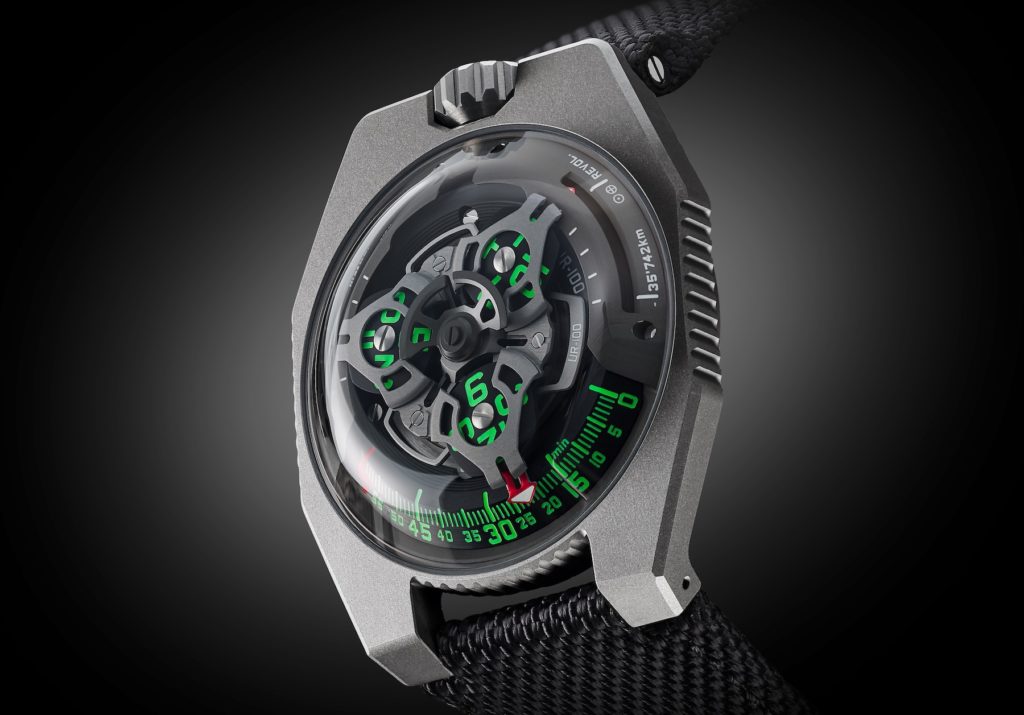 The new UR-100 Gunmetal features the same displays as the SpaceTime watch. The wandering hours system displays both the hours and minutes in the traditional Urwerk fashion, which can be a little tricky to get your head around at first glance. Once the display has finished tracking the hour and it's time for the next hour tracker to come in, the display then rotates to the display configuration around the edge of the dial. The little white triangle that was used to show the minutes accurately is now visible through a small cutout in the dial and shows the distance you travel around as the Earth rotates, assuming you're standing on the equator. For those that are interested, the distance is 555km or just under 345 miles. 
Once that has been completed, the watch will then track the distance you travel as the Earth orbits the Sun, this is 35,740km or just under 22,208 miles. The best part about the UR-100 watch, though, is that they have displayed as much of the driving mechanism as they possibly could. Each of the satellites, that's what Urwerk calls the parts that display the hours, is made of forged aluminium, then sanded and shot blasted before the final finish is applied. The calibre 12.01 is beautiful to look at both in terms of classical aesthetics and technical beauty. 
It's also automatic winding, on the back of the watch is a full rotor which has been engraved and adorned with a 'Planetary Turbine Automatic System', which helps to protect the bearing of the rotor alongside something called a Windfäng which uses trapped air to protect the rotor further. The movement also runs at 4Hz for a length of 48 hours and is held inside a titanium/stainless steel case that measures in at 49.7mm x 41mm x 14mm. Without the tax, the price of one of these beauties is CHF48,000 and is limited to 25 examples like the Spacetime watches.
Visit Urwerk here.