When Captain Robert Maloubier and Lieutenant Claude Riffaud came to Blancpain in the early 1950s, the idea of a dive watch didn't exist. Water-resistant watches and cases, such as Rolex's Oyster and Omega's Marine had been around for decades, but they weren't dive watches. Their dial design was really no different from regular watches and below the waves, knowing every passing minute was crucial to survival so legibility was a crucial element. As founders of the French Combat Diving School, Maloubier and Riffaud tested watches on a regular basis. All were unsuitable for what they wanted. Rather than compromise, Maloubier and Riffaud set about designing their own watch.
Every watchmaker they spoke to laughed them out of the building. They said that making a dedicated dive watch was foolish and French brand LIP even said that such a timepiece "would have no future" (After the success of the Fifty Fathoms, LIP would make their own version). But Jean-Jacque Fiechter, CEO of Blancpain, didn't laugh at them. He said yes.
"Finally a small watch company, Blancpain, agreed to develop our project which envisioned a watch with a black dial, bold large numerals and clear markings: triangles, circles, squares; a rotatable exterior bezel which repeated the markings of the dial. We wanted at the start of a dive to be able to set the bezel opposite the large minute hand in order to mark the time. We wanted each of the markings to shine like a star for a shepherd"
Captain Robert Maloubier on meeting Blancpain.
Created in 1953, the first Fifty Fathoms was a masterpiece in purpose-built design. Everything about the watch, from its large black bezel to its contrasting dial was perfect for divers. Even the decision to use an automatic movement (the first for a dive watch) had purpose; it meant divers wouldn't need to unscrew the crown to wind the mainspring and then leave it open when they started their descent.
By 1964, the United States Navy ordered several hundred Fifty Fathoms for their combat divers. Due to a 'Buy American' law that forbid government agencies from purchasing foreign goods, the watches were re-branded Tornek-Rayville after the US based importer. To this day, the Tornek-Rayville Fifty Fathoms remains one of the rarest military dive watches ever made as only 1000 were ever ordered and nearly all were destroyed in training or on missions by the Navy. It is this military specification watch that Blancpain recreated for the Only Watch Auction.
The Blancpain Tribute to Fifty-Fathoms MIL-SPEC is surprisingly smaller than the original watch, but only by 1mm. Yet don't think that you can slip this watch under a shirt cuff at the next dinner party without anyone noticing, as it sits tall off the wrist at 13.23mm. Another change made to the modern re-issue is the depth rating. As its name suggests, the original Fifty Fathoms was water-resistant to fifty fathoms (Around 100 meters) with the modern watch increasing that to 300 meters. It would have been more accurate to call this watch the One Hundred and Sixty Four Fathoms, but that is far less catchy.
One of the changes made when the Fifty Fathoms became a military issue watch in 1964 was the addition of a moisture ring. This half white/half orange circle located at 6 o'clock would change to be entirely orange if moisture entered the case. No seal is ever perfect and this would have been an invaluable addition to a military watch at the time. In a modern watch, a moisture detector is less useful as screw-down crowns and case backs are incredibly reliable, but it's fitting to see it here as a tribute to the original.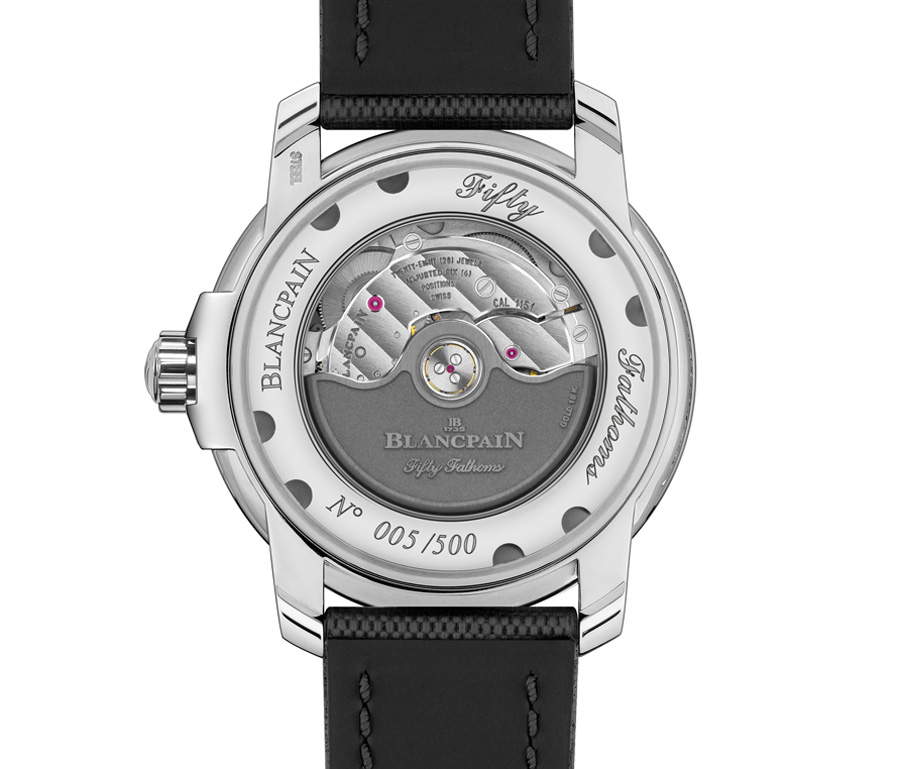 Inside the original military spec Blancpain for the US Navy was the Adolph Schild 1361N movement with hacking seconds. This is replaced in the modern tribute watch with the Blancpain Caliber 1151, a variation on the Piaget Caliber 1150, which has a 100-hour power reserve. Unlike the original watch, the movement is visible through a sapphire crystal case-back.
Earlier this year, Blancpain released another Tribute to Fifty Fathoms MIL-SPEC but the Only Watch version has some differences to entice bidders. The color of lume on the hands, hour markers and bezel was changed to yellow Super-Luminova to better mimic the look of aged Tritium. The platinum coated, gold rotor has Only Watch engraved on it as a reminder of the watch's provenance from the auction. Whoever wins this watch, along with four friends, also gets a diving lesson from renowned free diver and world record holder Gianluca Genoni. Mr. Genoni has been a friend of Blancpain's since 2007 and has worn the Blancpain 500 Fathoms during free dives.
Whilst the changes made to the Tribute are not that huge, it is worth remembering that this is for a charity auction. The unique watches and experiences offered by brands all go to support research into muscular dystrophy, so a small amount of crossover with existing retail models is not the end of the world.