If you're anything like me you may have felt a slight tinge of envy thinking about how the 'other half' lives, but it's humbling to learn the 'other half' don't live in a vacuum, and you'll be surprised at just how in tune they are with the real world.
May I introduce Luc Pettavino, President of (AMM) Association Monegasque Contre Les Myopathies and founder of 'Only Watch'. Mr. Pettavino founded the organization following the death of his son to Duchenne muscular dystrophy (DMD), his mission to help create and consolidate relationships between international research centers, with expertise in the DMD, a group of diseases affecting muscle fibers. Amazingly, in the short time since its creation in 2001 and now, they say they're close to clinical tests, but, of course, the fight continues.
Unique Timepieces To Fund Research
This November 11, 2017, under the patronage of His Serene Highness Prince Albert II of Monaco, the 'Only Watch' biennial charity auction of unique timepieces will take place at Christie's. (2:30 PM (Geneva Time) Every one of the auctioned pieces will be from the finest brands that have united in the fight to make Duchenne Muscular Dystrophy a thing of the past.
The biennial charity auction has been so successful the 'Only Watch'  name has become a globally renowned charity event, and its partners and watch brands are known for their generosity and altruism.
Only Watch World Tour
The auction is the end result of the 'Only Watch' world tour that saw a 10 stage promotional tour from Monaco, Bangkok, Singapore, Dubai, Istanbul, Hong Kong, Taipei, New York, Los Angeles, and Geneva, designed to allow collectors, enthusiasts, donators, and the media to discover and appreciate unique timepieces.
How it Works
Well, the word unique is thrown around with great ease these days, like repackaging or renaming a product and assuming it's somehow become unique. Well, that may be true in the comic book collector's world but it does cut the mustard in horology. If you're wondering how unique these pieces can be, just listen to this.
Of the 50 big brands taking part in his project from Audemars Piguet to Breguet, to Frederique Constant, to Patek Phillippe, to Ulysse Nardin and Zenith, they all offer the same thing… Each brand donates a one-off, unique timepiece that's been designed and built for 'Only Watch' as a true one-off piece, or a one-off version of their best-selling model. That's right, if you buy at this auction it's guaranteed a genuine UNIQUE piece, I know, you dig it the most!
Pierre Jaquet Droz
Now you know where we are what about taking a look at something really nice?  Back in the day the Swiss born watchmaker Pierre Jaquet Droz was a busy man designing and building automata to help his firm sell watches, today the name is right up there with the best.
The number 8 is a lucky number in some cultures, and it's probably got something to do with the endless infinite precision of the endless circle. It's also quite a nice way to say Jaquet Droz craftsmanship represents precision watch making, and this reinvented Grande Seconde of legend really suits the figure 8 symbolizing of infinity and completeness.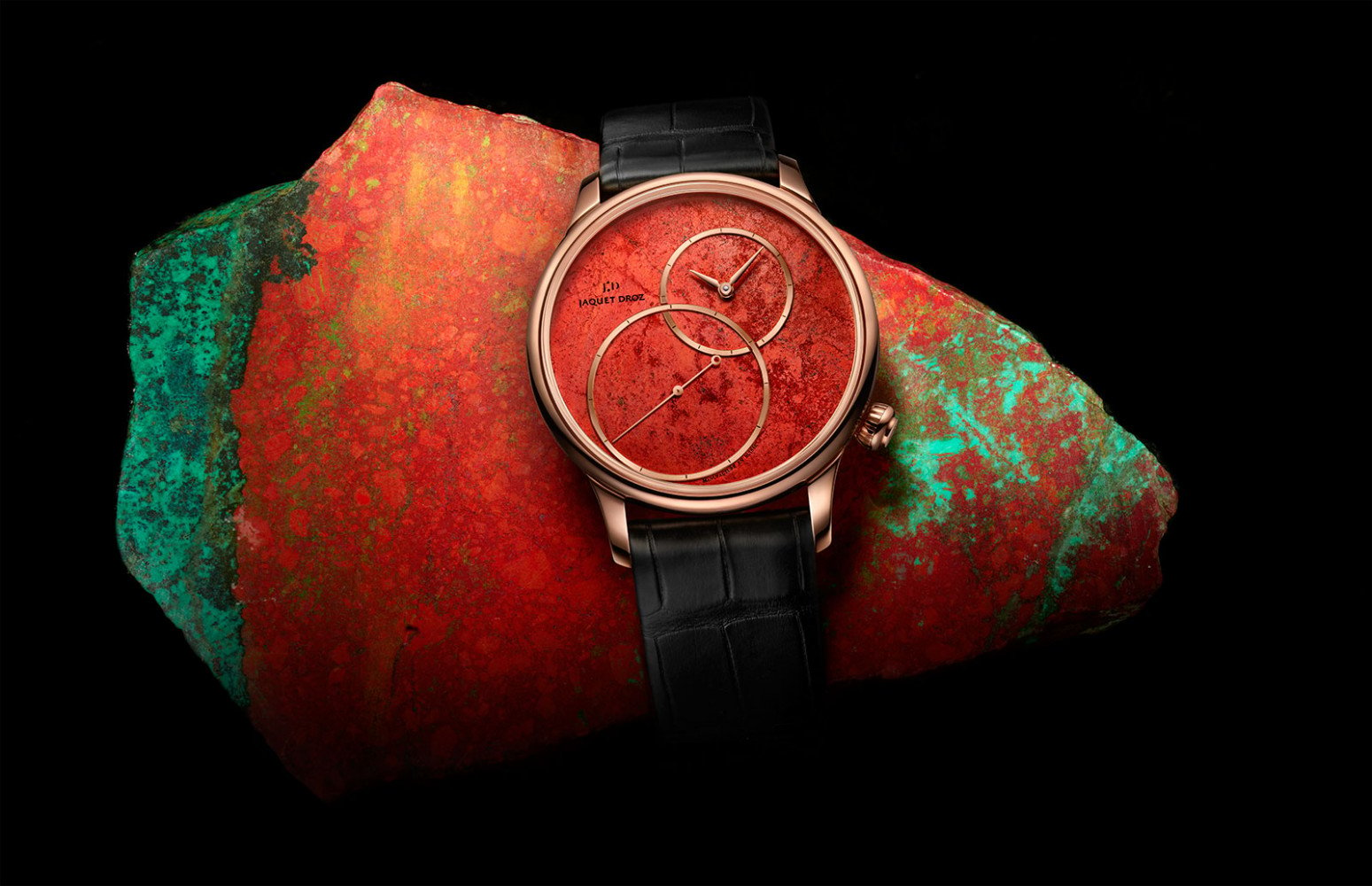 The rose gold color with the fiery earthy red colors of the dial is reminiscent of a lava pit that indicates passion and dedication to the precision of the timepiece the Only Watch project.
The dial is something Jaquet Droz is known for, the Cuprite or copper based mineral requires a delicate hand that Droz has worked with and perfected. In this Grande Seconde, the two traditional sub dials have been subverted and placed off center from the traditional 12 and 6 o'clock which adds an original look and feel. The case, hands, and flanges of the sub dials all have a subtlety that brings about thoughts of something delicate but don't let that stop you wearing it.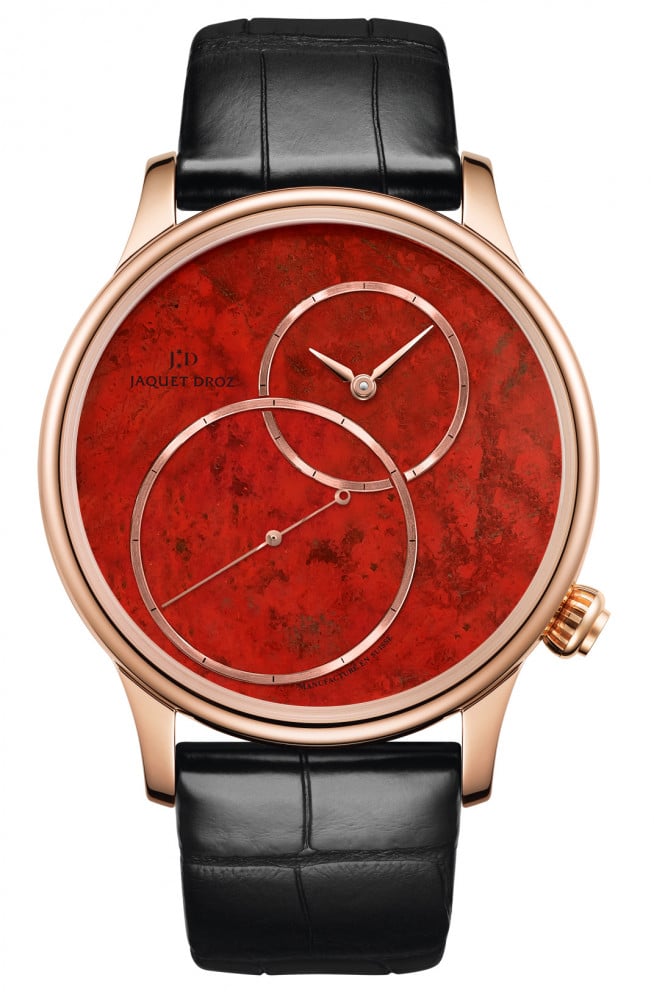 The Technical Stuff Is Like This
The reference and model number: J006033270 : Grande Seconde Off-Centered Cuprite
The case is 18-karat red gold case with winding-stem at 4 o'clock so it's not uncomfortable to wear and the individual serial number engraved on the case-back. As you know the dial is red cuprite copper oxide with 18-karat gold applied rings and hands.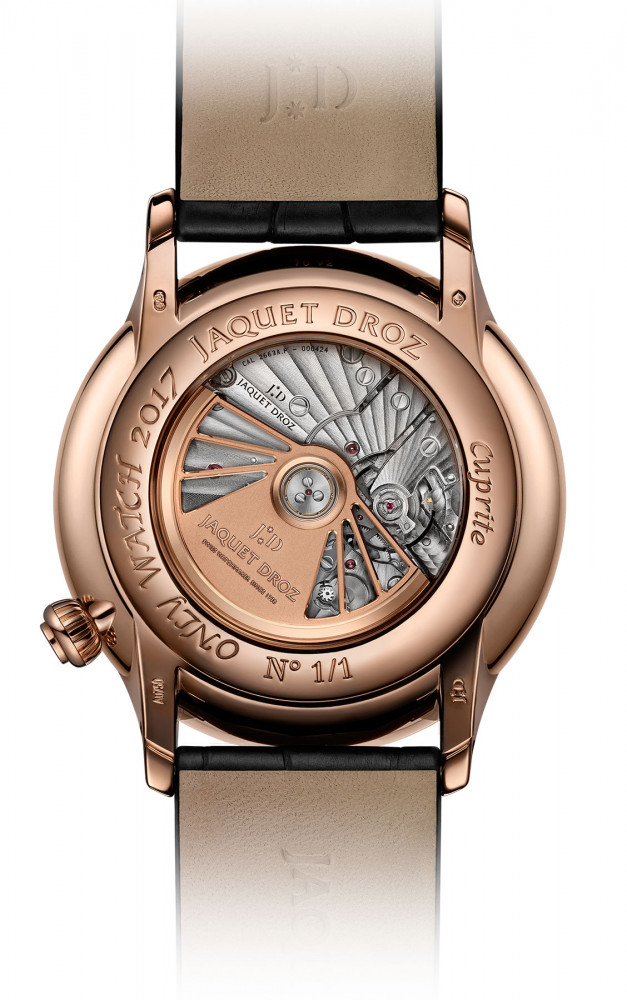 The 43 mm case houses the Jaquet Droz 2663A.P, self-winding mechanical movement, with silicon balance spring and pallet horns, plus double barrel, flat bridges, red gold oscillating weight. The Bracelet is a rolled edge hand made black alligator leather strap.
Price Point: Estimation:
CHF 30,000 – 40,000
27,000 – 36,000 €
31,000 – 41,000 $
The Take Away
What a great idea to auction one-off pieces to raise funds for a serious issue that can affect anyone. It's heart warming all participating brands offer their watches, their partners offer their services, logistical or organizational support to make this happen. So far, since it started, Only Watch has aggregated over 25 million Euros that enabled to finance numerous scientific and medical research programs.
For those of us blessed and able to take part in such a scheme then great work. For the rest of us, well, we can watch and at least appreciate the beauty. And you never know, one day you or I may one day be able to join in the fun. I will cross my fingers, but I will not hold my breath.