In this instalment of Watch Spotting with WristReview, we're going down memory lane to check out what some of the most iconic sitcom-stars of the 90s wore during the early stages of their career as well as their current wristgame. We're also going to talk a little about what some larger than life members of one of the most influential boybands of all time adorn their wrists with in order to tell time.
Last – but not least – we're going top things off by examining what a former writer for Saturday Night Live and The Simpsons wears when captivating audiences with his spontaneous hosting style, self-deprecating humor and ginger pompadour on his iconic late night show.
Courteney Cox and the Rolex Day-Date
During the initial phase of our Happy Hour with Covid-19 I resorted to binge-watching on Netflix. Societies around the globe got shut down by governments faster than the instantaneous date jump mechanism in Patek Philippe's reference 5200g (also known as the Gondolo 8 Days) does at midnight – and some of my greatest passions includes travelling, live concerts and stand-up comedy shows. Nor did any of my friends dare to meet up in real life due to the potential risk of getting infected.
Unlike many of my peers during the 1990s, I never got on the trend with Friends during its production run. Therefore, I decided to take a swing at it and see what the fuss was all about. Apart from generating numerous laughs during a time of uncertainty and pessimism, I also noticed a watch on Monica Geller's wrist that caught my attention rather fast during one of the earliest episodes in this iconic series.
When Monica sits down on her lounge chair after having put the infamous green ottoman back into its place, I caught a glimpse of how the light interacts with Monica's wristwatch. Upon further inspection it proved to be a Breitling Chronomat (reference 81950-1 (black dial)) in steel on the distinctive and retro-chic rouleaux bracelet. Apart from the bracelet, it was launched with an onion-shaped crown and rider tabs on the bezel. These design features led it to become a rather popular timepiece during the mid-80s and early 90s – and the rider tabs are still used by Breitling to this very day.
The Chronomat was launched in 1984 – and was based on the Breitling 1983 Frecce Tricolori. It offered a lot of watch for a relatively small amount of money (2390 Deutsche Mark ~ roughly 1220 €), thus I'm not surprised as to why it fared well with consumers during its production run. We're talking about a self-winding chronograph in steel with a date display (based on Valjoux's tried and true calibre 7750) done by a reputable watch company. Furthermore, it had a reported water resistance of 100 meters which is more than sufficient for every task and recreational activity as well. What's not to like? It was also worn by another celebrity whose career catapulted during the 1990s with his show about nothing. Yes, I'm talking about Jerry Seinfeld – a keen Breitling enthusiast by the way – who frequently wore a Chronomat and later upgraded to a Navitimer during the later seasons of the iconic sitcom. But I digress.
Cox has since then been spotted numerous times with a Rolex Day-Date reference 18238 – an excellent and somewhat unconventional choice for a woman in this day and age. The choice is partly unconventional due to the ever increasing popularity of sportier alternatives in the guise of Daytona (reference 116500 LN) and Submariner (reference 116610 LV), and the former's predecessor from the 90s (i.e. reference 16520) was even worn by model Elle McPherson during a couple of episodes in Friends.
On the other hand, the choice is excellent from a historical perspective because the Day-Date represents a technical feat for its time by being the first-ever mechanical wristwatch to indicate the day of the week spelt out in full in a window on the dial in addition to the date. Some people might scoff at this today, but it was actually a huge thing back in 1956 when Rolex launched the Day-Date collection with references 6510 (domed bezel) and 6511 (fluted bezel). It quickly became a symbol of prestige and success – and prominent owners include General Henri Guisan, Winston Churchill, Dwight D. Eisenhower, John F. Kennedy, Arnold Palmer and even 2Pac Shakur. The symbol of prestige and success is further enhanced by the fact that the Day-Date has almost exclusively been manufactured in precious metals (i.e. different varieties of 18k gold of different sorts and platinum) with only six specimens of reference 6611 in steel as an exemption.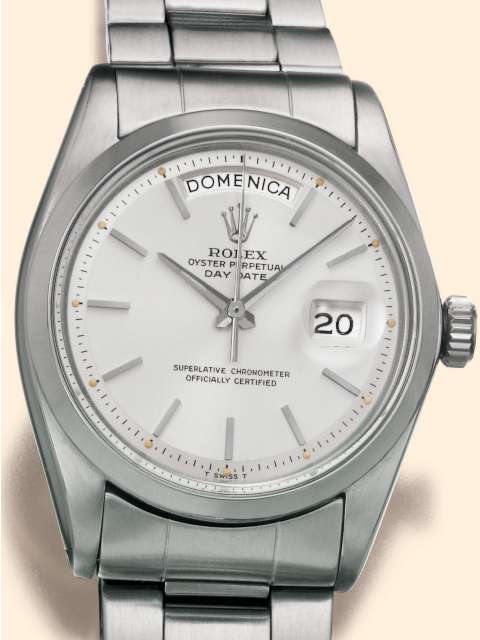 Photo: Antiquorum
Photo: Death Row Records
Rolex advert from the 1960's
The version Cox wears is done in 18k yellow gold and comes with an Oyster bracelet which isn't too common on a Day-Date, as they usually are fitted with the just as iconic President-bracelet. However, unlike your common Oyster-bracelet on a Submariner, Daytona or even an Explorer, the Oyster-bracelet on Day-Date comes also with the hidden lock which a signature feature for this exact type of bracelet.
Inside the 36 mm diameter case beats their tried and true calibre 3155. The 3155 is an in-house developed and manufactured calibre that was introduced in 1988 by Rolex. This movement introduced a major improvement from its predecessor (i.e. calibre 3055) and this was the ability to adjust the day instantaneously which – along the quickset date function – increases the user-friendliness of this timepiece. The 3155 also features a paramagnetic Parachrom bleu hairspring for improved resistance to magnetic fields. Furthermore, it also has a free-sprung Nivarox hairspring and Breguet overcoil, with a Microstella regulated Glucydur balance wheel.
These features makes it great for daily wear as it isn't fragile by any means and therefore can used in other circumstances than the red carpet and boardroom meetings in prestigious law firms. Its dimensions are acceptable compared to today's standards and despite its weight it doesn't feel uncomfortable to wear at all. There's a special feeling to it which is hard to describe, but there's something satisfying about wearing a 36 Day-Date – especially the more stealth wealth pieces done in either platinum or white gold sans sprinkles (i.e. precious gemstones) – despite the negative connotations it may generate with some people.
Now, I just wonder whether Cox cleans the center-links every night as Monica Geller would've done?
Brian Littrell and the Rolex Yacht-Master II
The 5 ft 8 inch Brian Littrell might not be the most physically imposing person, but he – and the other members of Backstreet Boys – sure make up for it by being the best-selling boy band of all time, and even the only boy band to have their first 10 albums reach the top 10 on the Billboard 200. It's massive feat to say the least, and most of us – including yours truly – have sang along to I Want It That Way. Speaking about massive, Brian Littrell happens to wear a Yacht-Master II in this episode of Drop the Mic.
The Yacht-master II is – as of now (2020) at least – the largest current production model from Rolex. In spite of its derogative nickname by some watch enthusiasts (i.e. Clownmaster) – and to some extent poetic complication in the guise of a professional regatta countdown timer for yachting purposes – I actually like it to such a degree that I every now and then sincerely consider buying a specimen myself.
It has a certain je ne sais quoi to it and splendid symmetry on the dial as well. Furthermore, it stands in stark contrast to other models from the otherwise highly-conservative manufacture with its sheer size (44 mm in diameter and 14 mm thickness) and complication, but yet it still has the quintessential Rolex design elements that instantly tell it apart from other watches in the wild. One might say it represents an interesting dichotomy in this respect. Despite its gargantuan proportions – at least compared to Rolex standards – it's surprisingly comfortable to wear, but I'd be stoked if Rolex someday decided to equip it with a durable rubber strap, so I could strap it on for increased comfort when rushing through long woodland trails on my Trek X-Caliber 9.
The Yacht-Master II was launched in 2007, initially in precious metals only (references 116688 and 116689), and the collection was further expanded upon with models combining 904L steel and 18 ct. Everose gold (reference 116681) and in 904L steel only (reference 116680), respectively in 2011 and 2013. Wristwatches with regatta countdown timers are not too common with Panerai's PAM526, Ulysse Nardin's Marine Regatta Chronograph, Alpina's Sailing Yachttimer Countdown and Lemania's Elvström being notable exceptions, but the Yach-master II, however, takes things slightly further.
This is because it features a programmable countdown with a mechanical memory that be synchronized on the fly which enables regatta enthusiasts to their timing on the very second of the regatta's official starting procedure. It was designed with user friendliness in mind and can therefore be programmed using just one hand – with programming up to 10 minutes accessed and locked all via the RING COMMAND bezel. This innovative interaction between the movement (calibre 4160 in this instance) and bezel redefines the functions of a rotatable bezel as they for the most part don't even get to serve their original purpose. The numerals and the graduations are engraved in the Cerachrom insert, and the latter is made of a corrosion-resistant and highly durable ceramic that renders it virtually scratchproof and the color is even supposedly unaffected by ultraviolet rays.
Calibre 4160 – a self-winding movement – is entirely designed and manufactured by Rolex and consists of 360 components. Some of the components include a blue Parachrome hairspring (patented and manufactured by Rolex) with a Breguet overcoil. The former is part of the oscillator –which simply put is the heart of the watch – and offers great resistance to magnetic fields and stability when exposed to varying temperatures and remains up to 10 times more accurate than conventional hairsprings in case of impacts. The impact resistance is even increased further due the height-adjustable traversing bridge that enables a rather stable positioning in order to increase shock resistance. Like all perpetual calibres made by Rolex, it's a certified Swiss chronometer which means that it's successfully passed the Swiss Official Chronometer Testing Institute (i.e. COSC) tests.
All of these intricate mechanics are protected by a middle case crafted from a solid block of 18 ct gold or corrosion-resistant 904L steel (waterproof to a depth a 100 meters). Its water resistance is secured by the fluted caseback which has been hermitically sealed by using a unique tool only available to watchmakers at the well-renowned manufacture itself and approved service centres. The water resistance is further increased the patented Triplock triple waterproofness system on the winding crown.
Not only is it mechanically fascinating for most watch enthusiasts with a penchant for complications, but it's also able to take a beating and still look good on you when taking your significant other out on a romantic sushi picnic by Kronborg Castle on a hot summer day. However, unlike my old skyblue Citroën C3, the Yacht-Master II will set you back with €17.150 € (reference 116680), while Littrel's version (reference 116681) has a price tag of €23,050 – that is if you can get your hands on them at your local authorized dealer considering the hot market for any sports Rolex at the current moment.
Conan O'Brien and his Panerai (yes, plural)
Conan O'Brien is man of many trades and most famously known as the longest-working of all current late-night talk shows hosts in the United States – with the retirement of David Letterman on May 20, 2015. He also happens to have graduated magna cum laude in history & literature from Harvard University, and this aspect might have sparked his interest in Panerai and their historically fascinating watches, since he has been spotted with a handful of different Panerai wristwatches throughout his career.
Therefore, we're going to focus on a particular specimen that O' Brien wore during his trip to Italy with his executive producer Jordan Schlansky – who happens to wear stainless steel Daytona (either reference 16520 or 116520). O'Brien on the other hand wore something much more eye-catching – at least compared to the trend and every-increasing popularity of stainless steel watches by Rolex nowadays. O'Brien wears a Panerai from the Radiomir 1940 collection, more specifically reference PAM00573 in 18 ct. Npt red gold (i.e. a gold alloy with a percentage of platinum and copper in it). Not only is this alloy visually pleasing, it also offers anti-oxidative properties in case you plan to take it for a swim in the chilly Sound in Scandinavia or in Mediterranean Sea.
Reminiscent of its iconic forefather from the 1940s, it has a strong simplicity to it and is also free of decorative excess – apart from the automatic at 6 o'clock which might seem redundant considering the view that's offered through the sapphire crystal on the back. Another characteristic is the small running seconds hand at the 9 o'clock position on the dial, which is brown in this instance and consists of two superimposed plates sandwiching the luminous substance that enables the wear to read his/hers watch in the dark for a least an hour.
Radiomir was originally created to serve specialist underwater forces of the Royal Italian Navy as a tool during service under WW2. This voluptuous Mamma Mia (i.e. 45 mm in diameter and molded from one piece of gold), however, hasn't seen any combat as she first saw the day of light in 2014. Nor is combat – and other demanding activities – the intended purpose of this precious timepiece, which is accentuated not only by the exclusive case material and low water resistance 50 meters but also by the visually pleasing in-house developed and manufactured movement (P.4000 calibre).
Self-winding wristwatches wound by either an off-centre micro-rotor or a three-quarter rotor hold a special place in my non-mechanical heart, because they offer an unobstructed view of the movement – as opposed to a full rotor – and all of the benefits of a self-winding calibre in a slim case too. In order to adequately create enough torque to wind the mainspring in the barrel house, however, it has to be made of a high density metal, and what is more fittingly than 22 ct. red gold in this instance? The rotor comes with a lovely finish consisting of clous de Paris hobnail engraving, chamfered edges and polished surfaces as well. While the finish of the rotor is on the higher scale, the same can't be said for the bridges of the P.4000 calibre which could've been done less Spartan and more exclusive with thick striping across the bridges and better polishing on the screw heads along with some other stuff as well.
The P.4000 calibre has a diameter of 31mm and is just 3.95 mm thick and these specifications makes this attractive Italian Bella just shy of 11 mm thick which isn't that much for this style of watch. Next to the off-centre micro rotor is the balance wheel, which oscillates at a frequency of 4 Hz, and a large bridge concealing much of the mechanism. On the other hand, however, this design makes the structure of the movement exceptionally stable. With two spring barrels connected in series, the P.4000 calibre offers an autonomy of at least 72 hours which increasingly seems to becoming the new normal for watches within this category. Lastly, it's also fitted with a hacking device which stops the balance wheel when the winding crown is pulled out to set the time – rather useful for synchronising the watch precisely. Based on my experience with the PAM233, however, I'd prefer a reset at zero whenever pulling the crown out for setting the time – partly because it's fun to see it jump back to the zero-position and perhaps even a little more convenient too.
Considering its large diameter and case material, it's not recommendable for everybody, but if you can pull it off just as good as or even better than O'Brien, it might become more fun than you'd expect. O'Brien's other watches from Panerai include what appears to be a PAM0298 and PAM025 which have been spotted in both older and more recent episodes with the loveable talk show host. If he still has these references in his collection, then it also could be a clue about his style of collecting watches as these watches are rather different with regards to both design and material. Maybe he could sell one of them to Andy Ricther, so he could supplement his Omega Seamaster (reference 2534.50.00) with another distinctive dive watch?
Ending
This wraps up our fifth instalment of Watch Spotting with WristReview. If you've spotted a timepiece worn by a celebrity, politician or some other public figure, you're more than welcome to send us an e-mail and our team will gladly investigate it further. We might even feature the person in our next instalment, if you found someone more interesting than we did.