One of the best things about being a watch blog editor is that we get to see so many different creations coming from companies all around the globe. From America to Japan and everywhere in between, watchmaking is experiencing a renaissance of sorts where people from all walks of life are making their dreams a reality. However, it's fair to say the most inventive and exciting still come from Europe with Switzerland at the heart of the industry. At the centre of that is Geneva which is turf for some of the biggest groups in the industry, but one independent that's always garnered our interest is Chopard, which is known for presenting slightly quirky and definitely left-field alternatives to some of the more 'mundane' timepieces. So, to show our recognition for them we've decided to choose our Top 5 watches and display them in our specialised order.
5. L.U.Chopard GMT One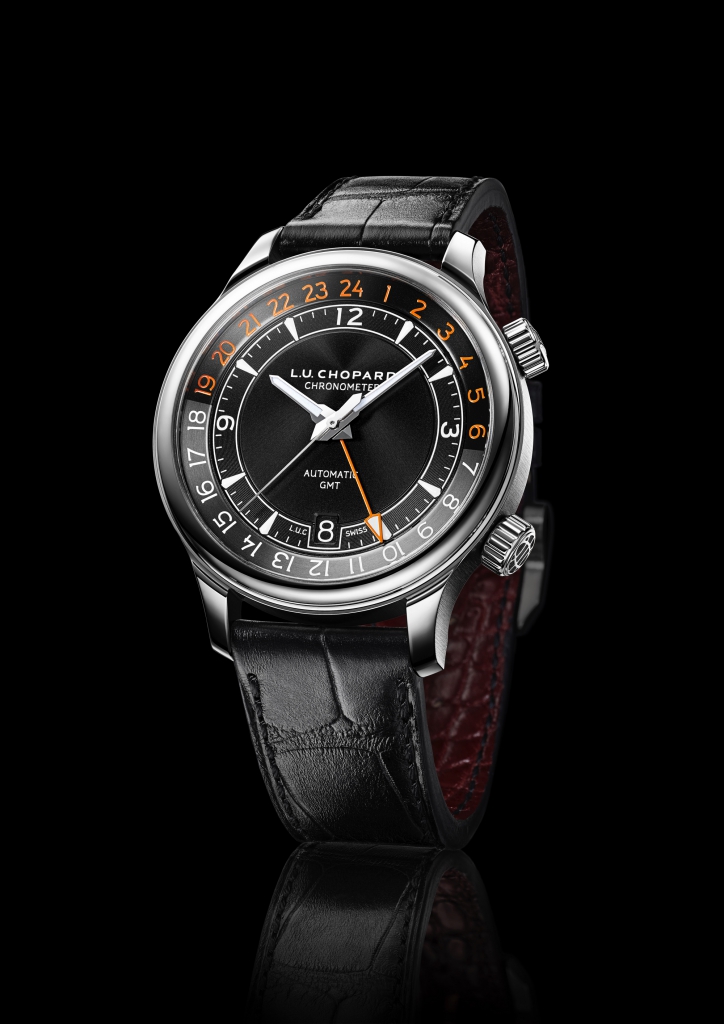 Late last year (October 2016, to be precise) I embarked on a trip from university in Bristol all the way to big shiny London where a Jaguar XJ LWB awaited to whisk me away to Phillips to meet with Chopard. This was one of the two collections we came to see in the metal, the other being the GMT Time Traveller. Out of the two, the GMT One was my favourite, it's a sleek dressy watch with a wonderful balance of sportiness thrown in there too. The twin crowns make for a more unusual appearance and the strap and buckle match the robustness you'd expect from this watch. The black dial version in steel works beautifully as a fine line between casual, dress and sports watches. Oh, we also like automatic movement visible through the back.
4. Chopard Superfast Split Seconds
One of the best things about this company in particular is that their demand isn't massively high. that's not to say they don't have customers and aren't liked by the community, but demand for Chopard's watches isn't as great as other companies in this price sector, but for those who are into their watches that presents benefits, enter the Superfast Split Seconds. A relatively inexpensive split seconds (rattrapante) chronograph in a sporty steel case. The automatic winding chronograph watch makes use of red for the components related to the chronograph such as sub-dials for the chronograph and the pusher unusually located at 8 O'clock. We like how the watch is understated about the complications it makes use of, it's one you'd have to ask about to find out in full.
3. L.U.Chopard Perpetual Chronograph
Of course, one shouldn't mistake the fact that a company makes affordable watches as being a company that cannot produce expensive and complicated ones too. Entire the Perpetual Chronograph, unveiled at Baselworld in 2016 this stunner packs in some of the most complicated and exquisite complications there are, specifically the chronograph and the perpetual calendar. Making use of five subdials and two date windows overall, the Perpetual Chronograph is a model which shows exemplary skill in watchmaking. Couple this with the fully visible moonphase at 6 O'clock and the twin date windows just under the logo and it's easy to see why this one claims spot number three. Also, we really really love the sunburst guilloché on the dial, like, really really love it.
2. L.U.Chopard XPS Fairmined
It's all well and good with all these different companies claiming to offer a different product for a lower price. We see them all the time, watches made out of wood for example, or independent watchmakers who fuss over every little detail but perhaps miss the big picture. The big picture is how we practically source materials we use all the time which is where, once again, Chopard steps in. The gold used in this watch is accredited to be Fairmined, this means that everyone involved in the production process from the choosing of the dig site to find the gold ore to the gold arriving at Chopard ready to be used. This could be big for us in ten years time if the whole industry gets on board with it. About this watch, we love the circular engraving of the dial, the sleek case and the decoration of the automatic winding chronometer grade movement. I take it back, this and the GMT One are my favourite watches from Chopard.
1. L.U.Chopard Triple Certification Tourbillon
Talking about revolutions in the watch industry, in at number 1 spot on our list is probably the most exemplary of them all. Don't for a minute think that we don't love the Full Strike watch as well, but a watch which can claim to be the only one with three separate hallmarks for quality? This tourbillon watch bears certification from COSC for its accuracy, like a Rolex has. It also bears the Seal of Geneva for its construction and finishing techniques like a Vacheron Constantin. Then it adds in a certificate from the Foundation Qualité Fleurier in as well, this is an extremely hard certificate to achieve as is demonstrate by the fact that only Chopard, Bovet, Parmigiani and Manufacture Vaucher have attained it. Having this watch shows that Chopard really means business when it comes to complications and high standards, all 224 components are squeezed into the 43mm case with spectacular fashion.
Maybe the market shouldn't overlook Chopard? Maybe they should? After all, those 'in the know' about the company can enjoy the products without all the flimflam associated with other companies, either way, keep an eye on Chopard at this year's Baselworld. For more info, please visit chopard.com