A number of people have asked me this question, "What would be the most useful complication on a mechanical watch today?" This is an easy question to answer. For me, it is the GMT function (some called it UTC; conceptually there are differences but operationally they work the same i.e. tracking another time zone).
Collecting and writing about watches is a hobby of mine. Not a lot of my readers know this but my daily job and career is totally different. It involves the world of finance. Travelling to the four corners of the Earth is a normal occurrence for me. If I am not travelling, I would be engaged in teleconferencing with global clients. This set of circumstances requires me to have a watch (if it is mechanical) that can track global time zones so that I would know when would be the best time to make conference calls.
Wouldn't a Worldtime watch be more appropriate? Yes, it could if it has the location of all my clients. Due to the lack of space on a dial, it is close to impossible to note every possible location on Earth onto the Worldtime watch. Also, if a country suddenly decides to move to another time zone, the dial of any Worldtime watch prior to the change would be erroneous. Case in point: the change by North Korea by 30 minutes last year to move the country from GMT+9 hours to GMT+8.5 hours. I don't think any major brand has ever put Pyongyang as a Worldtime reference before but the fact that you need to relate to a city to get the time zone is a step too far. A simpler process would just remember the reference time zone plus (+) or minus (-) GMT and refer directly from there.
Daylight Saving Time used in the summer months for certain jurisdiction also plays havoc to a Worldtime watch. The typical way to denote such jurisdiction is to colour such cities differently from the rest. Furthermore, as it is now, a dial on a typical Worldtime watch is too busy for my liking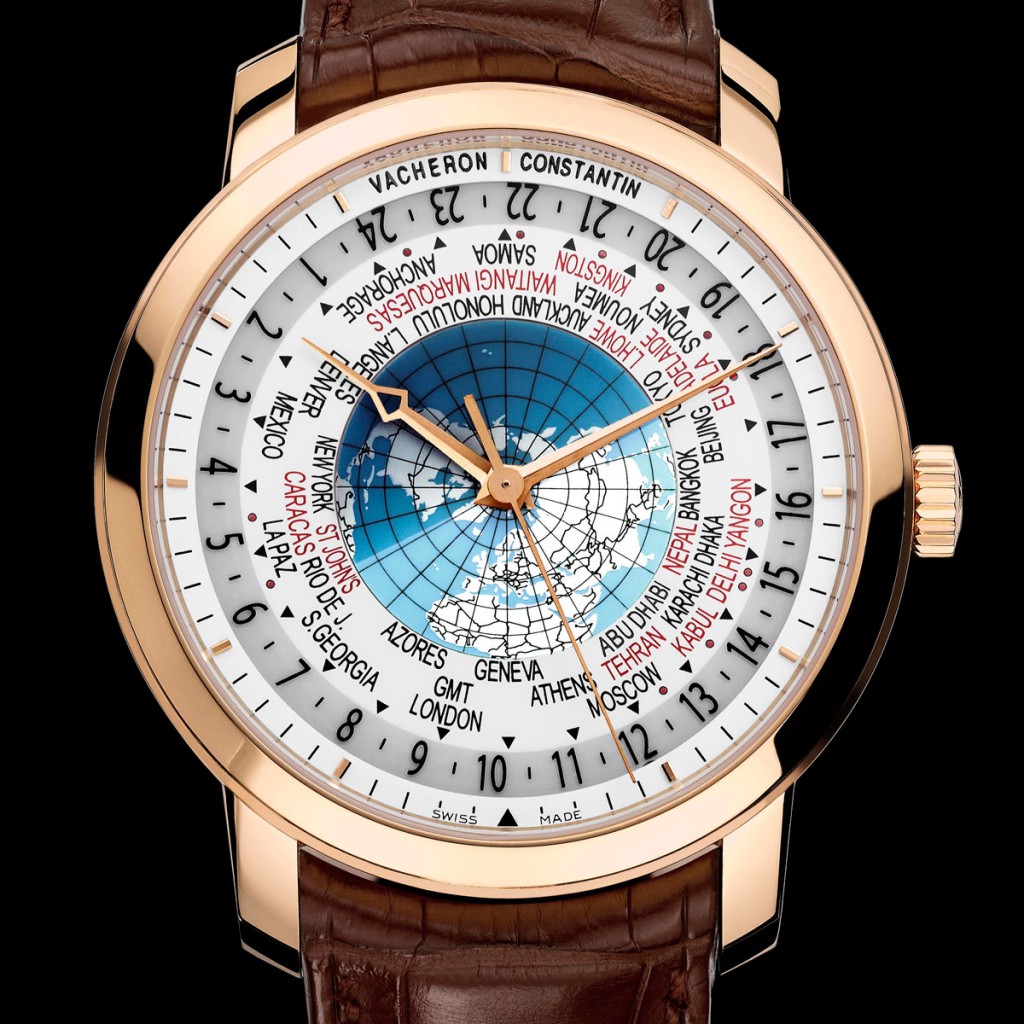 Vacheron Constantin Traditionnelle World Time Reference: 86060/000R-9640
What would be most efficient is a fourth hand; a GMT hand that moves one round of a dial in 24 hours. There should also be 24-hour scale for reference.
I usually fixed the GMT hand to point towards GMT time. Now, you just need to take note of the target location time zone reference to the GMT. For example, if you know North Korea is 8.5 hours plus GMT, you just refer the GMT hand and add 8.5 hours to give you the time in Pyongyang. If Los Angeles is 8 hours minus GMT, you just refer the GMT hand and minus 8 hours to give you the time for the US West Coast.
As a travelling watch, you don't it to be too big or too obvious. Something around the 43 mm range would be sufficient. It should also have a sporty nature to it in case you want to take a dip in the hotel pool. In short, it shouldn't be too dainty or too expensive or made out of precious metals (don't want to provide the necessary temptation to the unscrupulous when travelling). Nevertheless, it should have a pedigree that exudes style, quality and class.
Below is a list of GMT watches that is perfect for the job.
5. Seiko Prospex Landmaster Spring Drive SBDB005
Although the watch 46.8 mm long by 45 mm (due to the crown located at 12 o'clock), it is light by virtue of its all-titanium construction. Powered by the Spring Drive movement caliber 5R66 with 72-hour power reserve, it is extremely accurate. It is water-rated to 100 meters. This watch also has a power reserve indicator.
All these watches are still available at the store (the Seiko Prospex Landmaster Spring Drive SBDB005 has been superseded by the SBDB015 – similar except for a newer and brighter LumiBrite luminous paint). seikowatches.com
4. Panerai Luminor 1950 3 Days GMT 24H PAM531
The PAM531 is 44 mm wide in a steel case with the GMT hand referencing a 24-hour scale. The watch is powered by the in-house automatic P.9003 calibre. The P.9003 has a power reserve of 72 hours, achieved by two spring barrels connected in series. Similar to the watch on the third place, the PAM531 has a power reserve indicator but it is placed on the movement instead of the dial. panerai.com
3. Grand Seiko SBGE001 Spring Drive GMT
The SBGE001 is part of the Grand Seiko range. One of the bigger watches in the range, it has a 43.5 mm diameter face and a 14.7 mm thick case. The stainless steel construction (including the bracelet) tips the scale at 177 grams. Powered by the Spring Drive movement, this is one of the most accurate hybrid mechanical timepieces one can find.
With the addition of the external bezel, this watch can actually track three time zones. Another good complication that this watch has is the power reserve indicator. On long flights, with just one look one would be able to note the extent of power available. This eliminates "power reserve" anxiety that travelers have with mechanical watches; constantly shaking their watches (or winding them) for fear of the watches just stop function due to lack of main spring tension. seikowatches.com
2. Omega Seamaster Aqua Terra Master Co-Axial GMT Reference 231.90.43.22.04.001
The Aqua Terra GMT features a lacquered white dial with applied blue indexes and a 24-hour GMT scale inside the minute track. The 43 mm wide casing is made out of grade 5 titanium (bracelet is similar) and powered by the Co-Axial calibre 8605. The uniqueness of this watch is its ability to resist magnetic fields of up to 15,000 gauss.  It is also water-rated to 150 meters. The main springs are able to store 60 hours of power reserve. omegawatches.com
1. Rolex GMT-Master II 116710BLNR
This 40 mm steel GMT-Master II has the proprietary blue and black ceramic bezel (or "Cerachrome" hence BLNR for bleu/noir) that is solidly constructed and well polished. Powered by the in-house Rolex Calibre 3186, it has a bi-directional rotatable 24-hour graduated bezel. With its screw-down crown, it is water-rated to 100 meters which is just nice for a swim in the hotel pool. rolex.com
MEOR AMRI MEOR AYOB – CONTRIBUTING EDITOR
Meor Amri is a passionate watch collector from Kuala Lumpur, Malaysia. Having bitten by the horology bug in 2010, he has written extensively about the watch scene and has assembled a large collection of watches (excessively!!!) on his own free time. His blogs on the same subject are: Eastern Watch & Western Watch Read his articles here