In this WristReview Top 5, we are going to show you what we think are five of the best dressy watches to come with a small seconds hand. While not a complication as such, or even a necessity, the small seconds gives a watch a certain flair while remaining restrained at the same time. This is imperative for dress watches which are often considered the very top echelon of watchmaking, despite often having almost no complications at all. To distinguish this list and ensure that there is no overlap with any others, we are solely focusing on dress watches here. Almost all chronograph watches have a subdial set out for running seconds while leaving the centre hand for the timed seconds. Therefore a chronograph could've been a possibility for the list, so we've limited it to dress watches only.
5. Patek Philippe Calatrava 5196G
Could there possibly be a list of the best dress watches that didn't include a Patek Philippe? Thankfully, no, and this list is no exception to that. The 5196G is a current production model from Patek that embodies all of what a dress watch should be. One glance at the silvery grey dial with applied gold markers should tell you this. The subseconds hand, dainty though it may be, is not lost on the dial and takes lower centre stage on the Calatrava. Although restrained in its design, the watch makes up for its lack of lavish complications and jewellery with a hand winding movement, hidden away under a hunter style caseback.
4. Moritz Grossmann Atum Ref. MG000464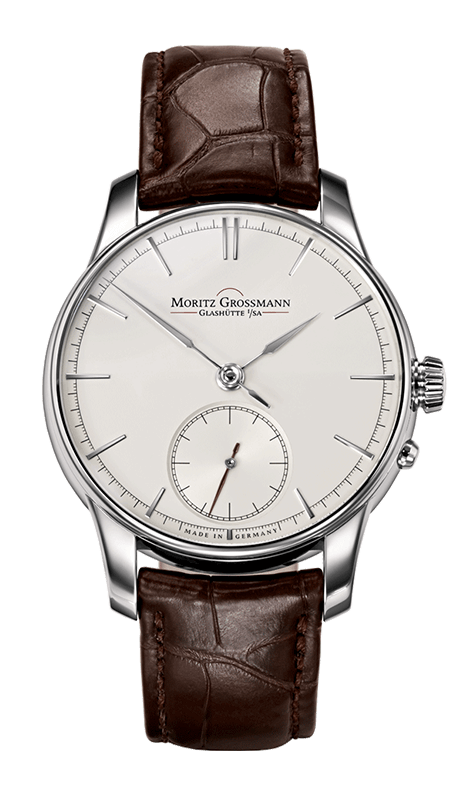 Moritz Grossmann is one of the more underappreciated independent brands, and we've never really been able to work out why. Based in the Saxon capital of watchmaking, Glashütte, their workshop overlooks the factories of both Glashütte Original and A.Lange & Söhne. The design of the Atum is both restrained and balanced. The lance-shaped hands, crafted in house (that's rare), offer a clean look that doesn't intrude on the designs of the watches from Moritz Grossmann's neighbours. On this watch, the calibre 100.1 is a real stand out, offering a Grossmann balance that's stopped by the pusher at 4 O'clock, a German silver construction and excellent hand finishing. It's a horological crime that these aren't generally recognised by most, even the ones in the industry.
3. F.P. Journe Chronomètre Bleu
This tantalum titan from F.P. Journe has a big waiting list and an even bigger fanbase. The Chronométre Bleu is a favourite amongst pretty much everyone because of its vibrant dial which uses a mixture of concentric circles and shapes we don't see on other watches. The Journe hands on this watch fit right in with the design language and the overall uniqueness that can only come from a smaller company. But, don't think that just because F.P. Journe does not have the resources of the others on this list that the watches pay the price. The movements inside these watches, including this one, are regarded as some of the finest in the industry in both their construction and their decoration.
2. Jaeger-LeCoultre Master Grande Ultra Thin Ref. Q1358420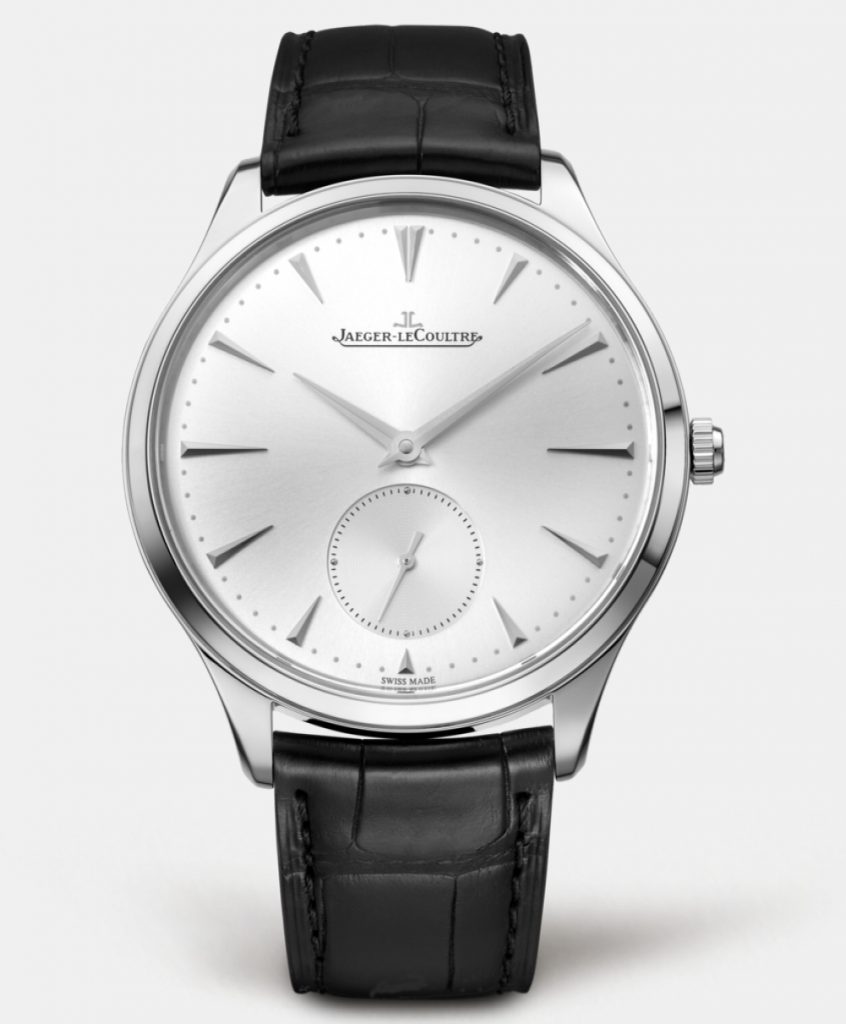 What could be better than a simple yet ultra classy dress watch from Jaeger-LeCoultre? A brand that's often considered to be highly underrated in the watch industry. Well, an ultra-thin ultra classy dress watch from Jaeger-LeCoultre of course! You might be wondering as to why we chose this particular reference, and the simple reason is that it is the preferred choice of dress watch by WristReview's masthead, whom I can quote: "it's a subtle and sophisticated design which is complemented by the small seconds which gives it an undeniable sex appeal".
1. Breguet Classique 7147BB/29/9WU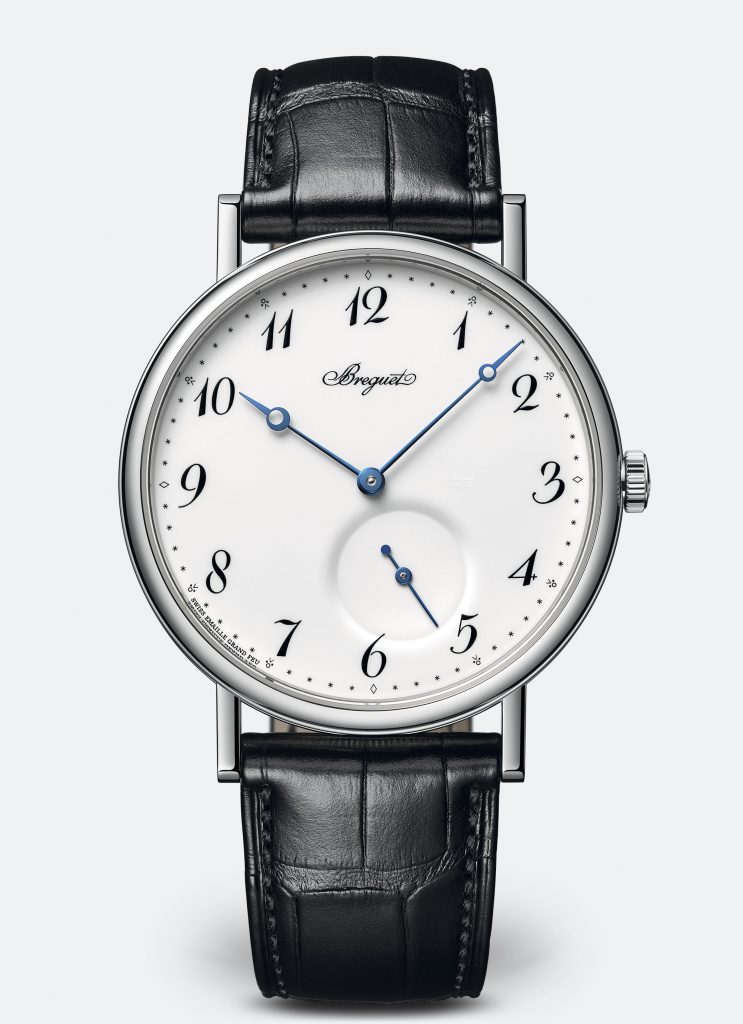 Many aficionados of the watch world have described the Classique line from Breguet as nothing less than a piece of art. In its own right, it's a fantastic piece, the enamel Grand Feu dial is clean and sophisticated, but not without technical skill. Note, on this watch, the small seconds hand has been set inside a slight dip on the dial. What's impressive about that from a technical side is that it's one piece of enamel only. Think about it, when was the last time you saw a tile that wasn't flat? If that wasn't enough, the rear of the watch is as spectacular as the front with a hand engraved gold rotor, and you can have the dial hand engraved with a rose lathe too if the enamel isn't your thing. With either of the dials, you get a unique look, but you also miss out on the other, so choosing between the two could be considerably more difficult than anticipated.
[button color="black" size="big" alignment="center" rel="follow" openin="newwindow" url="https://www.exquisitetimepieces.com/watch-brands/breguet-watches.html"]BUY YOUR BREGUET HERE[/button]