I have a slight tendency to eye Kickstarter projects not only for the value and the big potential they hold but for their novelty. Ideas don't come cheap and when it comes to high end diver's watches they always come with hefty price tags. Thanks to various Kickstarter projects, many reputable watches have been produced.
Elshan Tang, the founder of Zelos promises that the watch has been engineered for the extremes. It is made to withstand water pressures reaching 3000m. These depths are insane and most water resistant watches are capable of reaching only 300m to 500m. For this reason, many divers typically rely on more reliable and expensive diver's watches. Thanks to the Abyss, anyone who participates on this project can now have a taste of what it feels like to wear a real diver's watch that are engineered with extreme prejudice and absolutely amazing machining techniques.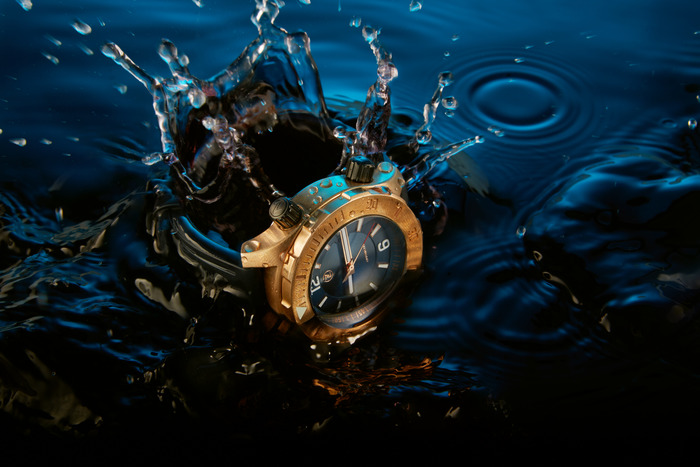 The successful launch of the Helmsman and the Chroma inspired Zelos to create the Abyss and the founder acknowledges that the overall design of the Abyss is borrowed from the Helmsman and the Chroma but heavily modified to pass the requirements of the diver's watch. To test its water resistance of 3000m, the company resorted to building their own pressure tester assembled from commercially available parts instead of purchasing more expensive swiss made pressure testers. This saves the project a lot of funds thus allowing better components to be selected for the Abyss.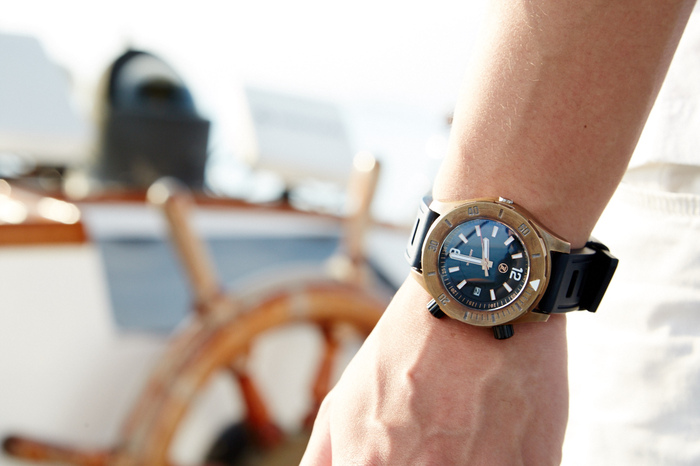 The most prominent quality of the Abyss is its interesting choice of 43mm marine grade bronze case. Bronze is easily associated with the sea and has better anti-corrosion property. However, it looks like a rusty metal because of the patina which is an oxide layer that forms the protective skin for each of the Abyss. Of course it looks like shiny rose-gold at first but with normal use, it slowly changes to a rustic brown. Divers love this look though because like it or not, when you're 3000m underwater, you'd prefer a stronger and more confident watch and the Abyss's appearance ensures that it's built to endure.
The dial is robust and presents a strong testament to its true purpose. There are five variants of the dial although they only differ in color. What I love about the dial is the circular brushed inner dial which makes time reading very easy including the hands and markers coated in BGW9 superluminova which I'm fairly certain, a feature that many divers are looking for.
The overall thickness of the Abyss is 18mm which is crucial to withstand extreme pressure. The 7mm thick sapphire glass is double domed to provide better viewing coupled with the inner anti-reflective coatings. It is also equipped with a finely machined 120 click, unidirectional diver's bezel with lumed triangle. The Abyss also features a Helium Escape Valve for saturation divers. There is also an internal bezel for permanent timing functionality.
Power is provided by an automatic Miyota 9015 by Citizen which is comparable to many Swiss ETA movements. The screwdown caseback doesn't display the movement but you can take comfort that every bit of the Abyss is designed to take extreme beatings. The straps are available in brown vintage leather and black rubber dive strap. The Abyss is a capable diver's watch indeed. Stay tuned for an hands-on review. For more info, please visit zeloswatches.com
Jovan Krstevski – Founder, Proprietor & Executive Editor
Watch collector, aficionado and an Event profile in the Swedish nightlife. He launched Watchgeek back in 2011, which is now known as WristReview and is one of the most widely read watch blogs on the Web. He quotes 'WristReview is a site to help people find, explore, discover and enjoy wristwatches.'  His passion jump started in his early teens, when he was given his first mid-range wristwatch which was an Omega Seamaster. Since then he has always been in love with wristwatches! Besides WristReview, he also writes for a number of publications. Read his articles here.