First off, this is an honest review of the Ulysse Nardin Diver Le Locle watch and if you remember, we covered this watch here on WristReview last year and presumed that this more vintage-inspired style of watch has been picking up in popularity over the past few years. Companies like Blancpain, Jaeger-LeCoultre and even Oris are also in for the ride. The original Ulysse Nardin Diver Le Locle diver watch was first released in 1964 with large luminescent hour markers. It had a prominent broadsword shaped hour and minute hands that were very trendy at that time. The unidirectional rotating bezel was also designed for a tool watch. Certainly, it is about right to revisit this watch since I have had it for 2 weeks now and I am very happy with it.
So without further ado, here is my take on this impressive sporty diver's watch. To a moderate degree, the Ulysse Nardin Diver Le Locle is a svelte diver's watch at just 42.2 mm case size. Taking cues from its classic styling, its design is based off an in-house 1964 model with newer materials like silicium components and the build is pretty much very modern. At this size, it also falls into a dressy category but its true nature is its sporty build, somehow, it is quite hard to ignore its prominent diver features such as the bezel.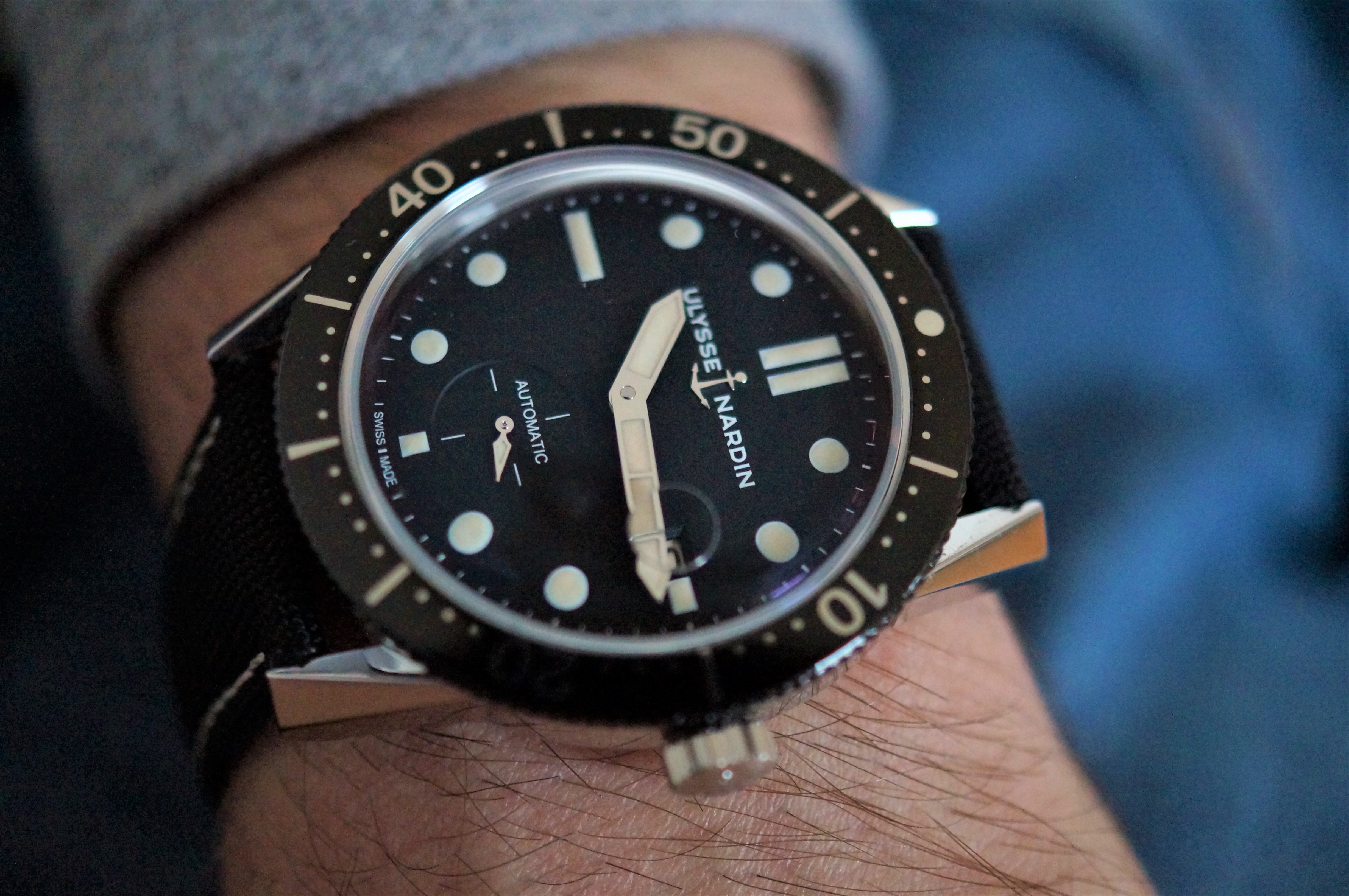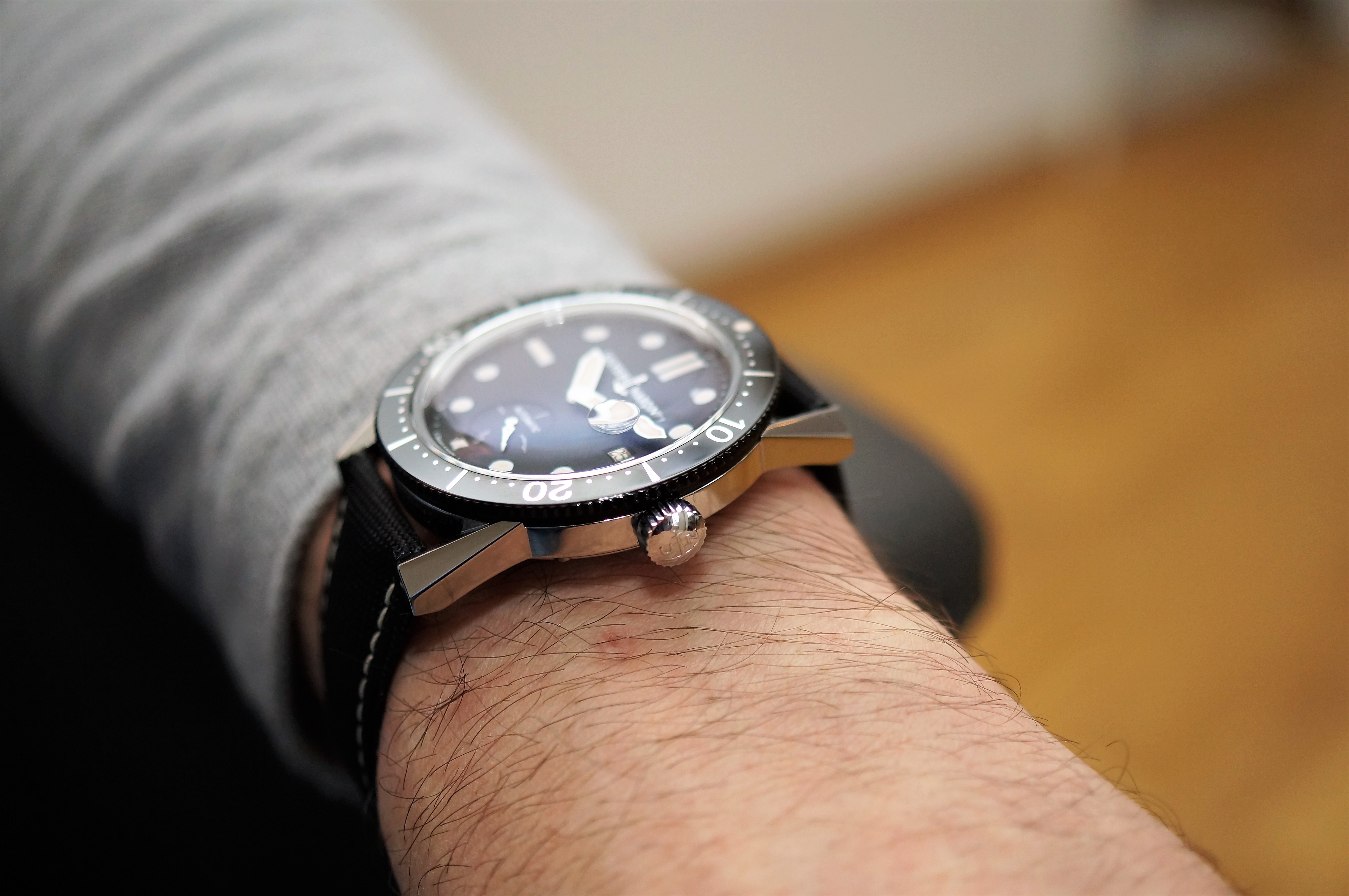 Again, the slender profile of the Ulysse Nardin Diver Le Locle really helps for its universal suitability making it good for a number of wrist sizes. It certainly feels comfortable to wear and although the lugs have sharp edges, I found them rather smooth on my skin.
The entire case is polished steel and is water resistant to 100 m which falls short of Ulysse Nardin's Diver collection that goes beyond the 100 m rating. I like the vintage shape and the classic look of the bezel and its insert. The black coated bezel plays nicely with bright light thanks to its insert made of aluminum with a glossy finish. I kind of like the bumped upsize to 42 mm compared to the rather small 38 mm size of the old one.
When on the wrist, the Ulysse Nardin Diver Le Locle feels compact and sits very well thanks to its thin casebands and thin lugs. The raised bezel and caseback also provide a kind of deception of thinness when on paper, it certainly looks slightly bigger and thicker. If you have small wrists, you would really love this feature. I love the originality of the case, particularly the facetted lugs that overall give the Diver Le Locle a very cool appeal.
Moving forward to the dial, the Ulysse Nardin Diver Le Locle sticks to the key features of the vintage model but gives them much needed modern features. By comparison, the 1964 model features the same matte black color which by today's standards is relatively fashionable. The shape of the hands and the indexes are also largely original, I kind of like large lumed hands for absolute readability. The slightly patinated color of the lume makes for a very nice vintage appeal but again, wear this watch for over 50 years, and you would get that natural patina but it is very cool to experience it early on. As for fresh design, the seconds display is now at 6 o'clock with its own sub-dial instead of a central second. Fortunately, the shape of the small second hand is still the same glaive shape of the old one. Another noticeable change is the magnified date at the same 3 o'clock position.
I asked myself why change the central seconds hand when obviously it fits the vintage look better, then I came to realize that the surprising position of the second hand is all due to the presence of a modern, in-house produced movement, the calibre UN 320. It also signifies modernity since Ulysse Nardin's dive watch collection features this kind of configuration. This modern movement features silicium technology on key elements such as the hairspring, escape wheel and pallet fork. It also runs at 4 Hz producing 48 hours of power reserve. The nice decorations are not visible since there is no crystal caseback but I do like the nice engraving on the closed back which is exactly the same as that of the 1964 model.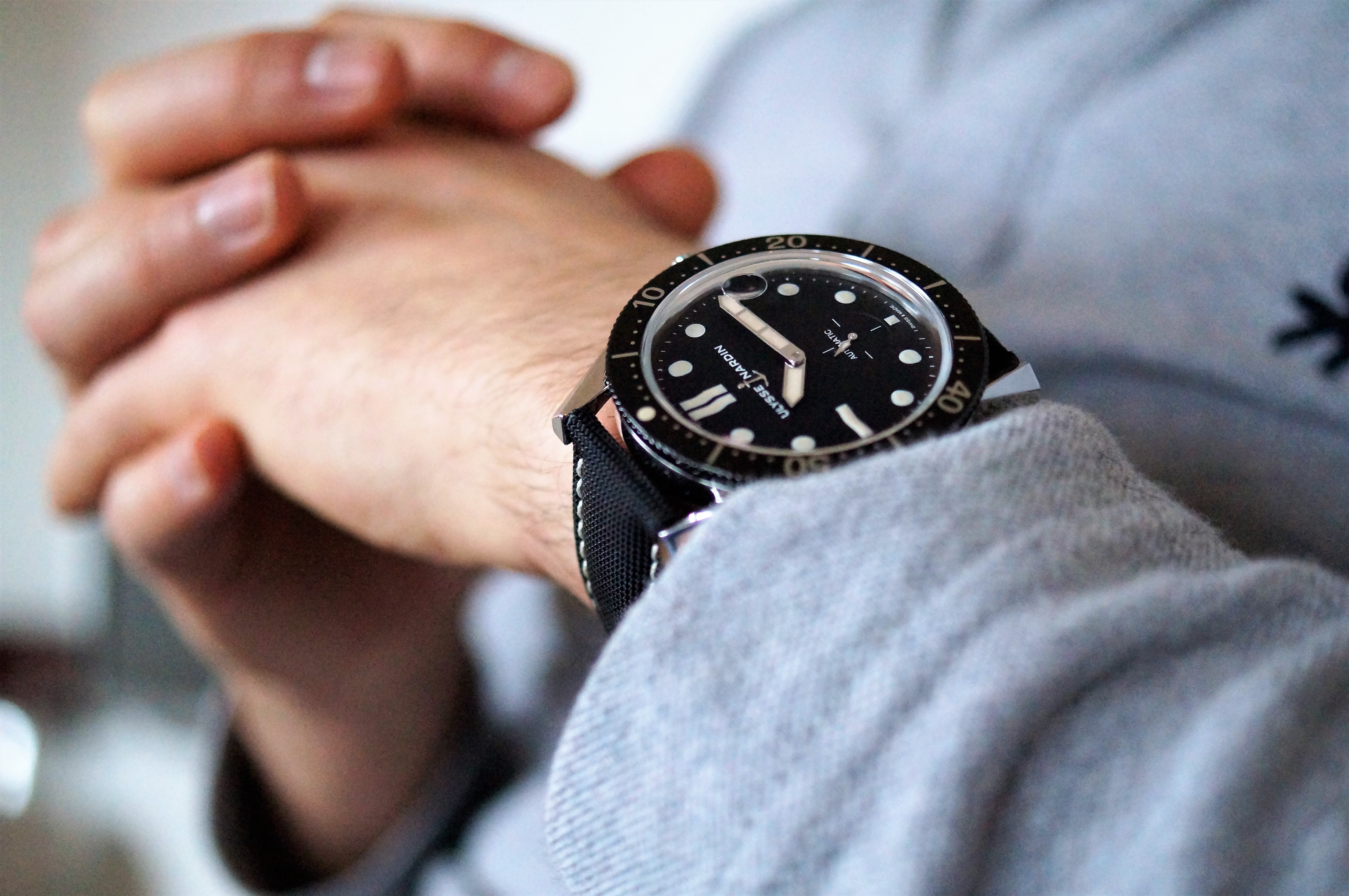 Now, without sugarcoating my experience, I somehow got mixed reactions from people who saw it. However, most of them liked it though. Additionally, personal experiences of any sort are highly subjective but I do feel that the bezel is very slippery which is the only negative experience I have had of the watch. Some would also argue that in terms of vintage diver's watches, Ulysse Nardin is probably not the first brand we could think of and I concur.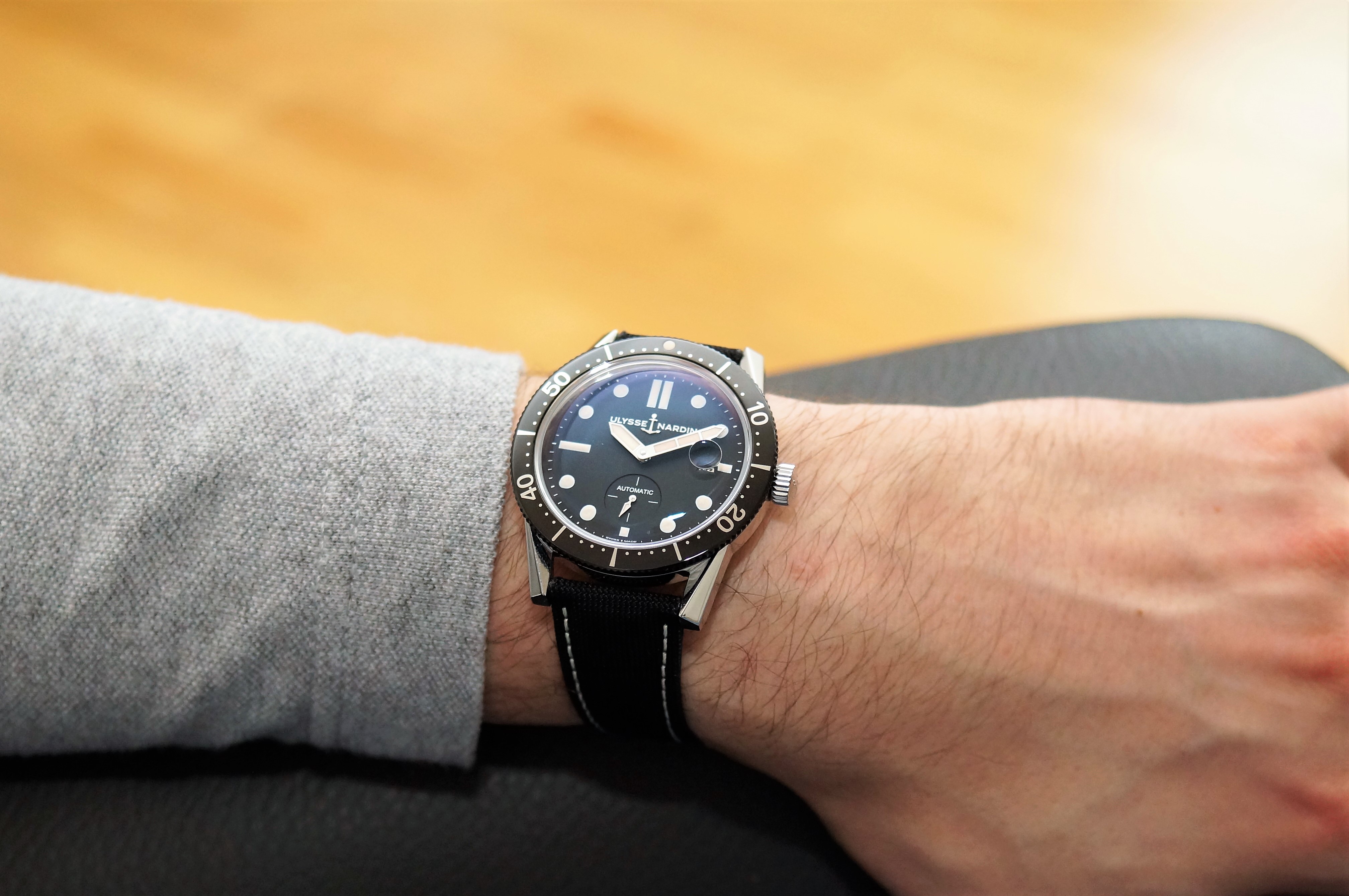 In my daily usage, I noticed that the rotor of the movement is very noisy for a watch in this price class. However, it is good to note that other brands have the same issue as well. Besides, the UN–320 manufacture movement bears true 21st century Ulysse Nardin expertise with a silicon escapement and hairspring so I do not really know what causes this issue. It would be difficult to assume but performance wise, I love this watch and I feel assured by the movement's precision thanks in part to its immunity against the effects of magnetic fields like when you suddenly venture too close to a giant speaker at a friend's party.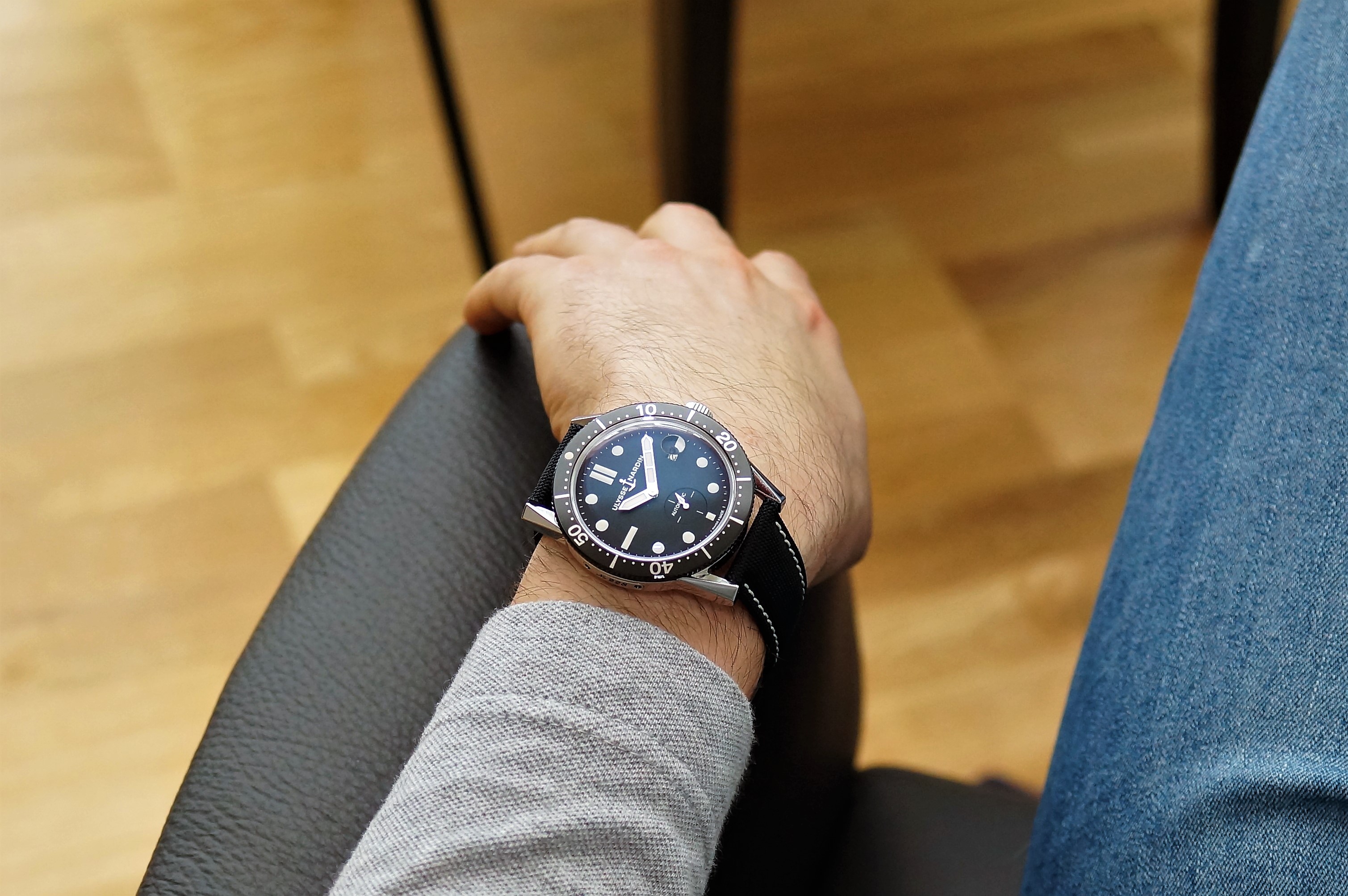 The people I mentioned who did not like the watch noted its artificial patinated lume on the indices and hands and the closed back plus the meager 100 m of water resistance when the brand is clearly making diver's watches that go way beyond that level. Well, in my quiet defense, I just thought the patina looks nice and waiting for it to naturally appear in over 50 years time is just silly. Maybe your children would enjoy it so having it now even though it is artificially designed is absolutely cool.
I somehow agree with the close back though, the beautiful movement could have been displayed especially when this watch is not cleared for professional diving. I somehow got consoled by the idea of the original watch but at this price range, I would really enjoy an exhibition caseback. Nonetheless, this is a vintage style watch with a breath of fresh style. It looks cool under a shirt cuff down to the poolside bar. And most importantly, it does not look like an old piece that you basically inherited from your ancestors.
As for the strap, I would have wanted a deployant clasp with a security lock since this is a diver or a tool watch. The pin buckle on the strap feels cheap in my opinion but it remains true to the original release.
Overall, I love this watch. It feels good on my wrist and it is a practical diver watch. It might be capable of 100 m only but think long and hard, how often do you dive that deep? In this price segment though, buyers are somewhat spoiled with choices, each brand has a worthy contender so it all boils down to fanfare. The strength of the Ulysse Nardin Diver Le Locle lies on its heritage as most vintage re-issues from other brands. The classics are die hard and fortunately for us, Ulysse Nardin realizes this. More so, the brand gives us that patinated look maximizing the elegant nature of the watch.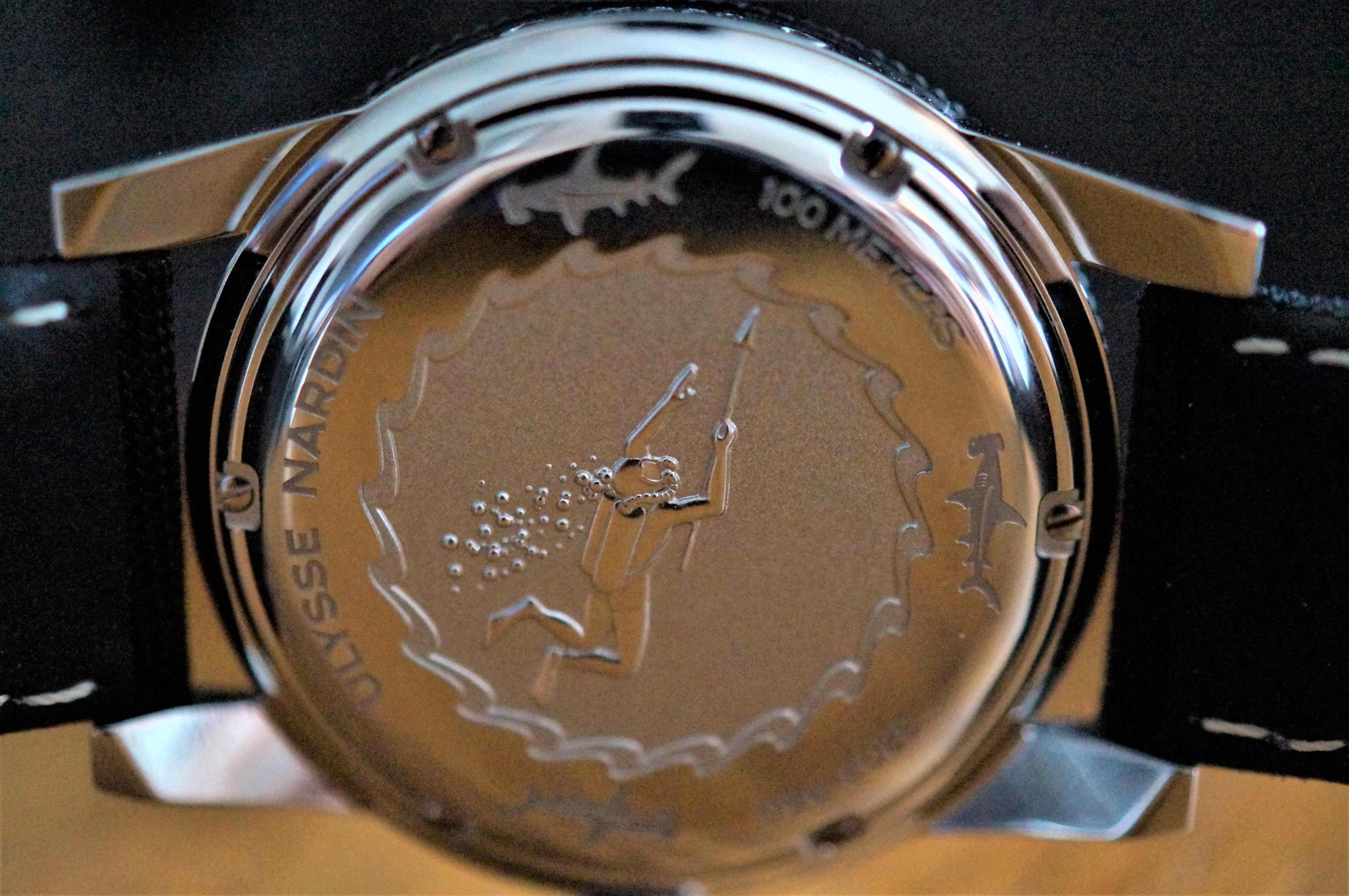 While some argue that this watch will struggle on the market, true enough the competition is harsh but it will still sell like hotcakes. It is a solid watch and the sailcloth strap also adds peace of mind in terms of durability, but you can always change to a leather strap with a deployant buckle. Every time I removed the watch from my wrist, I kind of adore the artwork at the close back. It is a depiction of a diver with a harpoon in hand and bubbles emanating from a set of oxygen tanks. The six screws that hold the caseback in position also adds assurance of its water tightness.
Finally, the Ulysse Nardin Diver Le Locle diver's watch gives proper ratio against its price in terms of its vintage design and its powerhouse. Unlike other brands who ramble on forever about their heritage and how one model changed everything forever, Ulysse Nardin's watches have actually been out there and done great innovative stuff. There is a marine chronometer, a clock designed to be super accurate when at sea that allows the crew to accurately navigate before compasses and GPS were even available, this is the kind of heritage we are talking about. The watch is clearly a modern day sports watch with a subtle hint of its respected past, need I say more?For more info, visit Ulysse Nardin online.