Last year I began the Top 10 Watches of the Year article by saying how it was nearly the end of the most painful and confusing year in recent history. Yeah, so I was wrong, for the first time since 2015, if my relentless self propaganda is to be believed. I don't know what you thought about 2021, but for me, this year was even worse than 2020. Indecisive governments making rules somewhere between laughable and mad, a summer heatwave that we never got (in the UK), and the relentless Omicron-themed memes made this year a stinker. Having said that, the three things I'm passionate about (cars, tech and, most importantly, horology) seemed to have had a better year this year. With that in mind, here are the ten watches we think are the best from 2021, plus two honourable mentions. This list was created by Jovan and yours truly, so if you disagree, you know where to throw the paper-wrapped stones.
10 – Seiko Presage Sharp Edged GMT
The new Presage Sharp Edged GMT watches were sporty, functional and also stylish, three things that Seiko seems to struggle combining in one watch usually. Their dials adorned with geometrical shapes and their stainless steel cases with a combination of brushing and polishing, these pieces are sure to impress. They feature the automatically-wound 6R64 and a really excellent price tag.
9 – Omega Speedmaster Chronoscope
Choose which variant of this watch you like as they're all smashing pieces. We loved that Omega went to town on these Speedmasters with a brand new historically-inspired dial and a new manually-wound movement. Purists might say they aren't faithful to the original, but I don't think that was the plan. This is a class in how to bring the past back to life in a watch that makes the past look brand new.
8 – Oris Aquis GMT Date Whale Shark Limited Edition
We always appreciate Oris watches here, and this year, we've seen them get experimental with their dial colours and textures. The pick of the bunch from 2021, though, is the Aquis GMT Date Whale Shark piece, which features an unusual bubbly texture on the dial reminiscent of the spots found on a whale shark. There's also a whale shark engraved on the back, which covers an automatic movement.
7 – Doxa Sub 300 Carbon COSC
There's something to be said about Doxa watches: they're very often excellent deals. Take the Sub 300 Carbon COSC, its barrel-style case was made from forged carbon rather than steel or titanium, and it retained the looks and colours we all love from the Doxa range. They also have mechanical movements, and there's a plethora of colours and straps to choose from. They're even selling for under four thousand Swiss Francs. These are not to be sniffed at.
6 – Glashütte Original SeaQ Bi-Colour
Two-tone diving watches will forever be a fan favourite. While the Rolex Submariner is the go-to and even the Omega Seamaster Planet Ocean looks good in it, it's Glashütte Original that won the two-tone diver contest for us this year. That's not an actual thing, by the way. We don't gamble on who makes the best two-tone. Although that could be a fun Friday night game, I'll have to mention it to the others.
5 – Rolex Cosmograph Daytona Ref. 116505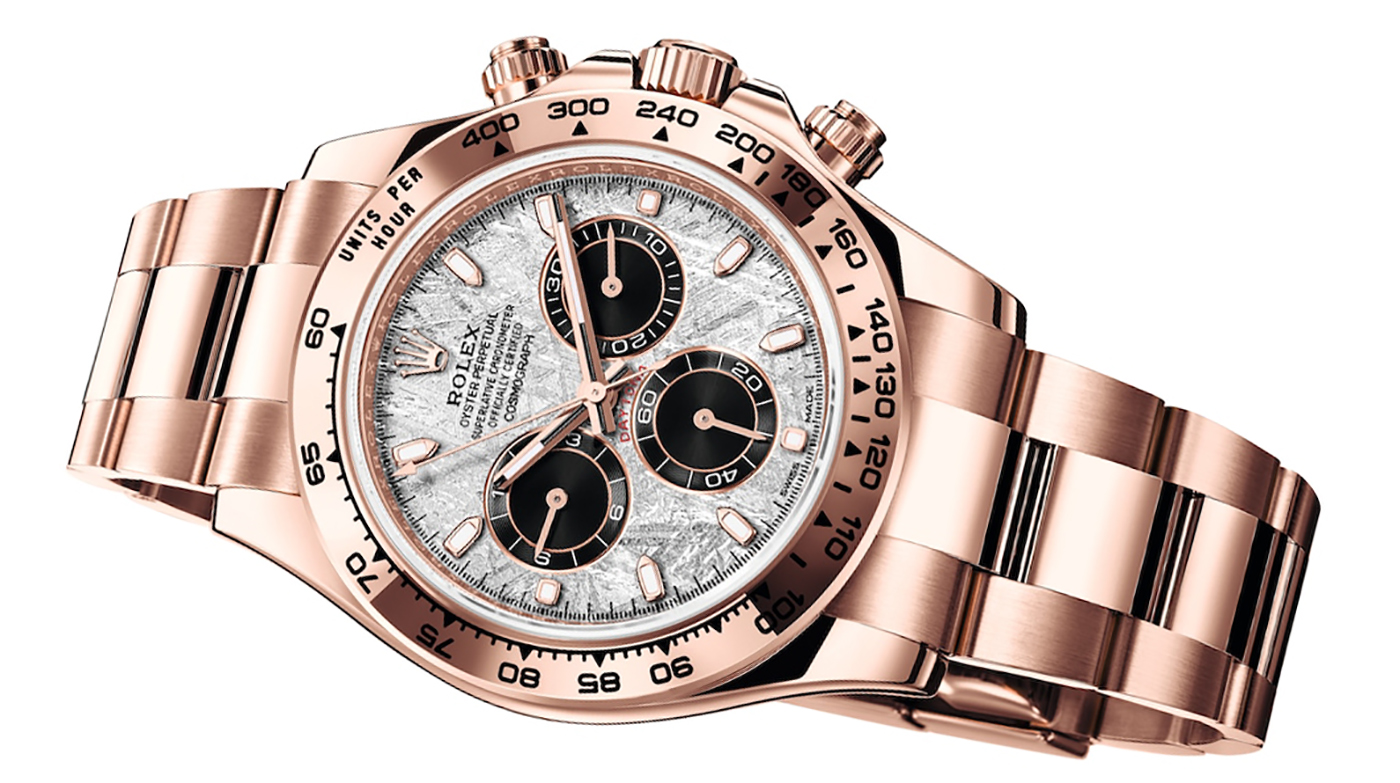 Oh, sure, it's bling central, but the Cosmograph Daytona with meteorite dial looks like a class act to me. We all like to dish on Rolex from time to time, that's probably because it's still en vogue, but they know how to design lovely watches. I chose the solid Everose gold model on a bracelet. Although white gold would be my gold colour choice, I didn't like the Oysterflex. Yellow gold? Nah, that's a bit 1990s for me, but the meteorite is cool.
4 – Grand Seiko Hi-Beat 9SA5 "Shirakaba"
Grand Seiko's "Shirakaba" has a dial that is reminiscent of the white birch trees surrounding Grand Seiko's Shizukuishi studio. "Shirakaba" translates as "white birch trees", although it sounds more exotic and intriguing in Japanese. This was also the first watch from Grand Seiko to feature the 9SA5 calibre that wasn't a limited edition piece. The new movement runs at 5Hz for 80 hours and is very slim, the perfect choice for a smart/casual sports watch.
3 – Blancpain Fifty Fathoms Bathyscaphe Titanium 43mm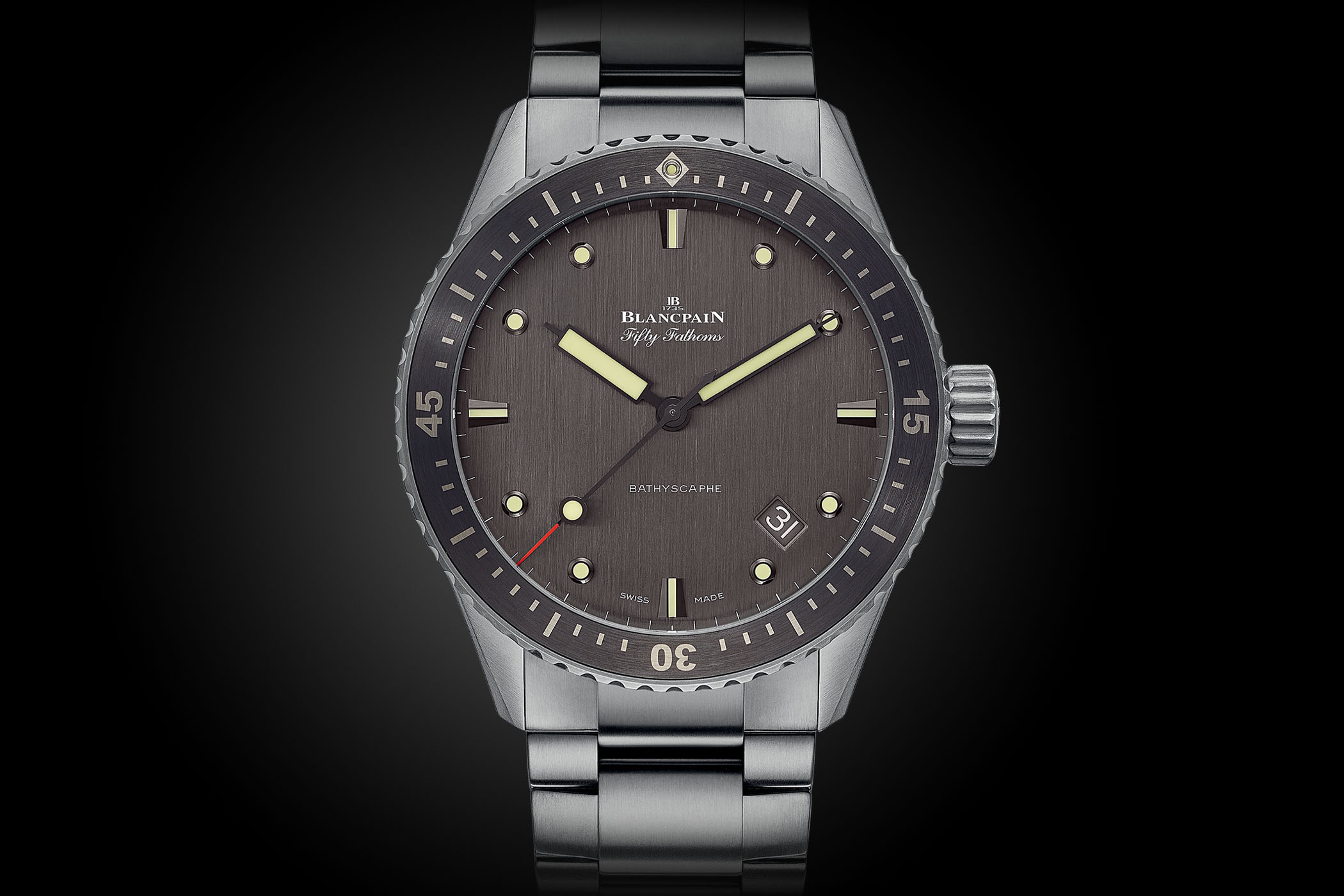 This year the Fifty Fathoms Bathyscaphe got the super-lightweight treatment with an all-titanium case and bracelet (although a strap is also an option). We liked the way this watch was finished, especially the vertical brushing on the sleek grey dial. It also helps that there's an excellent movement inside, making this the diving watch of the year for us for 2021.
2 – Breitling Super Avi Tribute to Chance-Vought F4U Corsair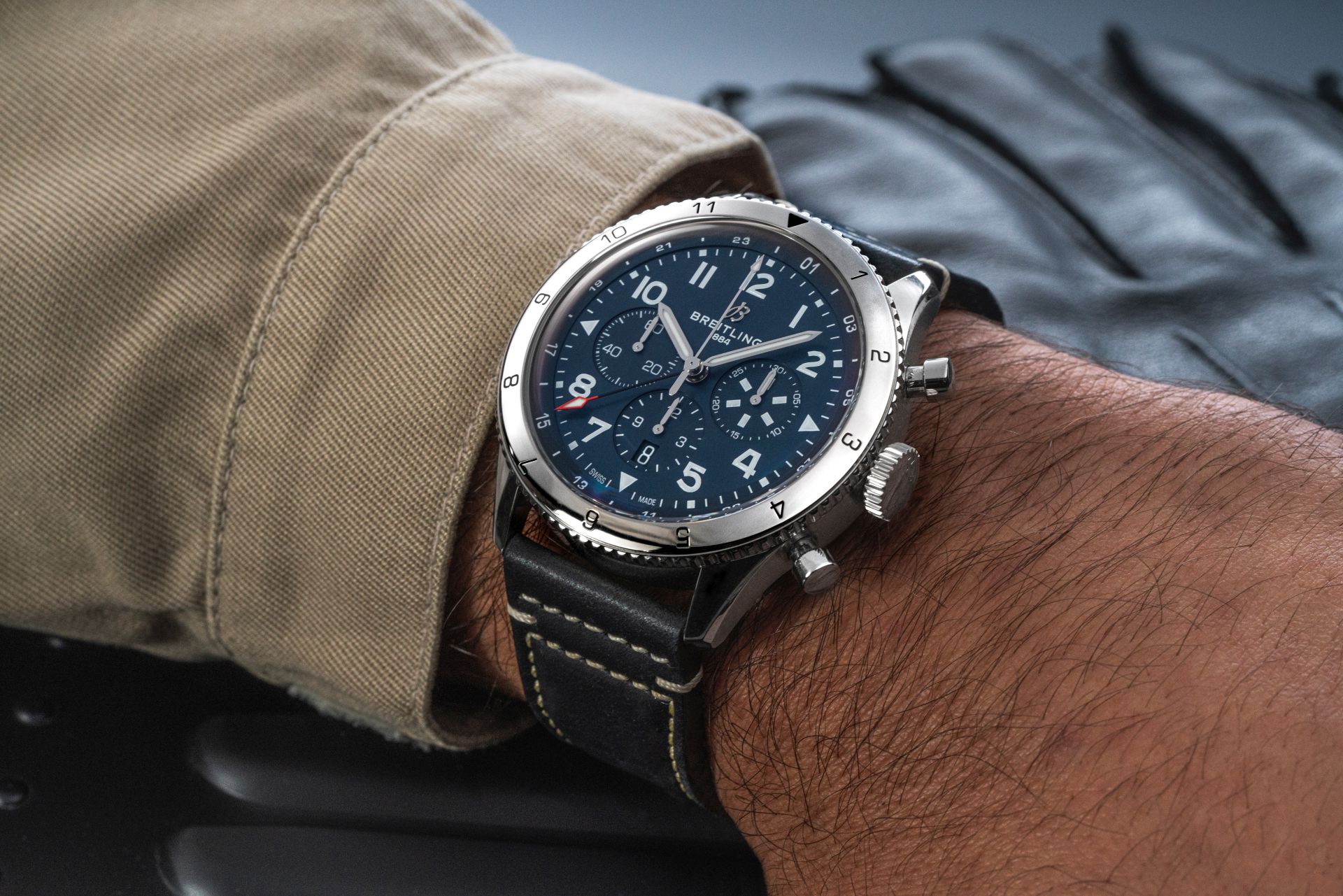 Breitling is, more than any other brand, known for aviation-themed watches. The story of Breitling and aviation goes back to the dawn of powered flight, more or less. In November, Breitling released four watches paying homage to WW2 planes, but our favourite was the tribute to the Chance-Vought F4U Corsair. We loved how the blue dial and polished bezel worked together to form a pleasing aesthetic that had no gimmicks; it was just an excellent-looking piece (although huge at 46mm).
Before we get to our number one pick, here are our honourable mentions (hey, I sound like WatchMojo!).
Honourable mention 1: Hamilton Khaki Navy Scuba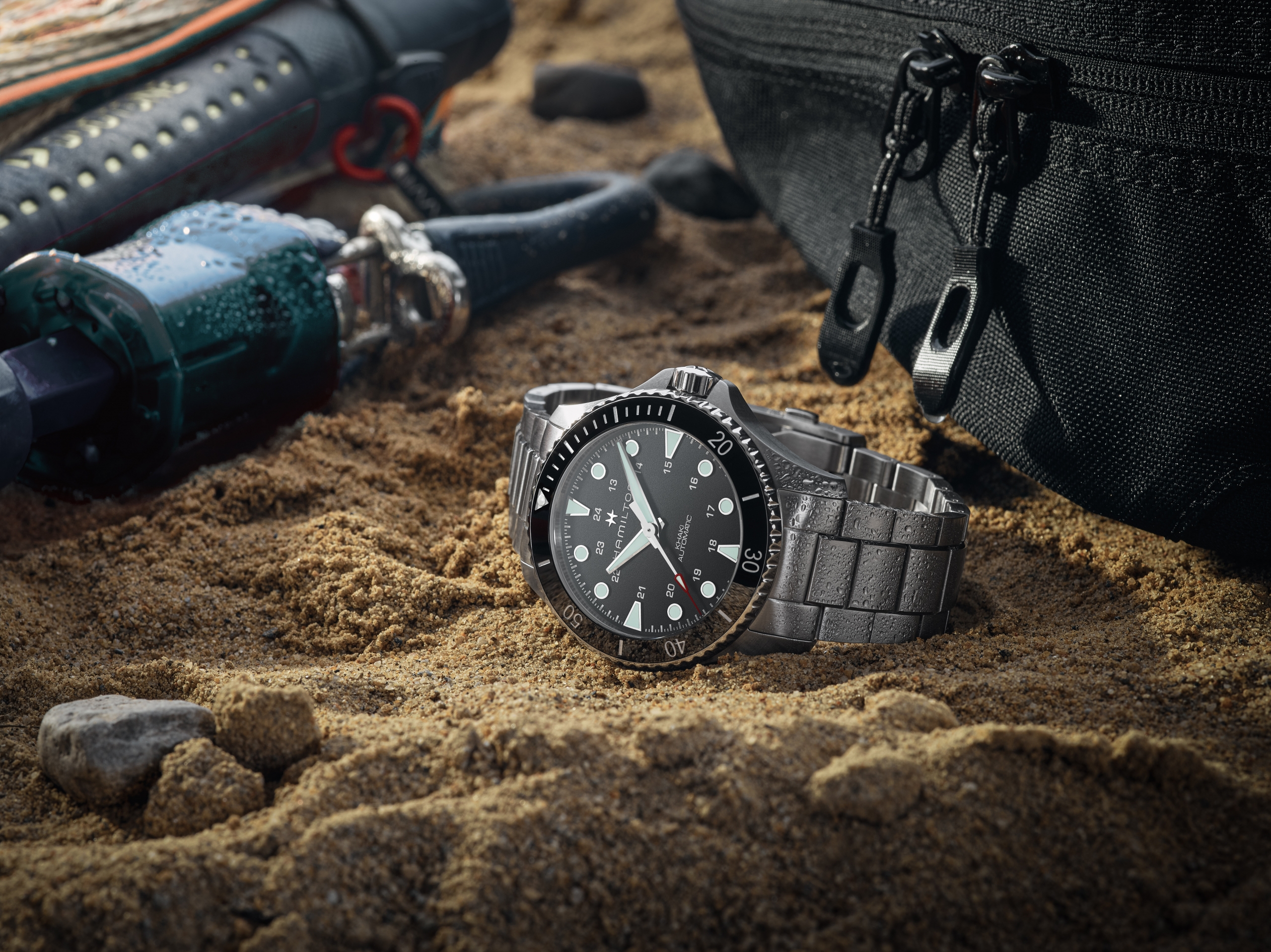 Back in March, we showed you the new Hamilton Khaki Navy Scuba watches. Available in black or blue, these are some attractively priced, no-nonsense, handsome divers but ready for some rough and tumble. We especially liked the choices of bracelet or strap available, and we liked the automatic movement as well. At a thousand dollars apiece, there's a lot to like.
Honourable mention 2: A. Lange & Söhne Zeitwerk Honeygold "Lumen"
Few things in life are guaranteed; one is that drinking a crate of beers will give you a hangover, another is that A. Lange & Söhne will rank highly at WristReview. While it didn't make our list, we wanted to mention the new "Lumen" Zeitwerk, with a sapphire crystal dial and glowing numbers. This watch puts most watches to shame with just the dial. The movement inside? Well, that's on another level too.
1 – Breguet Classique Tourbillon Extra-Plat Anniversaire 5365
Our favourite watch of this year was Breguet's Classique Tourbillon Extra-Plat Anniversaire 5365 watch. This year marked the 220th anniversary of the invention of the tourbillon by Abraham Louis Breguet, who had been inspired to make it by a watchmaker friend. This watch is based on the pre-existing Classique Tourbillon Extra Plat, but it did away with the power reserve and added subtle touches such as the blued bar securing the tourbillon on the dial side and the engraving of the tourbillon's patent on the movement. It's also self-winding and very thin, just to add to the list of reasons why we love it.
That wraps up our list of the Top 10 watches of 2021. Stay with us as we'll soon be revealing our most popular articles of 2021.