Alpina is a watch brand that we like here at WristReview, we like their sports watches which are well laid out and thoughtfully designed. Also, they create some smashing designs for the money they charge, and it's precisely what they've done here with their latest model, the Startimer Pilot Heritage.

As the name suggests, this watch draws on history for its design, the barrel-shaped case with polished chamfers is a good indicator of this. It also extends to the dial, where we find a GMT function subdued by a large disk on the dial which rotates as you might see on a vintage JLC Memovox. I like this setup, it gives a cleaner look and makes for a more interesting spectacle than a simple GMT hand, though I do wonder whether it would prove to be as easily readable at a glance as a GMT hand.

Of course, the party piece of this watch, in particular, is related to the GMT display. This watch runs on a Sellita base movement which is pretty standard as movements go. It has a 38-hour power reserve, a 4Hz operating speed and 26 jewels. However, through a module that Alpina has designed and added there is a jumping hour function for the local time display. So you're now thinking "wow, big deal", and you're right, it is a big deal on a watch which costs $1395. Yep, you read that right, this cool looking sports watch from a historic company with a jumping hour function costs less than $1500, not to mention a reliable automatic movement that has allowed Alpina to focus on the complications and design, exactly what an ebauche is for.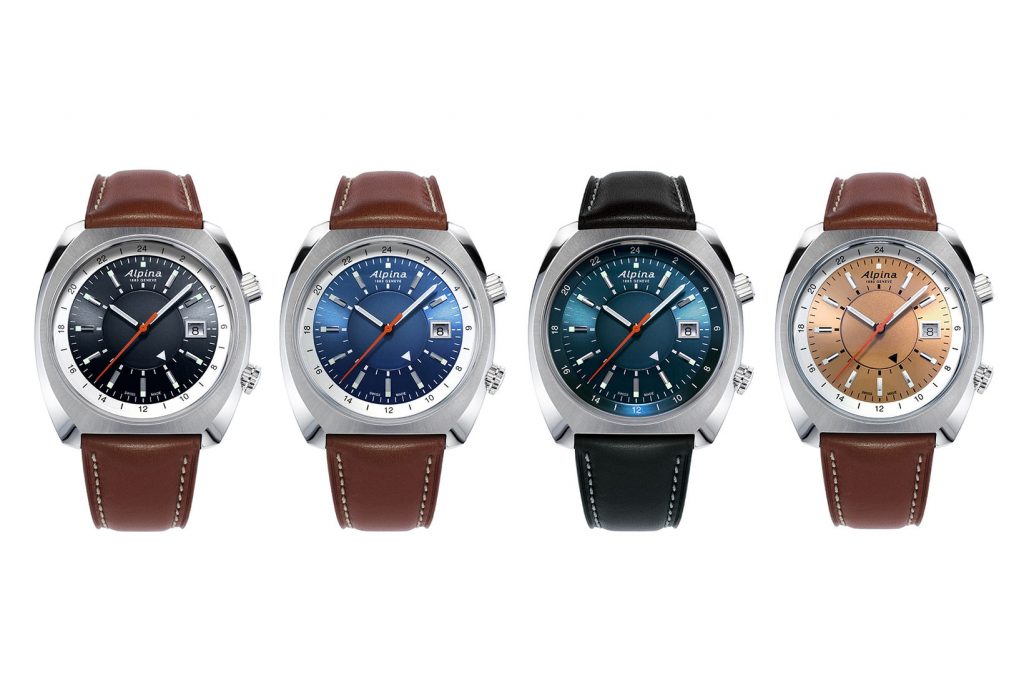 I like the options available to this watch, too, there are four possible dial colours to choose from: black, dark blue, navy and rose gold colour, each comes with a slightly different coloured leather strap too. The crystal over the dial is made of sapphire, and the 42mm stainless steel case keeps the watch's movement safe and dry down to a depth of 100m. It's also functional, too, the twin crown layout means that it's easy to set the inner rotating 24-hour bezel, no fumbling around with a single crown here.

There is one slight downside to this watch, but it's so minor I wonder if it really even is a downside. When setting the local time, it can only jump forwards, and it doesn't connect to the date which runs on the home time. That's alright for someone like me who only really travels across Europe with minimal variation in hours, but for people crossing the planet it may be worth doing the reverse and setting your home time as the local time, so you get the date change.
There's a lot to like about this watch, my favourite part is definitely the price.Visit Alpina here.