I'm pretty sure most of us have imagined what a Rolex watch would be like if it had some different complications, think perpetual calendar or tourbillon. We've even been asked this before, and the same answer always prevails, "yes, it would be nice, wouldn't it? Oh well", and that's the end of that. Rolex doesn't do the same complications as everyone else, it hasn't done that for decades, and I'd say it's even better for it. While every other brand tries to do something that directly competes with the market, Rolex' approach is to head up the market instead.
But that does leave room for other folks to have a play around. The newest modified Rolex on the block is the Sea Shepherd Challenge from Artisans de Genève. It's based on the Rolex Submariner owned by Paul Watson, a conservation activist and founder of the Sea Shepherd Conservation Society, a controversial group known for its head-on approach to dealing with illegal acts such as poaching.
For this watch, the craftsmen of Artisans de Genève have changed the watch significantly by Rolex standards. The black dial and bezel have been replaced with dark blue aventurine that sparkles like the stars in the night sky. The 'Maxi' markers on the dial have also been replaced for a cleaner look. Now the dot markers are small but still lumed for maximum visibility at night. Perhaps the most significant change is the addition of the sizeable realistic moonphase display at 6 O'clock. The moonphase is made of silver and has been hand carved by the staff at the atelier according to Watson's request.
To make this function work, Artisans de Genève added a moonphase module to the 3135 base movement. They've also spent some time prettifying the movement, adding circular graining and polished bevels to the otherwise austere movement from Rolex. They've also added a white gold rotor with an aventurine insert in place of the standard rotor. You might be wondering why all this is necessary, and it's because there is now a sapphire crystal caseback to the watch. Of course, you can buy one of these for a couple of hundred quid on the internet, and it'll look about as cheap as it was. This doesn't look too bad. It's not my personal favourite choice. I like the blank canvas look of the standard Rolex caseback.
Artisans de Genève has also gussied up the sides and caseback of the watch with some fine hand engraving. Honestly, this watch is an excellent showcase of both the talents of the artists and the versatility of the Submariner and should be admired for what it is rather than disliked for what it is not anymore.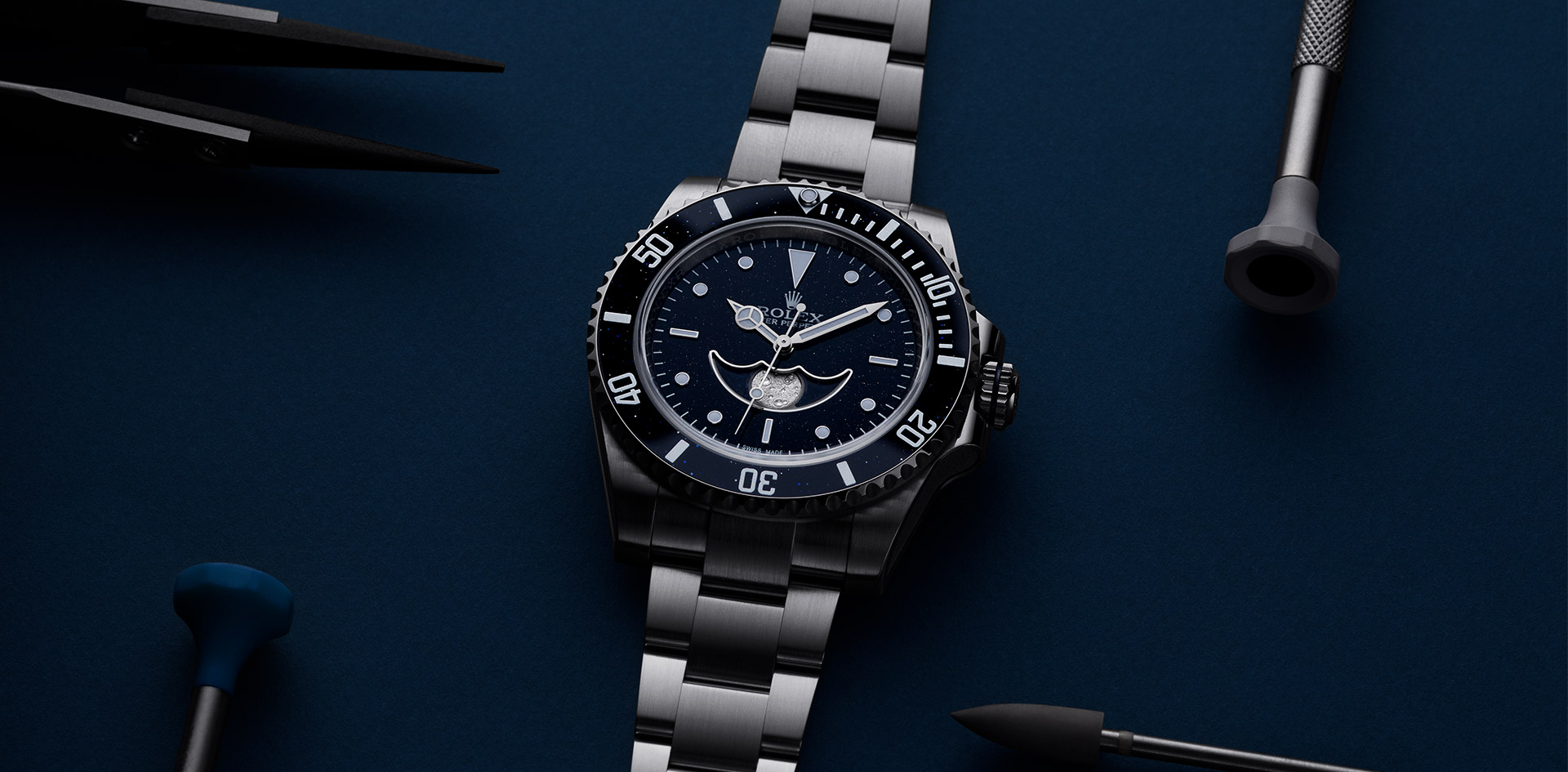 So, when can you expect to pick one of these up? Well, the answer is never. This is a one-off watch produced by Artisans de Genève for a client. If you have the money for it, and a Rolex, you too can have a personalised watch from them, but make no mistake, this is not a serially produced watch. Artisans de Genève is not affiliated with Rolex, and doing this will undoubtedly void any warranty and mean Rolex won't touch it. It's cool to see, though.
Visit Artisans de Genève here.