After many press releases from Urwerk and seeing the pictures it was great to finally get to inspect them closely and put them on-wrist while in Baselworld. The EMC in stainless steel wears very well even given its size 43mm x 5mm1. There is no main dial on this piece, just four sub dials to show all you need, clockwise round starting from top left is a patented performance indicator that displays if the movement is running fast or slow from -20  to +20.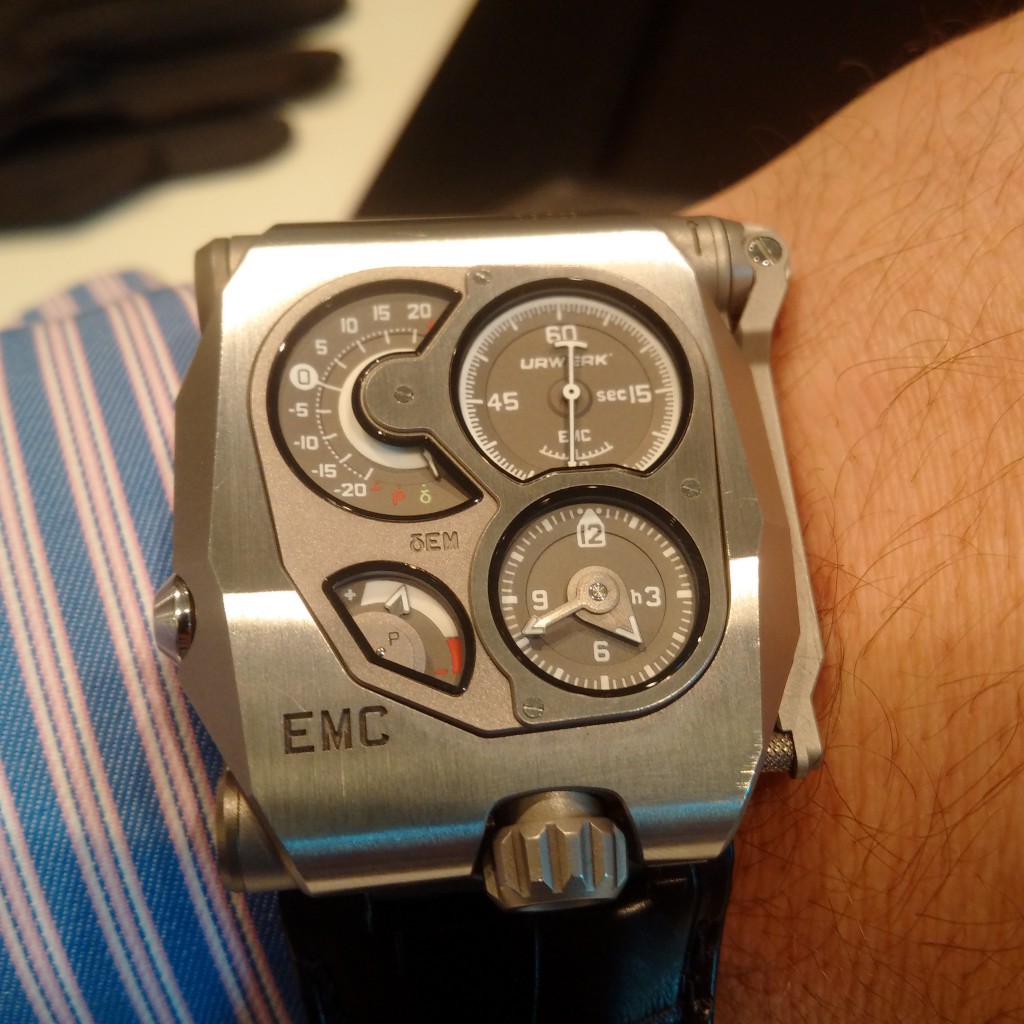 Nestled in next to it is the seconds dial with a gorgeous looking counter balanced hand, below it is the hour and minutes dial with only the 3,6,9,12 numbers that reminds me of an aeronautical instrument. There's also a power reserve indicator showing up to 80 hours which has been tucked into the bottom corner. The dial layout works well, the EMC has a manual winding lever tucked into the side of the case, taking the winder out and winding the piece up by hand reminds me of a grandfather clock.
Urwerk have just made a great watch perfect in my opinion by adding a steel bracelet to their 210 model, having already released this piece on a leather strap, Urwerk have now gone and added a steel bracelet to the titanium and steel case. By adding the bracelet it does add a considerable mass to it and without doubt you know you'll notice it while wearing the piece. The rest of the watch has not been changed so you still have the patented rotating hour indicators, power reserve and winding efficiency indicator.
Urwerk released there 1001 pocket watch about 4 years to many gasps from the press with very bold looks. It is however very clever as it shows the owner a long list of feature including revolving satellite complication with wandering minutes, retrograde minutes, a revolving calendar with months and day, day & night indicator, power reserve and seconds. Turning the piece over you are also shown when an oil change is due. There's also a running time indicator for 100 years and linear running time for 1000 years. Urwerk have now made a limit of 8 pieces with a considerable wait for it too. A strap module system was also incorporated so the watch can be worn on the wrist. To get this in perspective this piece measures 62mm high and a whopping 106 mm wide, I'm all for big watches but this is huge.
What Urwerk devised was a wearable module with an arm strap which allows you to wear the brand's first and still only non-round pocket watch like a wrist watch. The sides of the Urwerk UR-1001 Titan strap hold it into place like the locks on a military issue ammunition case, so you can be sure that the piece won't fall out. The thick "double" strap attaches to the metal clamp which tightly holds the pocket watch in place and further prevents it from sliding down your wrist to bother your hand. With definitive sci-fi looks while wearing the heavy piece it does sit comfortably on the wrist but this is definitely not for the faint hearted or reserved wearer.
Conclusion
Urwerk never cease to amaze me with their maverick watch designs and these were no different from usual. Also the new releases for this year are superb and I will be writing about them just as soon as we are allowed to. For more info, please visit urwerk.com


John Galt – Contributing Editor
John Galt caught the horology bug back in 2010 on his first visit to a London watch show and has snowballed since; John has become an avid writer and blogger of timepieces of all kinds, from everyday timepieces to modern Luxury Haute Horology, his favorite brands being HYT and Greubel Forsey that push the bounders of modern watch-making. John keeps a keen interest in the UK watch scene with their many emerging brands and timepiece's. John Galt currently contributes watch related articles for online publications in the UK and USA. You can follow John on Twitter @johng73 Read his articles here.