What is it with Jaeger-LeCoultre and names? They always choose long names for their pieces, it's like they're purposely laughing at us media writers. But, and it's a big but, we don't mind at all when  they present us with such a beautiful piece that's been lavished with history and care during craft in Switzerland. Every time Jaeger-LeCoultre seeks to go further with it's inventions than it did last year, but we cannot forget the simpler (marginally) creations that they come up with at the same time, this is one of those.
By no means is this watch a stocking filler while JLC shows off other pieces, it's got a minute repeater inside it, one of the most complicated complications you can put on a watch. The system itself is operated by the lever on the side, which you slide down. However in this case, Jaeger-LeCoultre has changed that and opted for a push button system which makes the case more compact. This then activates the repeater which then signals the time by a hammer hitting a gong within the watch. It sounds out the hours, then quarter hours by way of using both hammers (because there's a second hammer and gong tuned to a different pitch inside), then the other hammer sounds out how many minutes come after the quarter hour. It's a very complicated and time consuming way of making a watch understandable in the dark without using lume, but it's oh so worth it as it shows the company is an expert in horology related matters.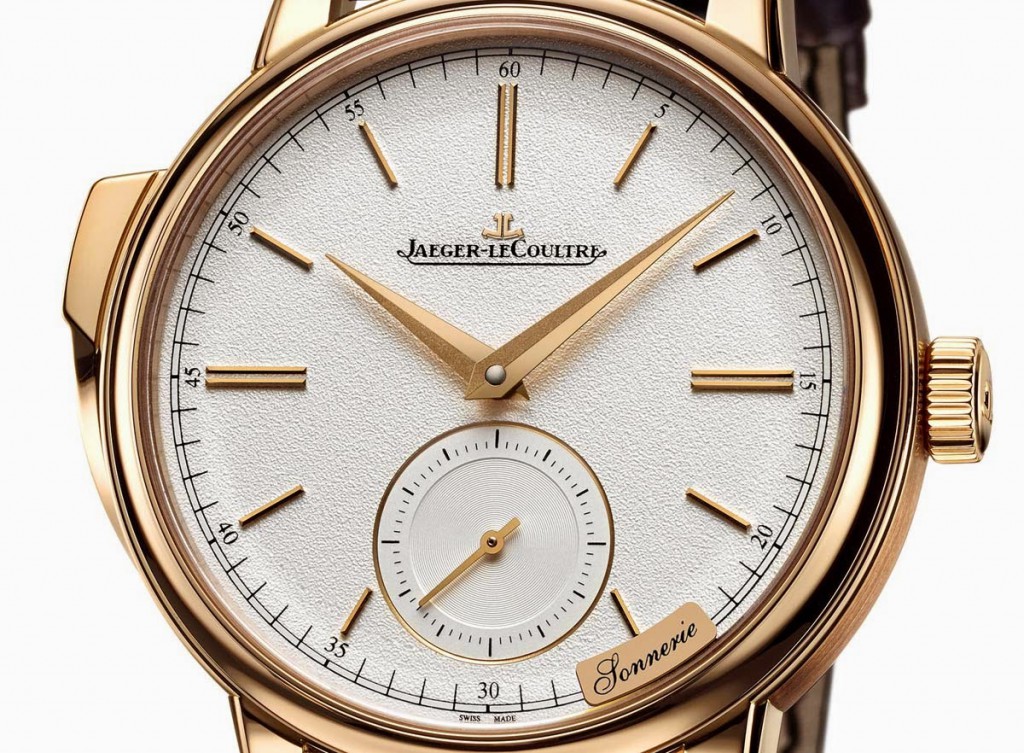 I love the shape of dauphine hands, that's why my favourite dress watch is a Vacheron Constantin Patrimony. Because of the hands. So they are one of the things that greatly attracts my attention to this piece, especially with their polished/sandblasted appearance. Another is the textured dial. Some dials are plain, some have sunburst patterns and some are hand painted. This dial is grained, what that essentially means is that if you were to run your finger over it it would be all rough because some parts of the dial are slightly higher than others (think of it as if it were covered in really really tiny hills). This adds a characterful depth to the dial itself. It's this depth that really accentuates the pink gold hour markers and the running seconds sub dial.
The dial isn't the end of the story though, there's substance to this watch. The movement is JLC's in house 942 movement which has a 22K gold rotor, 437 parts, a crystal gong system in which the gongs are made of a super secret formula and welded to the sapphire crystal caseback which amplifies the sound of the minute repeater, making it loud and crisp. The case of this watch is made of 18K pink gold and is 39mm in diameter and 12.1mm thick.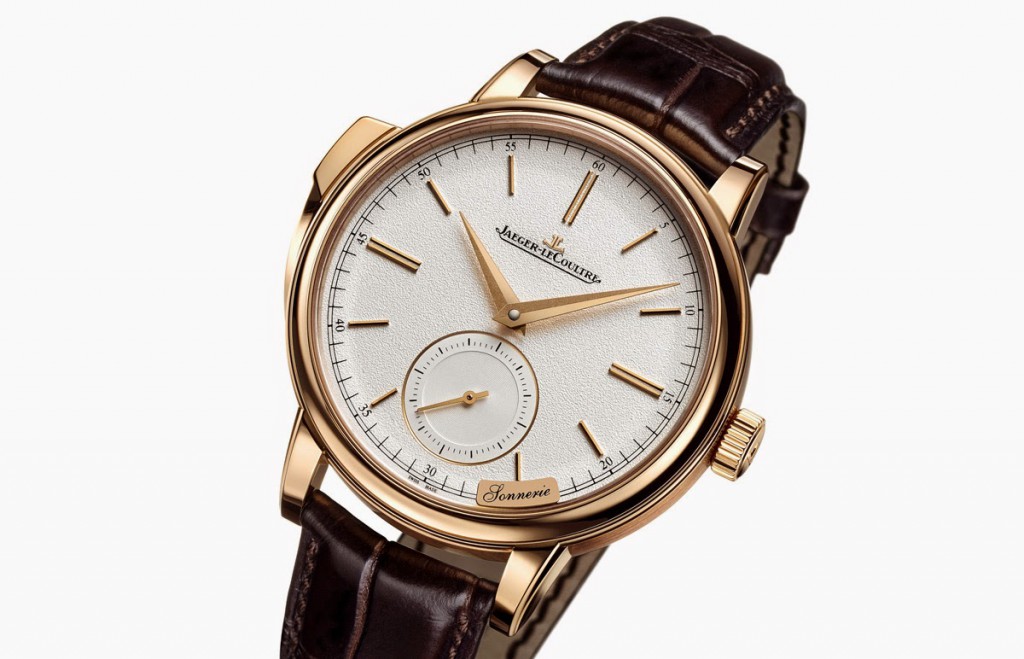 Overall this watch is very pleasing to the eye, going for simple elegance rather than a throw everything in approach. Less is more when it comes to watches, it's a shame that the $169,000 price tag is a lot, but it does ensure that Jaeger-LeCoultre sees some return from the watch. For more info, please visit jaeger-lecoultre.com

Harlan Chapman-Green – Contributing Editor
First introduced to horology with the Patek Philippe Calibre 89 by his father few years ago, Harlan enjoys his passion for fine horology. He prefers to spend his time in the boutiques of upmarket brands, trying out new pieces constantly. His preferred 3 brands are A. Lange & Söhne, Breguet and Vacheron Constantin. Although not much for the smaller brands, he still finds the complications intriguing and wishes to own one watch from each of his three favourites. Read his articles here.