Breitling is a pretty popular brand. In fact, our recent Top 5 Breitling watches list is doing very well, you all loved it, and I enjoyed writing it. Clearly spurred on by this fact and nothing else, Breitling returns with four new watches inspired by historical aircraft. As you know, Breitling's historical connection to aviation is its proudest card and probably the most extensive of all the current watchmakers. The brand is synonymous with aviation, having created the twin-pusher chronograph, a function more useful than the monopusher that existed before. The Navitimer and Aviator are just two models that this company makes to go alongside aeroplanes.
The four new watches are called Super Avi models. Breitling's usage of the word super denotes a larger cased model. As such, whereas the standard Avi measures 41mm in diameter, these models all come in at 46mm. They're also very bulky at 15.9mm thick, and you definitely won't miss one of these. All watch cases are water-resistant to 100m and, with their high levels of polish, are quite similar in profile to Breguet's old Type XX, at least to my eyes, but without the same level of refinement. They still look good, though.
Four legendary planes: the de Havilland Mosquito (bottom left), the Vought F4U Corsair (top left), the Curtiss P-40 Warhawk (bottom right) and the P-51 Mustang (top right)
Having said that, the large size will mean it'll stand out in the period dress you'll probably wear. I have no idea why this is, but when old aircraft or cars are involved, people like to wear the style of clothes worn at the time, even when there's no need. If you're sitting in the cockpit of the North American P-51 Mustang, Curtiss P-40 Warhawk, Vaught F4-U Corsair or de Havilland Mosquito, then I guess you'll fit in, but you don't have to wear the oversized leather jackets and the like.
All watches feature the same calibre B04 movement, an in-house made calibre based on Breitling's venerable B01 but with a GMT hand as well. That's right, these are pilot chronograph GMT watches. Breitlings are practical watches, of course. The chronograph features a column-wheel with vertical clutch, a rarity these days (I've been saying that a lot when it comes to Breitlings, maybe it's not a rare duo anymore?), and the movement runs at 4Hz for 70 hours. All watches feature the movement visible underneath a crystal which has an outline of the plane the watch takes inspiration from printed on it.
Breitling Super AVI P-51 Mustang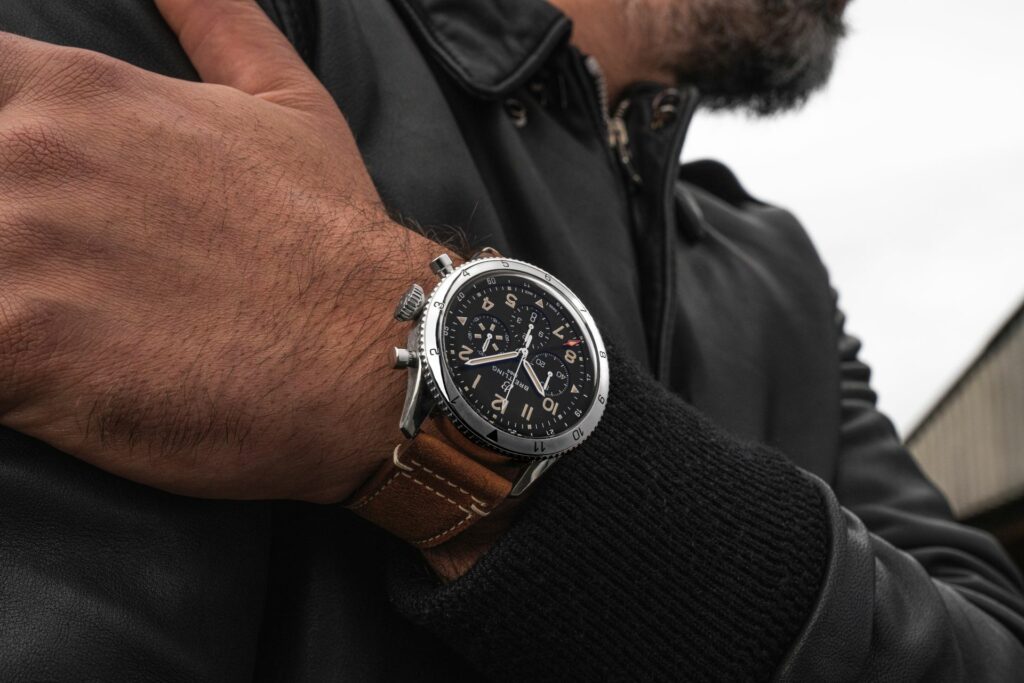 The first model, based on the P-51 Mustang, has two variants. It's probably because the Mustang is likely the most famous of all these (did you know the last airforce to retire these planes did so in the 1980s?).
It comes with either a black dial and steel case or an anthracite dial in 18k red gold. Both have thick and durable-looking leather straps. They'll cost you $10,100 and $23,650 respectively.
Breitling Super AVI Curtiss Warhawk
The next model pays tribute to the Curtiss-Wright P-40 Warhawk. If you were in the Royal Air Force or the Soviet Air Forces, you'll have known these as the Tomahawk or Kittyhawk, they were the first Allied planes to have the shark-like teeth under the front, mimicking markings seen on the Messerschmitt Bf 110. This watch comes with a military green dial with white subdials and red accents. It'll also cost you $10,100.
Breitling Super AVI Tribute to Vought F4U Corsair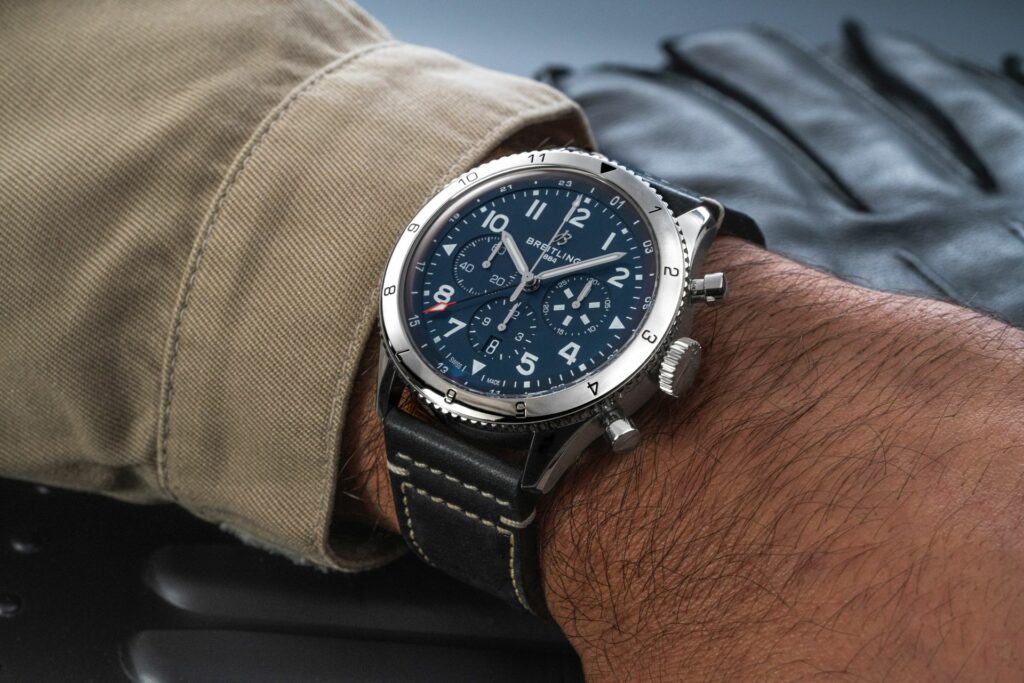 The Chance Vought F4-U Corsair was a technical marvel. Feared by the Japanese, it was so in demand that it was subsidised to Goodyear, which made tyres as it does today but also had an aerospace division. However, the Corsair is probably most recognisable with its wings folded on flight decks of aircraft carriers. Vought is still an entity today, although it's a subsidy while Curtiss-Wright remains active. The F4-U variant has an attractive blue dial and will cost you $10,100.
Breitling Super AVI Mosquito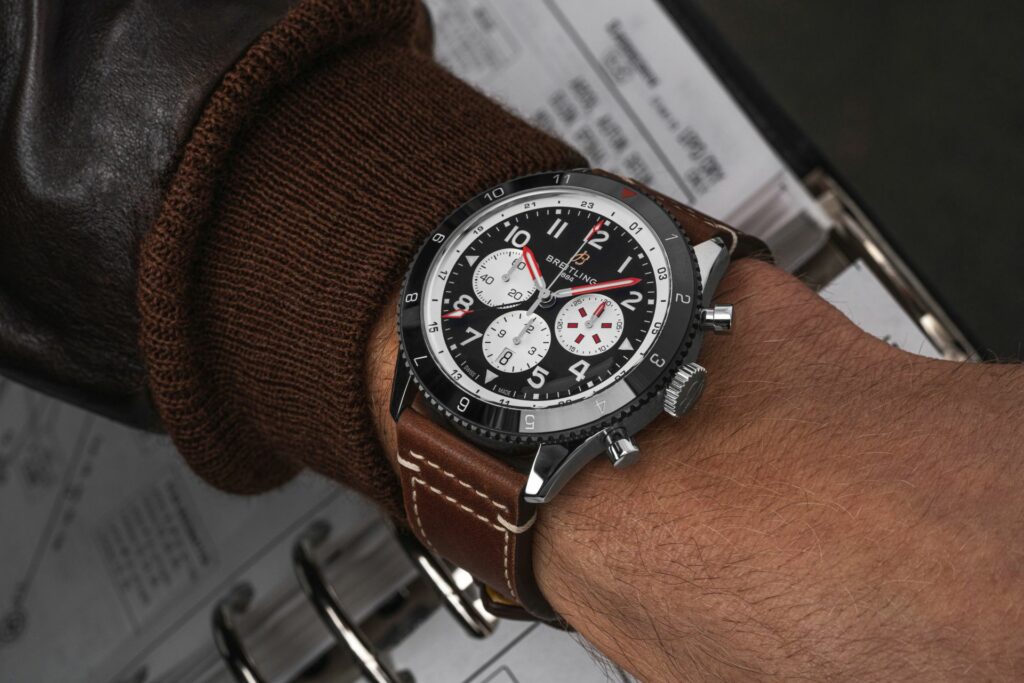 The last model is not based on an American plane but rather the very British de Havilland DH.98 Mosquito. Primarily made of wood, the Mosquito was one of the fastest operational aircraft in the Second World War and was renowned for its versatility. de Havilland is most well-known for making the Comet, the world's first jet-powered passenger plane (the same plane that caused de Havilland's collapse), but it made an array of planes you should research if you have the time. Breitling's tribute to the Mosquito is not made from wood, but it does have a black ceramic bezel, the only model which does, and a black dial with orange accents. It's yours for $10,250.
Visit Breitling here.