There comes a time in one's life where the collection of steel sports watches and dress watches becomes somewhat predictable. Not in a bad sense, you still wear those watches, but you find yourself lusting after something with a bit of colour, something which says "yes, I have money to spend on material goods!". There's nothing wrong with that, of course, but it leaves you with a pretty tricky choice, many manufacturers of watches have cottoned onto this change in thinking. So, now they offer all kinds of different watches in all shapes and sizes to accommodate. Watches like the Royal Oak Offshore Chronograph from Audemars Piguet and the Rolex Daytona spring to mind, but, they aren't the only options out there.
The Racing Watch
Enter the Mille Miglia GTS Chrono in rose gold. This 43mm sporting timepiece from Chopard has motorsports all over it. There's no mistaking the red hands and red accents for being anything other than a watch related to the Mille Miglia, a historic Italian race covering 1000 kilometres. Chopard has been a partner of the Mille Miglia race since the 1980s, the company's co-president, Karl-Friedrich Scheufele is a passionate enthusiast for old racing cars and even enters the race himself, so we are told. While other watches, including the Daytona, rely on a naming scheme and some cleverly worded waffle in a book to make their historical influences known, Chopard makes no apologies for putting red on the dial, and rightly so, it does work well with the black and rose gold.
Red motifs aside, you'll find the dial of this watch is very legible. Forgoing the usual Chopard, we have seen in the past; this watch does away with extra writing in the subdials and instead expects the wearer to work out which is which. Operating the chronograph of the Mille Miglia GTS is a dream. The pushers themselves have a knurled finish to them, akin to the organ pulls you'd find on a Bentley motor car. It makes them very easy to feel the pushers with your fingers, and because they are quite broad on top (the pushers are meant to resemble pistons), it makes them very easy to use. There is quite a bit of resistance to the pushers, but it's easy to overcome, and the result is quite unusual for a chronograph. As I found out with Chopard's Mille Miglia Race Edition watch, Chopard chronograph buttons don't have a lot of travel required to engage the gears and make the hands move. It's surprising at first, but very smooth and something one becomes accustomed to quickly.
Motoring Icon
You still can't forget the motoring ties on this watch, even when you move around from the dial. As well as the piston chronograph pushers I've mentioned above; there's also the classic racing steering wheel design been extruded on the crown. No logos there, just a little reminder this watch is all about traditional racing. Not going at warp ten in a car made from hyper carbons and some sort of weird element from outer space. Instead, this watch is more about lower speeds, and classic cars with classic shapes duelling it out with the smell of castor oil filling the air (and probably making people sick, but it does spoil the romance a bit). Even the strap has racing cues all over it. Chopard's Mille Miglia straps have a tread pattern cut in them, evoking Dunlop sports tyres of the old racing cars.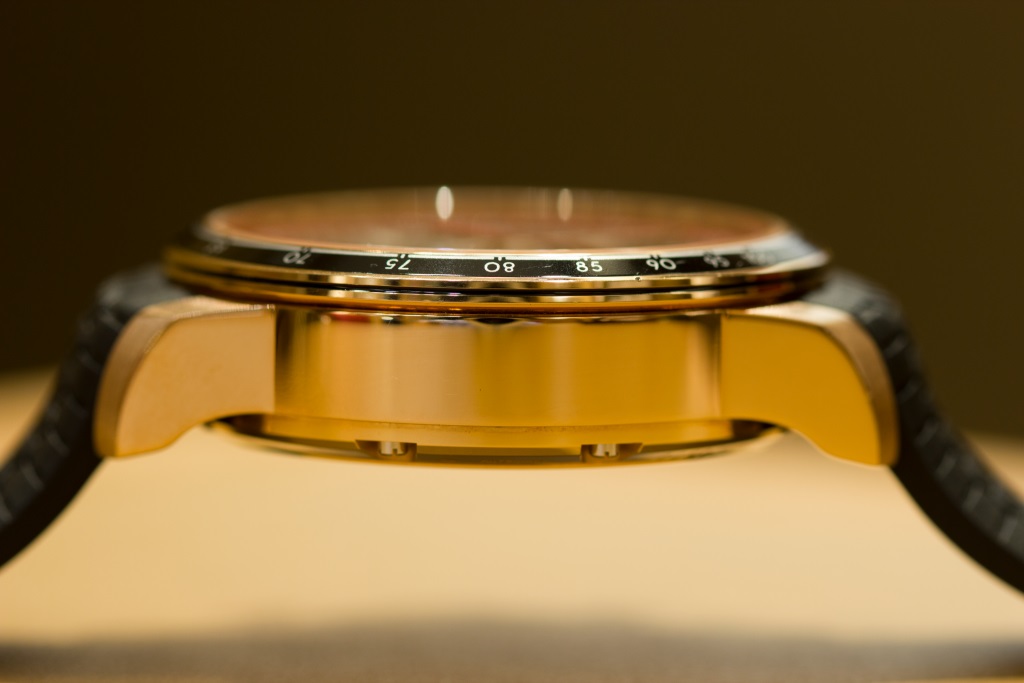 Inside the watch is an automatic movement, there's no mention of the source, but I believe it to the same as we saw in last year's Racing Edition timepiece. Chopard's days of charging lots of money for ETA movements are slowly leaving the company as it moves on to produce more and more in-house movements for its pieces. What I do know is it is COSC chronometer rated, so you can still expect accuracy and reliability. Plus, Chopard's service costs are reasonable as well for their pieces so that you can expect a side of low running costs along with the main course of strong reliability.
A strong alternative
Why would I mention this watch in the same sentence as those two gods of sports watches, the Daytona and Royal Oak Offshore? For starters, it's well priced and undercuts them at $21,420, although being Chopard their boutique staff are very friendly and will probably get you a nice little discount to go alongside. Sure, it's not as iconic as the other two, but in motor racing terms, there's very little which is more iconic than the Mille Miglia. It's a bit larger than the other two, but benefits from 100 meters of water resistance without the messing around with screw down pushers. What I hope can be changed in the future is the steel clasp. Although, while full gold on a watch is ideal for the money, you could argue that steel is more practical and resistant to daily operation.
It's a great alternative, but we'd perhaps like to see an open caseback with a decorated movement if we wanted to put it at or above the AP. Against the Rolex, the Daytona is obviously more popular, but there's something to be said about being under the radar, get this with a good deal, and you've got a fantastic watch for the collection. chopard.com