When you think of Breitling, you probably associate them with Bentley first. That's an exceedingly strong corporate tie-in that has benefitted both companies profusely. Not only does Bentley use Breitling timepieces in nearly all of its cars, but Breitling also gets to make the signature 'For Bentley' watches. They've even teamed up with the likes of David Beckham and John Travolta to run an advertising campaign together. This powerful association means that the two companies are likely to be together for the foreseeable future assuming Breitling's new owner doesn't change anything. Chopard has a different tack. Recently they have been working closely with German sports car marque Porsche, but before all of this linking between automotive and horological companies, there was one event that stood out from the rest. The Mille Miglia.
To be pedantic about it, it's actually called the Mille Miglia Storica, as the original Mille Miglia stopped in the 1950s. When it ran it was known as one of the fiercest races on the planet, with two automotive powerhouses, Italy and Germany, often duelling it out until the end. Even in the modern day Mille Miglia, it's still usually a battle between cars from these two great nations. The trip from Brescia to Rome and then back to Brescia is nearly 1000 miles, a real test of engineering at the time and something only the very bravest of drivers such as Sir Stirling Moss would ever think about undertaking.
In 1988, Chopard began sponsoring the Mille Miglia Storica, which ended up lending its name and logo likeness to Chopard's main line of watches which just so happens to be called the Mille Miglia range. Of course, there are the L.U.C. pieces and the Happy Sport lines as well, but the Mille Miglia watches are probably the most well known of all the Chopard watches, it's the one people most associate with the company. That has its own benefits of course, with sponsorship deals raking in huge amounts of money, it also gives the fans and collectors something to look forward to as well.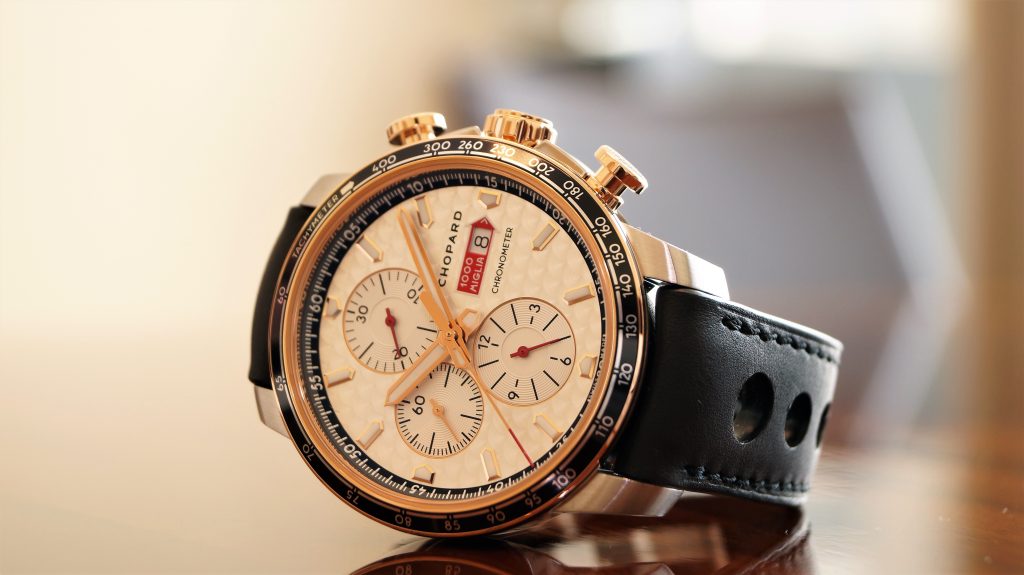 To celebrate this year's Mille Miglia Chopard unveiled the Racing Edition back at Baselworld, one which we had already had a hands on with the previous week. But up until now, we had quite a stern letter warning us not to let on at all about this new, even more, special edition watch, featuring rose gold on the case.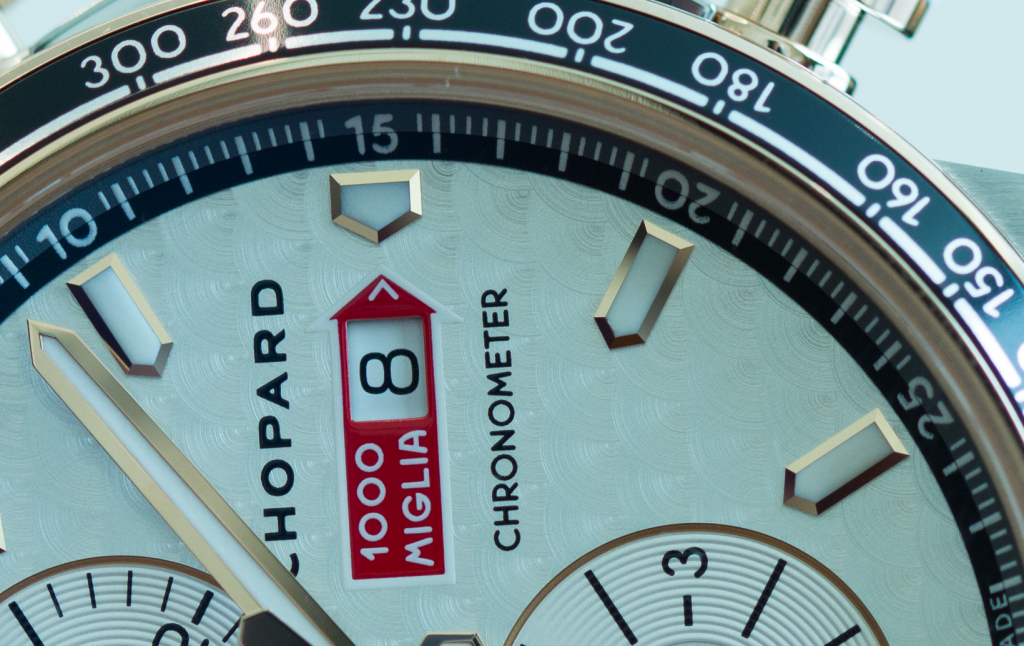 This watch is a little more subtle regarding the use of gold, at least compared to some other watches. You'll find it on the dial in various places, the chronograph pushers, the crown and the thin surround to the fixed aluminium insert on the bezel. Just like the other watch, this one evokes the appearance of a classical sports car with an engine turned dial and a steering wheel on the crown which looks like it might have come from a Lancia Aurelia, a car which I find particularly attractive in the spider version.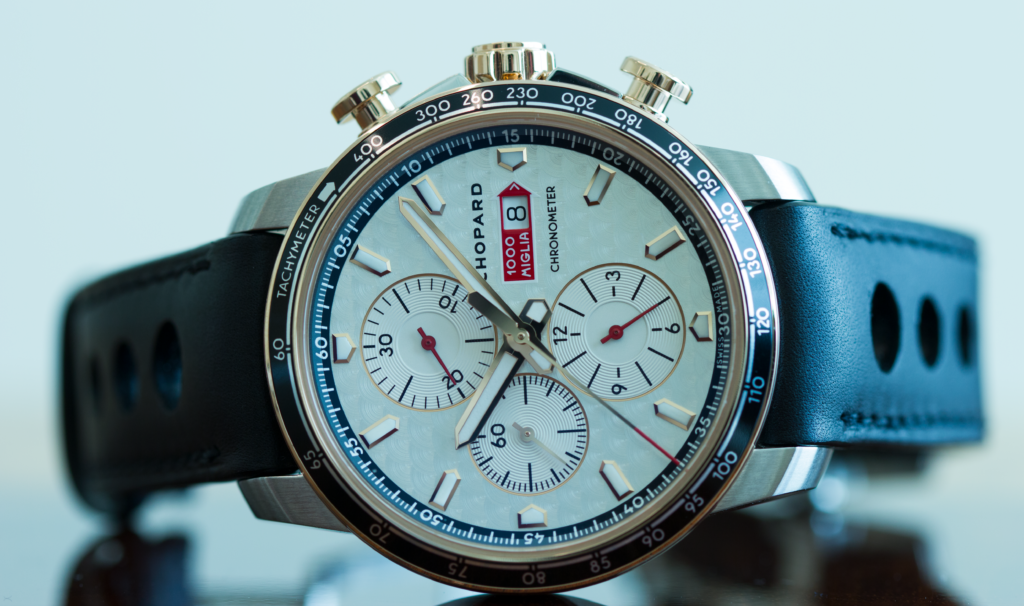 The two-tone reminds me of racing colours, along with the steel of the case and red accents we could say these are Chopard's own racing stripes shining through. The lugs are short and elegant, yet still well finished and precise, like older sports cars tend to be when compared to their modern counterparts particularly from the likes of Ferrari. I'm not in any way saying the modern designs aren't beautiful, but they are somewhat bloated because of regulations and whatnot. Smaller yet just as high performance, it's something you don't really see until you put them side by side at a classic car rally. There's also the tachymetric scale bezel, itself is very thin compared to other companies. This is supposed to recreate the thinner sporting tyres used on high-performance cars, at least in my eyes anyway. Everything about this watch is a high-performing endurance part, but the component under the most strain is the engine.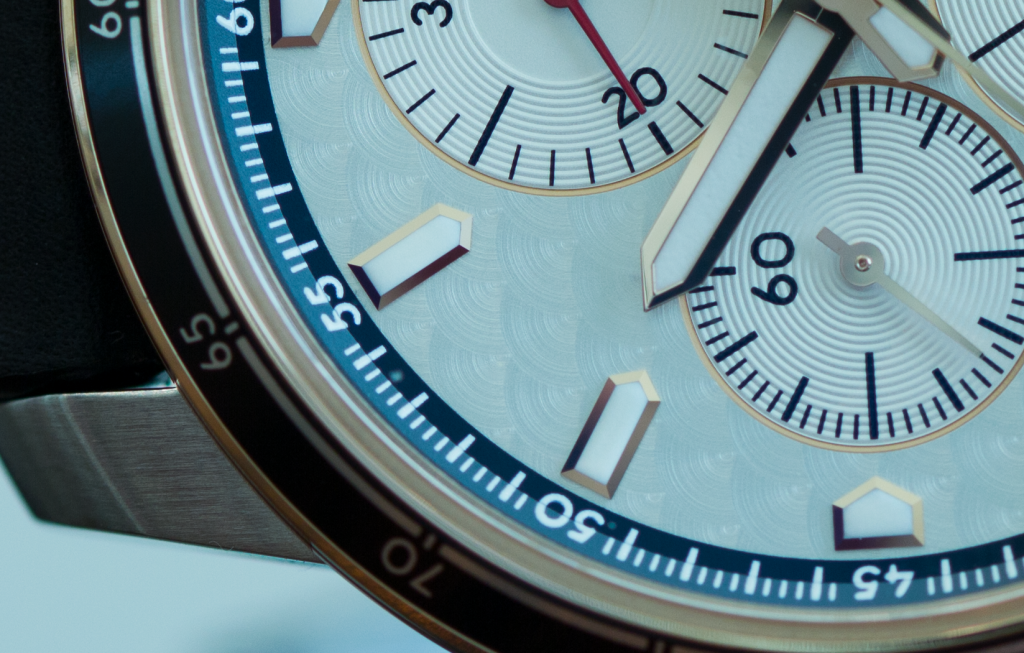 Unlike the engine in an Alfa Romeo 8C Berlinetta or a Mercedes Benz 300 SLR, the real party trick of the Chopard's engine is the ability to remain at a constant, COSC chronometer certifiable rate at all times in all positions. Think about how many moving parts are in a normal watch, a piece which should not deviate from the most accurate time. Now add in a chronograph module for some extra complication, then consider how it will be worn. While most of continental Europe's road surfaces have been improved since the 50s it would be a fair assumption to make that not every road has been given the TLC it needs. If your driving along in your open-top race car on a sunny afternoon at 100 miles an hour your suspension will be working like mad to iron out the bumps. However, the vibrations can still travel through the steering column to your hands and shake the watch around, so it's good to know the high-performance design is able to cope with this punishment. It'll actually run for about 48 hours before stopping too, so this 28,800vph movement has a respectable allowance for some 'down time' probably enough to go on a weekend skiing in fact.
On the wrist the watch is big and chunky, at 44mm in diameter and 13.79mm thick, it wears large thanks to the case flanks which are not rounded in any way but flat and polished. Not to mention the overhang of the Barenia calfskin strap from the lugs meaning it actually wears a little larger than this, but being leather on this limited edition watch I wouldn't be surprised if this softens up with age.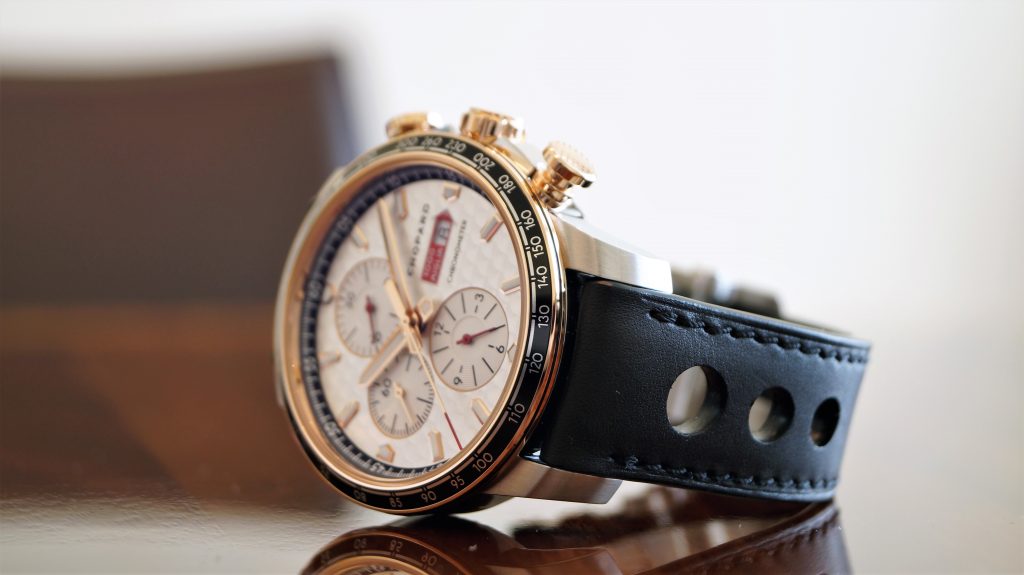 Unlike the steel version which is limited to 1000 examples, this one is only limited to 100 watches worldwide and will start filtering through once the Mille Miglia has finished. We like both of these special edition watches a lot, they are large yet modern and very comfy on the wrist. The perlage dials look amazing in the sunshine, the straps and cases feel rugged and even parts you hadn't considered, such as the gap between the fasteners on the butterfly clasp, have been finished to perfection. Really, can you call yourself a true enthusiast if you don't have at least one Mille Miglia in the collection?
That just about wraps up our coverage of Chopard for the time being. We'd like to, once again, extend our thanks to everyone involved on the trip, we've learned a lot about Chopard and have come to respect it a lot more too.
For more info, please visit chopard.com