Ever wanted a Jaeger-LeCoultre Reverso but thought "Nah, this is way too common"? Ever decided against a Cartier Tank Basculante on the basis it's not been made by an independent watchmaker? The answer to these questions is, most likely, "No", but De Bethune has nevertheless sought to make a watch to address your reversible concerns.
The new DB Kind Of Two Tourbillon has two "moods" depending on what you as the wearer are feeling. One side is a classical wristwatch with three blued Breguet hands, some classy guilloché and a general sense of restraint. The other side, meanwhile, more of what we usually expect from a De Bethune timepiece. That is, a cutting edge design inspired somewhat by science fiction while also infusing sheer technical skill. I suppose if you had one of these, it would save you from buying two DeBethune watches.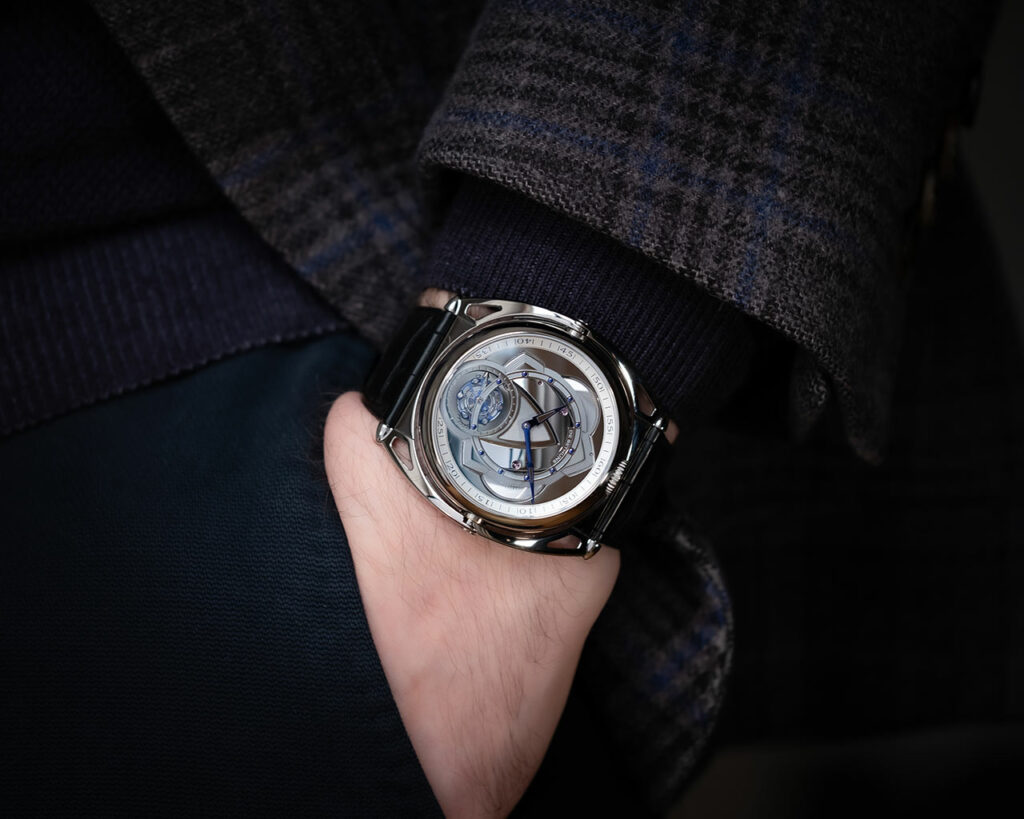 The case measures in at 42.8mm x 9.5mm and has been crafted from grade 5 titanium, despite this, it's been polished and finished to perfection. Achieving a mirror finish on titanium is exceptionally challenging, demanding specialised tooling that is extremely expensive, and that's before you've even started working on the titanium. Nevertheless, DeBethune has achieved polishing perfection here.
You may have noticed that there appears to be a hinge at 3 O'clock and 9 O'clock, this secures the watch head and allows it to swivel, but it has a secondary purpose. A signature of DeBethune is the ability of the lugs to bend downwards, thus allowing the watch to fit on a smaller wrist. The hinges at 3 & 9 O'clock flex on demand and creating a one-size-fits-all watch.
Inside the exquisite case is the calibre DB2579 which is in itself a work of art, although the only part you can see is the tourbillon. Crafted by master watchmaker Denis Flageollet (the man behind De Bethune) at the atelier in L'Auberson, near the border with France, the calibre DB2579 features some exquisite mechanics. A unique set of wheels was devised to allow the hands on both dials to turn the correct way, without it, one set would turn clockwise and the other anti-clockwise.
Two barrels allow the watch to have a 120-hour power reserve, while a 30-second tourbillon regulates the power flow. The tourbillon features a blued balance wheel made from titanium like the case, and it has gold inserts. The balance wheel beats at 5Hz, made easier by the ultra-light titanium used and the De Bethune balance spring with a flat terminal curve.
The watch is available on an alligator leather strap with a titanium pin buckle. De Bethune hasn't indicated that this watch is limited in production numbers, but it's De Bethune, so don't expect them to make many at a time. The price for one of these is CHF215,000 before taxation.
Visit De Bethune here.