GoS Watches are a small, independent company based in Sweden that specialises in using Damascus steel on their watches. Damascus steel is a beautiful thing to see with wavy patterns that are unique to each product. Alloys are forged together and create beautiful patterns when they are ground, sanded and then polished, the different types of steel alloy used will make a different colour combination. While traditionally used in knives and swords, Damascus steel is being used by this Swedish brand to make its customers say "Oh my GoSh" (yeah, I went there) upon viewing the product, and you can see why. This process creates the flower-like pattern seen on the dial, which is reminiscent of the Trollius Europaeus, also known as the Globeflower, which is native to Europe and Western Asia.
This special edition of the Sarek watch has received an extra engraving on its case and movement. The engraving, by master craftsman Anders Hedlund, includes the bezel which has been done to look like the petals of the Globeflower. Around the back, you'll find the automatic rotor has been given an engraving. Typically, the rotor is shaped to look like a triskele, or triskelion, a complex spiral shape which in this case most likely represents the Horns of Odin, this is the first time a movement in a GoS watch has had some of its parts engraved. The Damascus steel rotor has also been given an engraving of the Globeflower leaf scroll, the movement itself is the Soprod A10.
Around the caseband, we find gold 24K gold pins, which were a suggestion by Anders, they are more commonly used in high-end knifemaking as a little extra addition to the design (much in the same way our beloved watchmakers polish the screw heads in their watches). The case measures 43.5mm in diameter by a thin 9mm in thickness and is water resistant to 50m, but thanks to the supple leather strap you might want to avoid water altogether.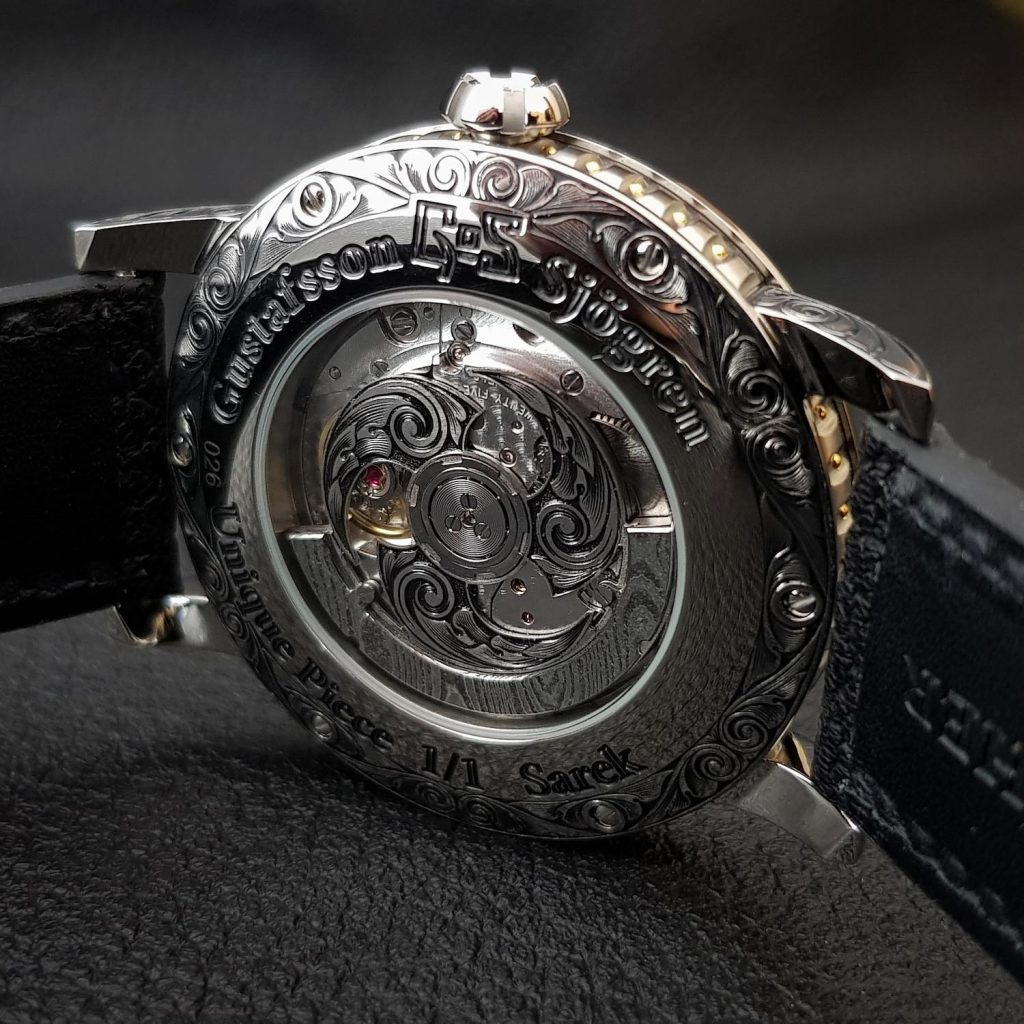 Due to the way Damascus steel is produced, no two watches will ever be the same. Therefore, each Sarek Trollius watch is engraved with "Sarek 1/1" on it, as well as the serial number. The price for one of these is $18,500 and comes with a 5-year guarantee.
Visit GoS here.