To continue celebrating their 25th anniversary of production, A. Lange & Söhne unveils their next watch in line for the special colour treatment. This time, it's the Lange 1 Moonphase which gets the special treatment. We should be clear because A. Lange & Söhne makes the watch in two sizes, that this is the smaller one which measures in at a discreet 38.5mm in diameter and 10.2mm in thickness. The white gold case hasn't changed proportions at all with this new anniversary colour scheme. Last year I did a Fortnight Review of this watch's bigger brother, the Grand Lange 1 Moonphase.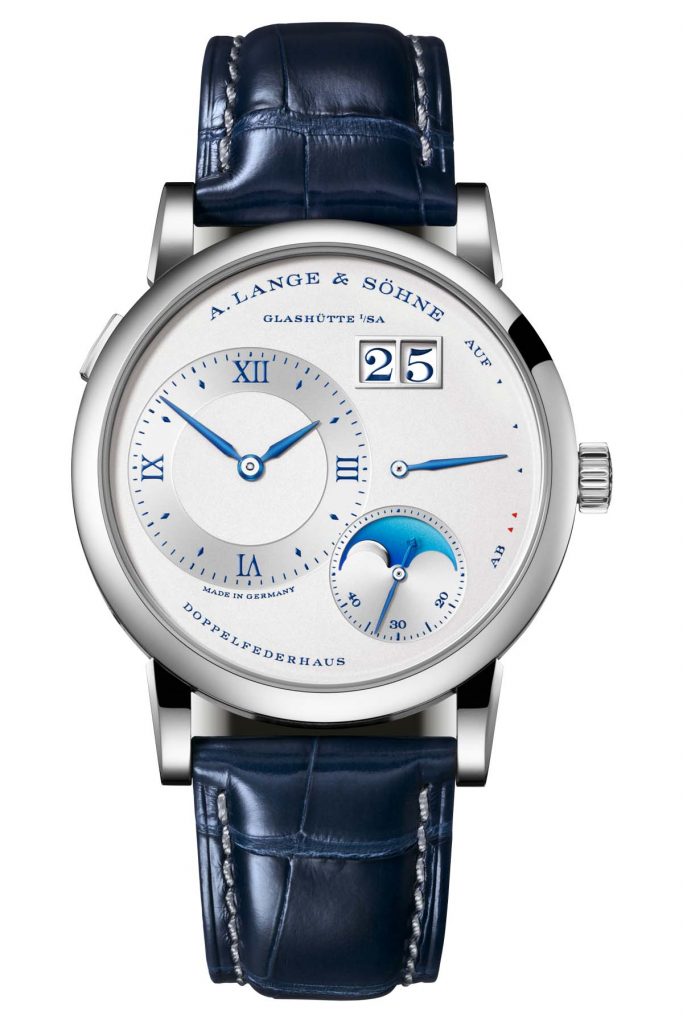 The watch dial receives the same colour treatment as the other watches in the 25th-anniversary lineup. The steel hands have been blued, along with the numbers in the classic Outsize Date and nearly all of the text and markers on the dial. I say nearly all as the Up/Down power reserve indicator still makes use of some red to mark out the end of the mainspring's power. The dial is solid silver with an argenté design engraved upon it to create another subtle difference between the regular Lange 1 Moonphase.
A couple of years ago, A. Lange & Söhne upped their game when it came to the moonphase on this particular watch. They increased the complexity by adding in a second layer to the traditional display, which was geared differently. The blue background now performs one rotation every 24 hours and has both light and dark blue colouring on it, making it not just the backdrop for the moonphase but a day and night indicator, too. The white gold moon still performs the synodic orbit, which is 29 days, 12 hours, 44 minutes and 3 seconds, this is the length of the one cycle of the moon. Despite the complexity, this system is still extremely accurate, needing to be adjusted only once every 122.6 years.
Just like the other anniversary models, this one features a blued engraving on the balance cock with the number '25' style to look like the Outsize Date on it. Apart from that, the movement is business as usual with not much to see bar the beautiful stripes on the Glashütte traditional three-quarter plate. This watch is also limited to just 25 examples worldwide.
Visit A. Lange & Söhne here.