Just like Hollywood has the Oscars, the world of Horology has GPHG. An annual award ceremony, GPHG recognizes the best from the world of watches. Brands from all over the globe participate and send in their nominations under different categories which are then judged by a team of experts, further to which a winner is announced. The GHPG awards event for 2019 was held on 7th November and here are the winners.
Ladies Watch Prize
Winner: Chanel J12 Caliber 12.1
Like the previous two years, Chanel has yet again managed to bag the award for the best ladies watch. Dressed in white with contrasting black elements the Chanel J12 Caliber 12.1 combines the right amount of elegance and function to create a proper wristwatch for women and not just a fancy accessory.
Price: 5'650 CHF
Ladies Complication Prize
Winner: MB&F Legacy Machine Flying tourbillon
There are only a handful of brands that combine horology and art and MB &F is certainly one among them. The MB&F Legacy Machine Flying tourbillon is the brand's first take at a women's watch and as always, they have succeeded in creating something unique. Featuring a black lacquer dial with a vertically stacked tourbillon mechanism packed inside a case studded with diamonds this one is high on both style and power.
Price: 116'000 CHF
Men's Watch Prize
Winner: Kari Voutilainen 28Ti
While men and women both enjoy watches, they are certainly an accessory more popular amongst men. Winning the award for the Men's watch category this year is the Kari Voutilainen 28Ti. Featuring a transparent dial this watch focuses on bringing the wearer closer to the highly innovative and exceptionally finished hand-wound movement that drives it.
Price: 86'000 CHF
Men's Complication Watch Prize
Winner: Code 11.59 by Audemars Piguet Minute Repeater Supersonnerie
Launched as a new collection during SIHH 2019, the Code 11.59 did not receive the warm welcome it expected, but it sure did have a few gems such as the Code 11.59 by Audemars Piguet Minute Repeater Supersonnerie. Simple and beautiful on the outside but powerful on the inside, this timepiece expresses the technical might of Audemar's Piguet showing that there is much more to the brand than the good old Royal Oak.
Price: 317'800 CHF
Iconic Watch Prize
Winner: Audemars Piguet Royal Oak "Jumbo" Extra Thin
Some watches are timeless, and the Audemars Piguet Royal Oak is certainly one of them. Since its genesis in 1972, the Royal Oak has been an integral part of Audemars Piguet's collection and this Salmon beauty explains it all. Instantly recognizable from a distance with a dial color that is not so common, that is how you keep an icon alive. Great job on this one AP.
Price: 55'700 CHF
Chronometry Watch Prize
Winner:  Ferdinand Berthoud Carburised Steel Regulator
Timing accuracy is one of the most important and researched aspects of horology that every big name out there is striving hard to achieve. Ferdinand Berthoud might not sound like a familiar name but the Chronometrie Ferdinand Berthoud Carburised Steel Regulator proves that you do not need to be popular or famous to produce great results.
Price: 230'000 CHF
Calendar and Astronomy Watch Prize
Winner: Hermés Arceau L'Heure De La Lune
While not the most practical Astronomical complications do have romantic charm around them. One look at Hermés Arceau L'Heure De La Lune and you will agree with what I just wrote in the previous line. A meteorite dial with not one but two full moons placed underneath two rotating displays to show the passage of time. Can it get better than this? I don't think so.
Price: 26'000 CHF
Mechanical Exception Watch Prize
Winner: Genus GNS 1.2 WG
As the name suggests this category is all about creating something horologically extraordinary and surprisingly the winner this time around is newcomer called Genus. The GNS 1.2WG is creative Haute Horlogerie at its best and features a fresh take on timekeeping. Hours are indicated at 9 o'clock, tens-of-minutes are shown by the lead traveling indicator – named "the Genus" – which moves freely from one central orbit to the other, and the precise minute is read on the rotating dial in the traditional 3 o'clock position.
Price: 310'700 CHF
Chronograph Watch Prize
Winner: Bvlgari Octo Finissimo Chronograph GMT
The chronograph and GMT are two highly sought-after complications in the world of watches and this Bvlgari Octo Finissimo Chronograph GMT blends the two in one great package. The dial is clutter-free and highly legible and the case is also truly distinctive. But what makes this one a winner is ultra-slim profile which is achieved courtesy of its 6.90mm thickness.
Price: 16'500 CHF
Diver's Watch Prize
Winner: Seiko Prospex LX Line Diver
Dive watches are hugely popular among watch lovers as they are not only highly legible but are also quite robust making them capable of handling almost any situation. Seiko makes some of the best dive watches out there and the Seiko Prospex LX Line Diver's watch is a testimony to it. Featuring a highly corrosion resistant titanium case and powered by an extremely accurate Spring drive movement this is one badass watch.
Price: 6'900 CHF
Jewellery Watch Prize
Winner: Bvlgari Serpenti Misteriosi Romani 102987
While Bvlgari has been in the news lately for showcasing some fine watchmaking skills it remains one of the finest jewelry brands out there. The Serpenti Misteriosi Romani 102987 is a bracelet cum watch that features a white gold construction that has been exquisitely decorated with diamonds cut in different shapes. The watch is powered by a quartz movement.
Price: 1'771'000 CHF
Artistic Crafts Watch Prize
Winner: Kari Voutilainen Starry Night Vine
While the primary motif of a wristwatch is to indicate the time, watches like the Kari Voutilainen Starry Night Vine go way beyond that making timekeeping a mesmerizing experience. The handmade dial on this watch depicts the sky above a vineyard and it takes more than hundreds of hours to complete one dial.
Price: 248'000 CHF
Challenge Watch Prize
Winner: Tudor Black Bay P01
Released during Baselworld 2019 the quirky design of the Tudor Black Bay P01 faced a lot of criticism from fans of Tudor. But dig a little deeper and you would realize that the brand did a great job of creating a production version of a piece that only made it to the prototype level in the 1960s.
Price: 3'750 CHF
Innovation Prize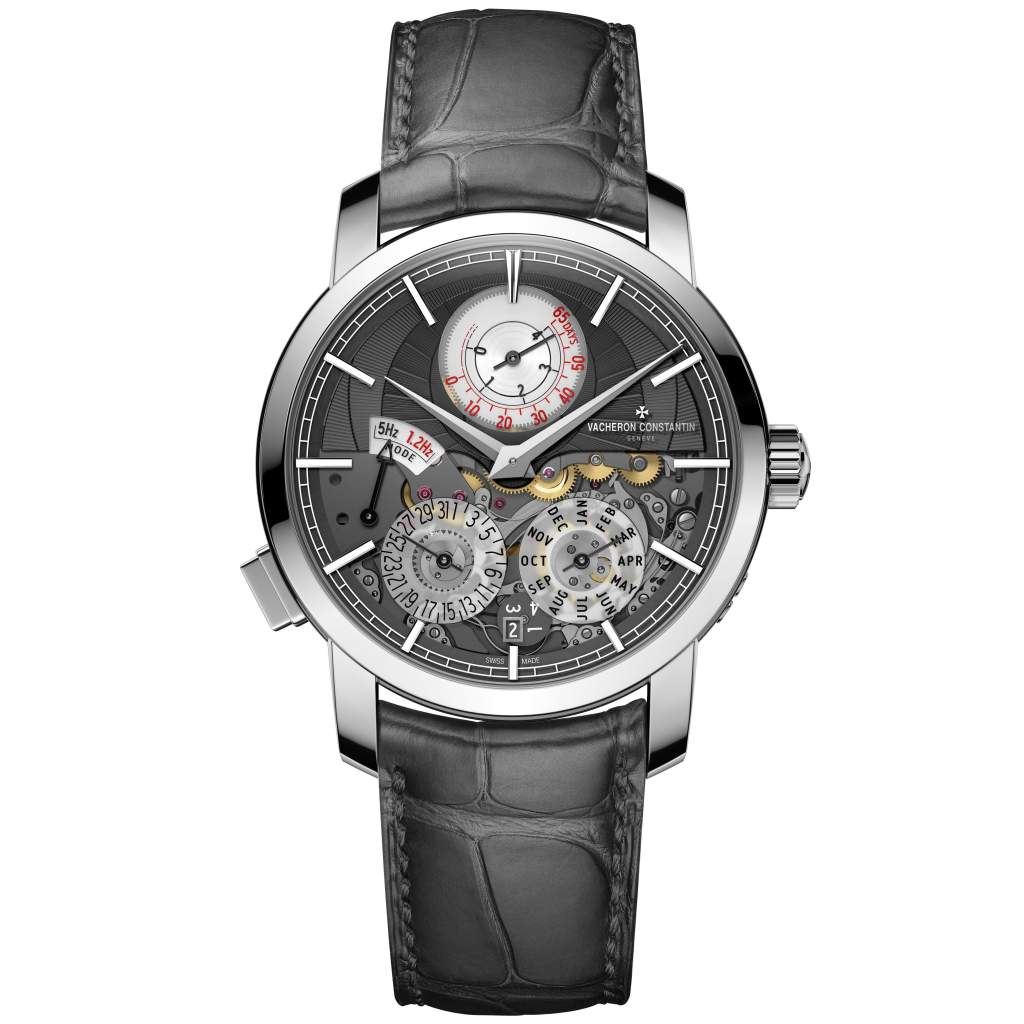 Winner: Vacheron Constantin Traditionnelle Twin Beat Perpetual Calendar 
Vacheron Constantin is considered one of the top three watch brands in the world and that can be attributed to its consistent hard work and innovation in the world of horology. The Traditionnelle Twin Beat Perpetual Calendar is a revolutionary and intelligent watch that has been designed to adapt to the wearer's needs. When worn, the watch would operate at a frequency of 4hz, but when not worn it would shift to a lower frequency of 3Hz to remain active for the next 65 days.
Price: 283'000 CHF
Audacity Prize
Winner: URWERK AMC
Urwerk is well known for making watches with an unconventional approach towards timekeeping and the AMC project takes it to a surrealistic level. The AMC project comprises two parts: a 35 kg atomic clock that acts as a docking unit and a mobile unit, a watch that works at a frequency of 4 Hz. When docked, the mobile unit is synchronized with its base unit, via a complex and ingenious system that senses any timing discrepancy between the two and chronometrically aligns the mechanical movement of the wristwatch with the high-accuracy atomic clock.
Price: 2'750'000 CHF
Horological Revelation Prize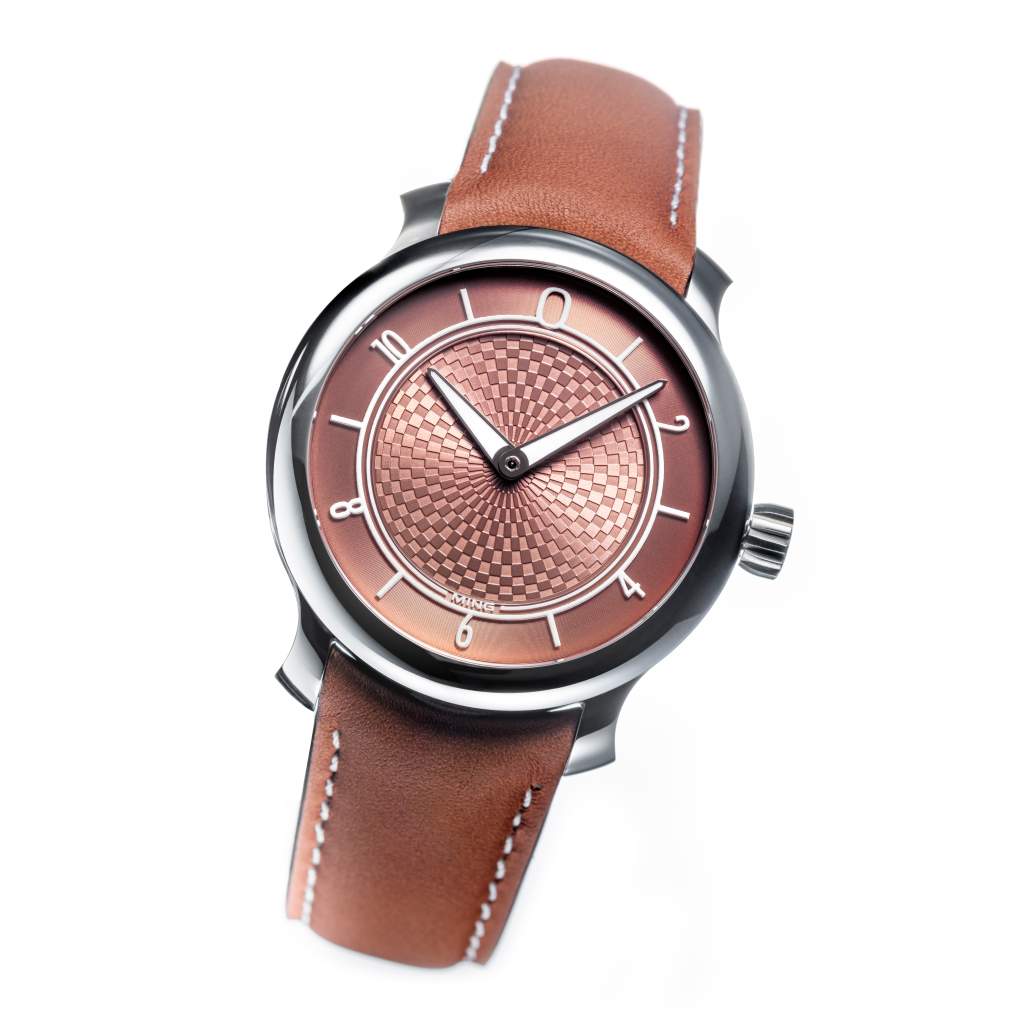 Winner: Ming 17.06 Copper
The brainchild of profound photographer Ming Thein, Ming has covered some decent horological ground in about 2 years of their existence. The brand's success can be attributed to its debut model 17.01 which offered enthusiasts a great mix of specifications and style at a reasonable price point. The 17.06 betters that in every way possible. It features a stainless-steel case, the same great size, an automatic movement, and a sexy copper dial.
Price: 1'250 CHF
Special Jury Prize
Winner: Luc Pettavino
This is the only award that is not given to a watch but is meant to recognize an individual or institution's contribution towards watchmaking. This year's Special Jury honor was given to Mr. Luc Pettavino, the founder of Only Watch. For those who are unaware, Only Watch is a grand charitable auction which raises funds to support the noble cause of research on muscular dystrophy by auctioning unique one-off watches.
"Petite Aiguille" Prize
Winner: Kudoke 2
Kudoke is an independent German watch brand founded by Stefan Kudoke and Kudoke2 is the brand's first watch with a fully in-house movement called KALIBER1. The watch is minimalist in design with a heavy focus on legibility. The major highlight of this piece is the 24-hour indication at 12 that uses a domed rotating disk to show the hour of the day or night.
Price: 9'670 CHF
"AIGUILLE D'OR" GRAND PRIX Prize
Winner: Audemars Piguet Ultra-Thin Perpetual Calendar
This can be considered as the grail of awards as it acknowledges the best watch of the year and which for 2019 is the Audemars Piguet Ultra-Thin Perpetual Calendar. This watch keeps the design DNA of the iconic Royal Oak intact and packs in a powerful and functional perpetual calendar complication maintaining an ultra-thin profile.
Price: 150'800 CHF
Visit GPHG here.