Hamilton watches are known for being robust, no-nonsense tool watches that serve their owners faithfully. That's not stopped them from playing around with watches and product placements. Their advertisements in Men In Black and Far Cry 6 spring to mind. These next watches, the Khaki Navy Frogman Auto watches, seem to be at their less-whimsical end, although they have some unique colour choices.
Before we begin, we should note that all watches come with stainless steel cases that measure 46mm in diameter but do have good depth ratings of 300m, although there's no word on thickness. All watches feature the calibre H-10, an automatic movement based on the ETA C07.611, with a 3Hz beat rate and 80-hour power reserve. They also all cost nearly the same CHF1,150 including VAT, one model is more expensive, but we'll tell you that when we come to it.
Ref. H77825330
The first model is arguably the most familiar-looking to diving watch enthusiasts (it'll also probably sell the best). It features a stainless steel case paired with a rubber diving strap with folds added to extend over a wetsuit. I'm sure there's a name for that kind of strap, or maybe it is just "diving strap".
The dial is black with orange accents and matches with a black bezel. This watch is easily the most no-nonsense of them all, not that that's a bad thing, though. The extra large crown guard certainly helps with the masculine appeal.
Ref. H77825331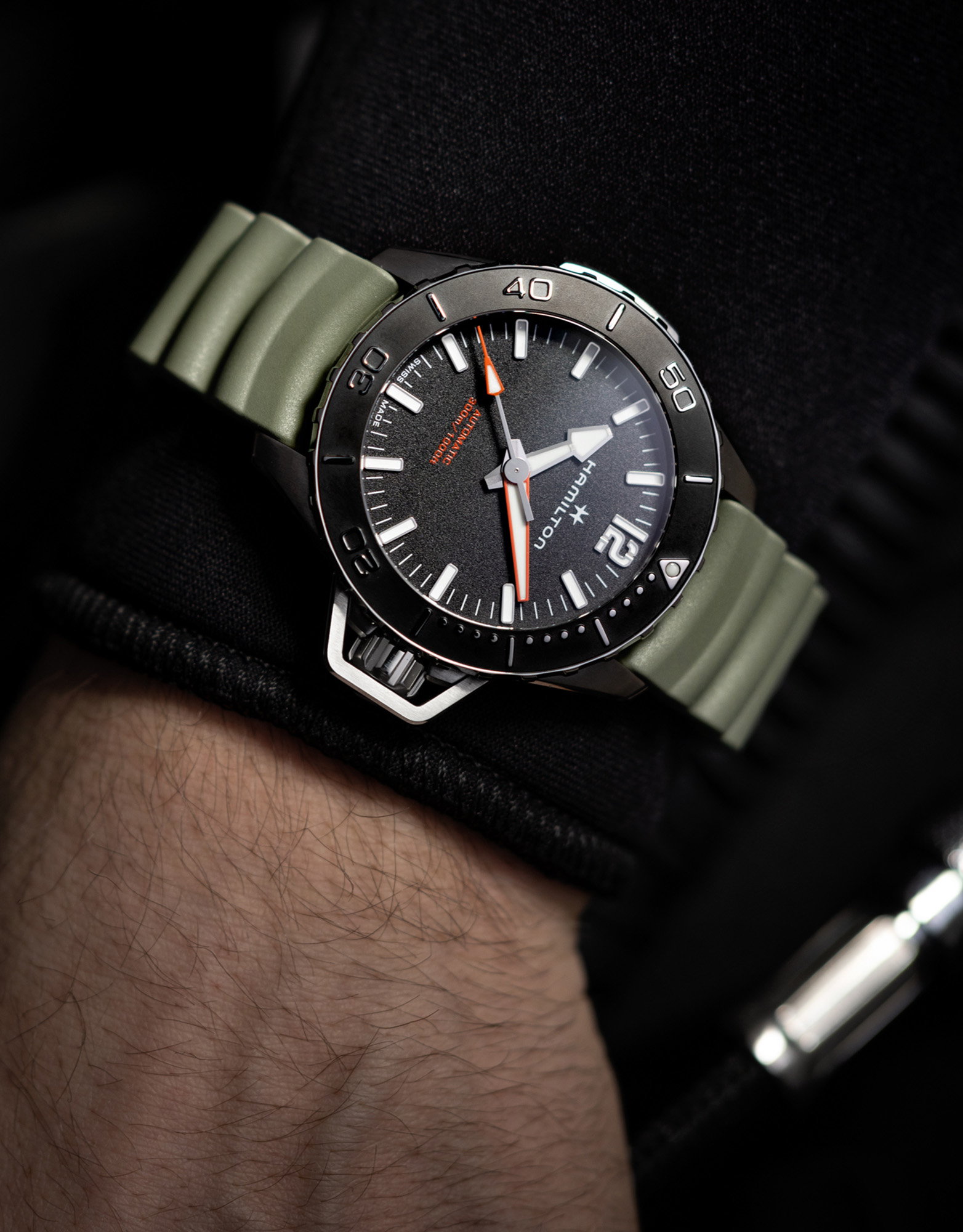 The next model is more or less the same watch as before, except it comes on a khaki-coloured strap, quite fitting for the name, really. Interestingly, Hamilton decided this was the direction they wanted to go. The colour would probably suit something a little less aquatic in theme.
I do like it, but perhaps a splash of blue on the dial instead of orange would make things stand out more. It would also give more contrast to the other models in the range and make this one feel more special.
Ref. H77815130
You'd think that this model would be the most expensive, wouldn't you? After all, it's the only one with a stainless steel bracelet. Perhaps it's a sign that their bracelets cost them nothing to make, or that all of their watches have enough of a markup they can afford to take the hit. Probably that last one. Still, it looks good.
The steel bezel with polishing stands out as a highlight for me. I keep thinking that touch of blue I mentioned above would work here, too, but what we're presented with is still pleasant to the eye.
Ref. H77845330
The boldest of all the new Khaki Navy Frogman Auto watches is undoubtedly this last one. It too measures 46mm across and is made of stainless steel, but the case and bezel receive a black PVD coating. That makes this one looks rebellious and almost a little evil. Evil enough to be intriguing to sad girls on the internet but not so bad it's legitimately evil.
It's also good that it looks quite different from the all-black Seamaster Planet Ocean, made by Hamilton's Swatch-owned sister company Omega. This one also demands the most cash from your wallet, costing CHF1,270. I like that the crown and its guard and the clasp are also black, showing they did a good job.
Visit Hamilton here.