You might be forgiven for thinking that Harry Winston only makes the Opus watches and a lot of jewellery. Indeed, we hardly ever hear from this oddball entry in the Swatch Group's arsenal, but that doesn't mean they haven't been busy. While this American jeweller/watchmaker is primarily known for its Opus collection, a series of watches designed in collaboration with some of the best independent watchmakers around, the other watches in its range are intriguing pieces that are extraordinarily under-appreciated and, quite often, can be an excellent buy at the right price.
This is the latest watch in the 'Not-the-Opus' collection. It's called the Project Z14, and it's the latest in the other long-running collection in Harry Winston's repertoire. The Project Z range has come up with some fascinating and unorthodox designs. It deserves a quick search on Chrono24 after you've read this. The Z14 uses a 42.2mm x 10.7mm case made from a metal called Zalium, an alloy exclusive to Harry Winston, Zalium is made of aluminium and zirconium. It's lightweight and incredibly durable, more durable than titanium even thanks to its resistance to scratching. Like the other Project Z watches, the Z14 has a large crown with two shoulders extending far from the case. The rest of the bezel is smooth thanks to a brushed finish, and it has large and long lugs connecting to the strap.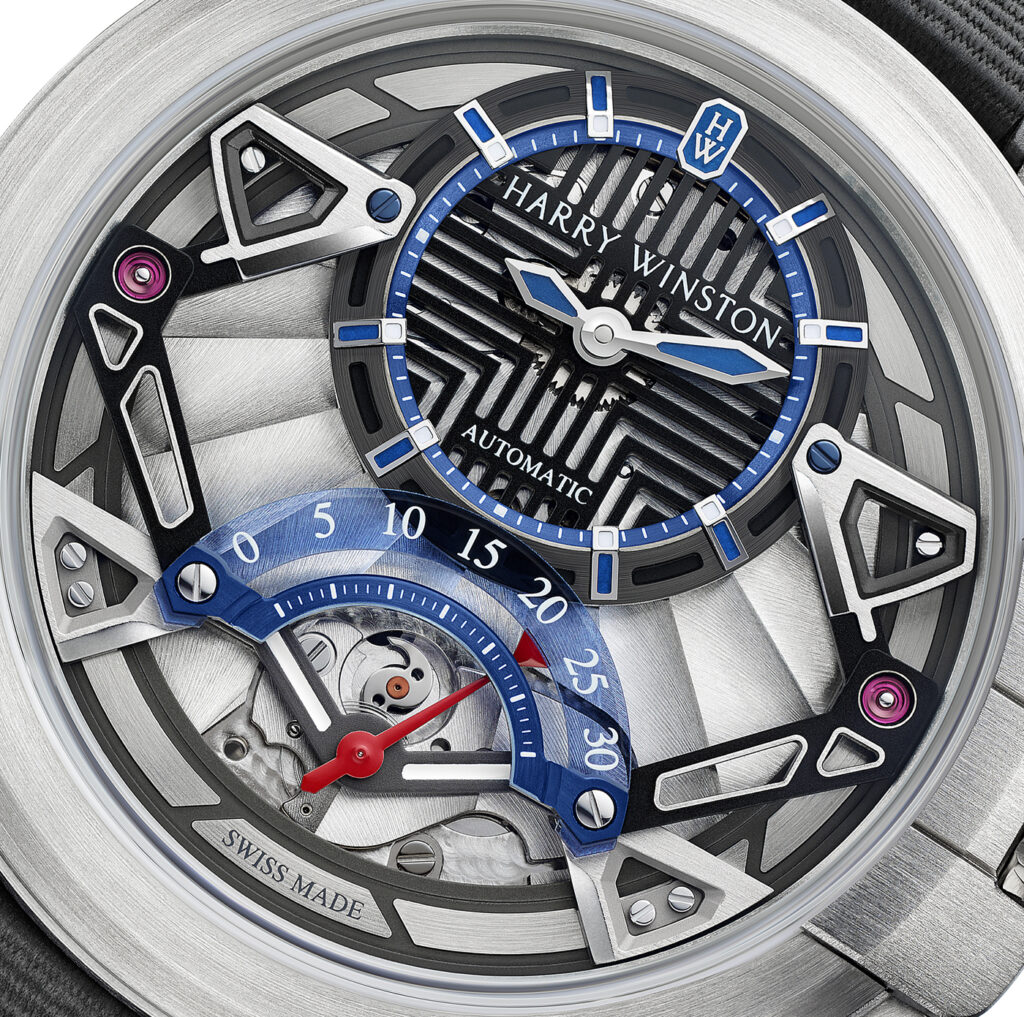 The watch's dial has been partially skeletonised. A baseplate with côtes de Genève finishing radiating from the time dial obscures a full view of the movement, but a series of skeletonised bridge supports in different colours and finishes makes for a visually attractive appearance.
The primary time dial at 12 O'clock features blue contrasting a black backdrop with lines cut out of it for a somewhat art deco design. Short sword hands filled with blue indicate the time on a blue chapter ring with blue markers and the Harry Winston logo at 12 O'clock. Below the time dial is a retrograde seconds indicator with numbers printed on a blue transparent piece of sapphire crystal that evokes the arch over the brand's flagship boutique in New York. The seconds hand is painted red and goes up to 30 seconds before jumping back and starting all over again.
Powering the hands is the automatically-wound calibre HW2202. It's been made entirely in-house by the brand and features a 4Hz beat rate in line with the industry standard. It also has a 65-hour power reserve. Weirdly, we don't have any official photos of the movement from the brand. What you can see of the movement on the dial, though, is a little metal piece behind the retrograde seconds which appears to have come from a food processor. That component works with the spring underneath the seconds hand to return it to zero after 30 seconds. It's not a feature we usually see on retrograde watches.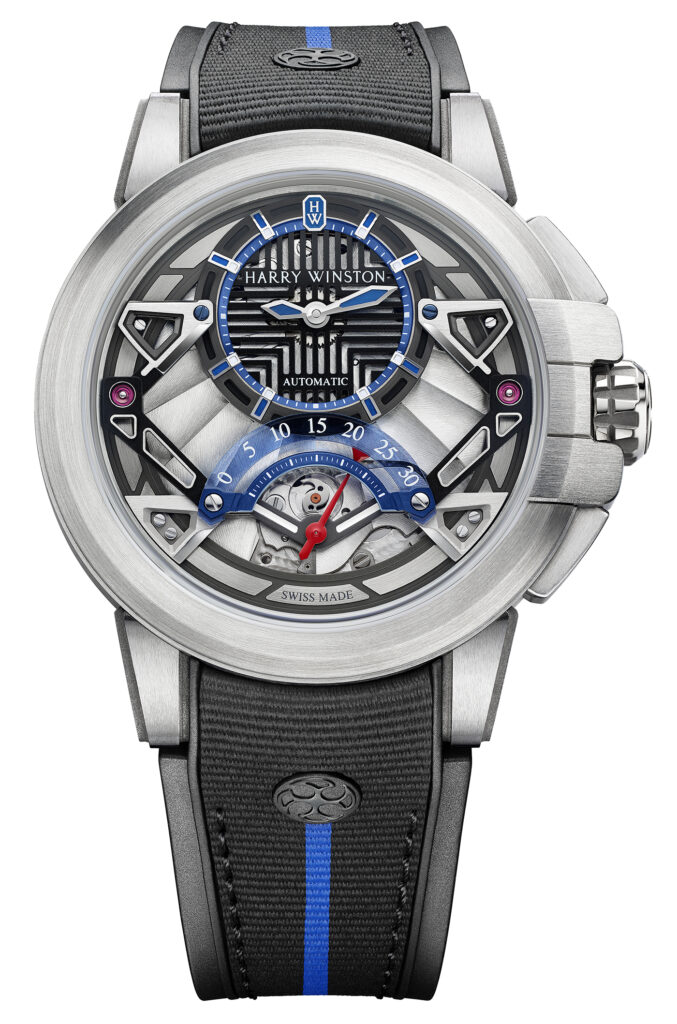 The watch comes on a rubber strap which has a textile inlay on top and a blue stripe down the middle. Being a watch made from exotic materials by an oddball company, you can expect this watch to be both limited in production and expensive, and it happily satisfies both those criteria. The Project Z14 is limited to 300 examples worldwide at a price of $26,400.
Visit Harry Winston here.