BY HARLAN CHAPMAN-GREEN
Let it never be said that MB&F's watches are all about weird designs for no reason with no practicality at all. In an era where even A. Lange & Söhne has catered to demand and produced a sports watch it's unsurprising that the fine folks at MB&F have decided to have a go as well.
This isn't a sports watch. I mean, sure, it comes on a rubber strap and has a case made of zirconium which is highly resistant to corrosion and is also hypoallergenic. But it's not a sporting watch. It's much too complicated and pretty to be considered as a watch you'd bash about. Instead, you can consider it as something of a 'daily wear' as long as your daily activities consist of standing, sitting and maybe some light reading when on the throne. It does have something called FlexRing, though, which is a dampener between the movement and the case which helps to provide some resistance to shocks, although there's no mention of the usual thing's we'd see on a sportier watch like shock protection or a free-sprung balance wheel.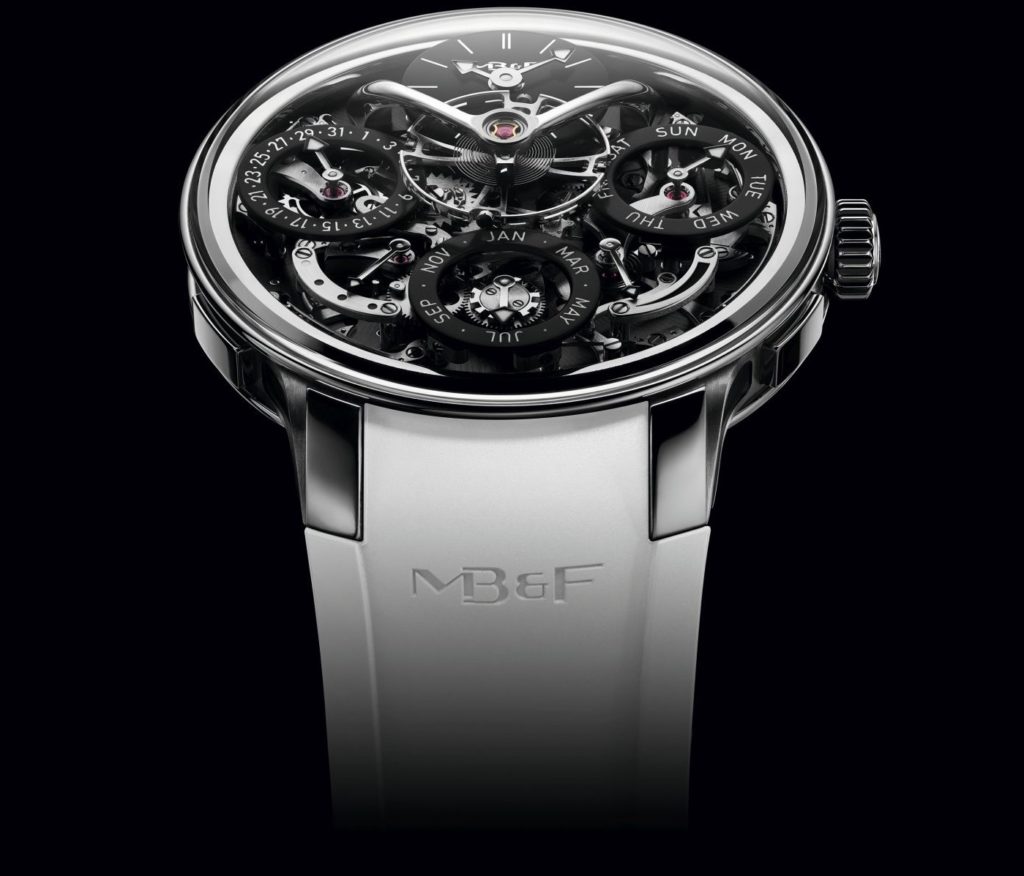 Like most watches targeted at 'active people', the new Legacy Machine Perpetual Evo gives you a choice of dial colours. The colours come thanks to a CVD (Chemical Vapour Deposition) technique used on the dial plate of the watch. As is tradition for MB&F watches, a portion of the movement is displayed on the dial side of the watch (including the balance wheel), because there is no traditional dial MB&F had to find a way to include the colours without the watch face becoming a mess. They did a great job, I think.
As you'd expect there isn't a whole lot to see through the sapphire caseback of the Legacy Machine Perpetual Evo as most of it is on the front. That said, you do get some lovely plates with hand striping and some polished wheels and barrels which stand out thanks to the dark tint applied to the baseplate.
The calibre used in the watch is exquisite. Designed to be both beautiful to look at and incredibly functional. The perpetual calendar system uses a mechanical processor to determine the length of a month. Rather than a set of wheels turning at different speeds as is normal for a perpetual calendar, the mechanical processor adapts a more backwards way of thinking. It assumes that one month has 28 days, as all months have at least 28 days in them. It also knows that some months have more than 28 days, so it knows precisely which month has more than 28 days, and it knows how many more days than 28 that month has. The result is the same, but when we get to watchmaking on this level, it's more about what you can do with existing ideas to make them fresh and innovative.
But, just because this watch is innovative with its complications that doesn't mean it's awkward to use. Most importantly, the dial is both legible and attractive. The movement has a 72-hour power reserve and a special winding system connected to the crown that prevents the risk of the owner over-winding the watch. It also has, for the first time, a water resistance rating of 80m and it has a new sapphire crystal that eliminates the bezel altogether with a unique thermal bonding system holding the crystal in place.
To complete the look, all models come on a rubber strap with a titanium clasp. They're also all limited to 15 examples of each dial colour.
Visit MB&F here.
Technical details
Model: LEGACY MACHINE PERPETUAL EVO
Editions
Legacy Machine Perpetual EVO is available in three variations of 15 pieces each: Zirconium case with orange CVD dial plate, Zirconium case with blue CVD dial plate and Zirconium case with black PVD dial plate.
Engine
Fully integrated perpetual calendar developed for MB&F by Stephen McDonnell, featuring dial-side complication and mechanical processor system architecture with inbuilt safety mechanism. Manual winding with double mainspring barrels. Bespoke 14mm balance wheel with traditional regulating screws visible on top of the movement. Superlative hand finishing throughout respecting 19th century style; internal bevel angles highlighting hand craft; polished bevels; Geneva waves; hand-made engravings
Galvanic black dials with both SLN numerals and hands(except for the leap year and power reserve)
FlexRing: an annular dampener fitted between case and movement, providing shock protection along the vertical and lateral axes.
Screw down crown
Power reserve: 72 hours
Balance frequency: 18,000bph/ 2.5Hz
Number of components: 581
Number of jewels: 41
Functions/indications
Hours, minutes, day, date, month, retrograde leap year and power reserve indicators
Case
Material: Zirconium
Dimensions: 44 mm x 17.5 mm
Number of components: 70
Water resistance: 80m / 8 ATM / 270 feet
Sapphire crystals
Sapphire crystals on top and display back treated with anti-reflective coating on both faces
Strap & buckle
Rubber strap with titanium folding buckle