Armin Strom is a member of the very elite club of watchmakers that currently makes a resonance watch. A resonance watch uses two balance wheels to create a harmonic resonance within a wristwatch that synchronises the balance wheels and irons out the natural imperfections of one wheel to create a more accurate timepiece. Legendary horologists such as Christiaan Huygens and Abraham Louis Breguet both released timepieces which make use of mechanical resonance creating accuracy. In the case of Huygens, he noticed that two pendulum clocks hung from the same beam near to each other were more precise. Likewise, Breguet himself made several resonance watches which inspire the likes of F.P.Journe today.
The difference between Breguet's (and F.P.Journe's) resonance watches and Armin Strom's timepiece is that a special patented Clutch Spring couples the balance wheels in the Armin Strom. The most precise and delicate form of resonance watch requires micro-adjustments of two unlinked balance wheels placed close to one another within a watch. That is exceedingly difficult to do, and it's almost a lost art. Armin Strom's unique take combines a 15% – 20% bonus in accuracy with a gain in efficiency, allowing the watch to run for longer.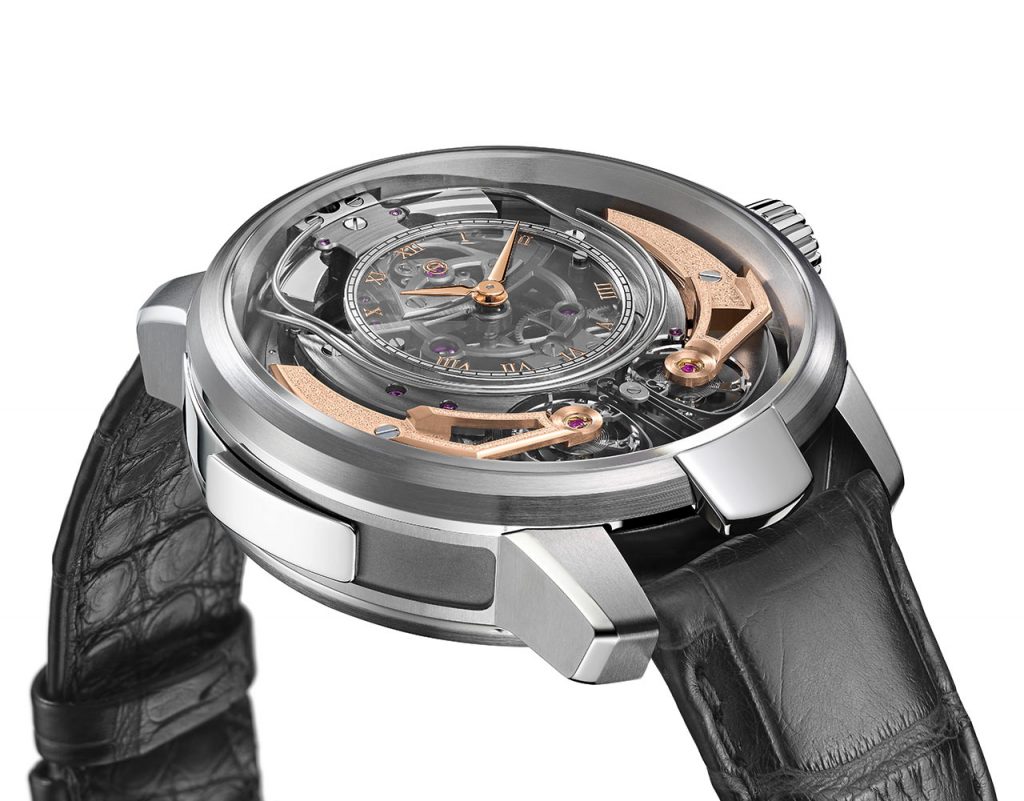 This watch, on Armin Strom's tenth anniversary, represents a unique presentation of two extraordinary complications: the resonance and the minute repeater. The minute repeater is displayed for all to see on the dial with hand-polished hammers drawing the eye. The movement is a collaboration between Armin Strom's research team which focused on the resonance part, and Le Cercle des Horlogers that has the relevant expertise for the minute repeating portion. Further, the movement has an intelligent system which blocks the minute repeater from functioning when the crown is being used to wind the watch or adjust the time, protecting the owner from a very costly mistake.
The minute repeater idea came from Armin Strom's chief watchmaker, Claude Greisler, who was inspired by the Zytglogge, a landmark clock in the Old City of Bern (A UNESCO World Cultural Heritage site, no less). The Zytglogge is over 800 years old and has had an astronomical clock inside it since the 15th century.
The 47.7mm diameter case is made of grade 5 titanium, allowing for sound to propagate outwards and yet mean the watch is still light enough to be practical, well, sort of as it's 16.1mm thick. The balance wheels operate at 3.5Hz and will run for a total of 96 hours before needing to be rewound. There are a total of 408 components inside and 51 jewels.
The watch will be limited to just ten examples as a part of Armin Strom's 10th anniversary, and each piece will cost 380,000 Swiss Francs.
Visit Armin Strom here.