The Hampton range from Baume & Mercier is their effort at making a watch which follows the styling language of the art movement known as 'Art Deco'. But what does art deco mean? Some people throw the term around willy nilly, spouting it at any time they see something with even the most remote hint of a straight line. Coined after the 1925 Exposition Internationale des Arts Decoratifs et Industriel Modernes (International Exhibition of Modern and Industrial Decorative Arts), art deco fuses bright colours with geometrical shapes and designs to create a unique look. 
It can also use distinctive lines and bold shapes, which are especially prevalent in art deco architecture. Think Battersea Power Station or the Hoover building in London, two fabulously 'deco' buildings that use lines and shapes to create art. But, art deco can also take the form of curves and nature-inspired designs, think the Chrysler building in New York.
Baume & Mercier's Hampton watches follow this design language, with straight edges to the case sides and a subtle dip to the bars that cross the top and bottom. The dials feature sword hands and straight markers that are angled so that they appear to explode outwards from the centre, with an angled minutes track in between.
The watch looks both classically styled and contemporary as well, and it comes in 4 variants. The smallest is the 32mm x 22.2mm Hampton Quartz which, as you probably guessed, features a battery-powered quartz movement. It'll cost CHF1,300.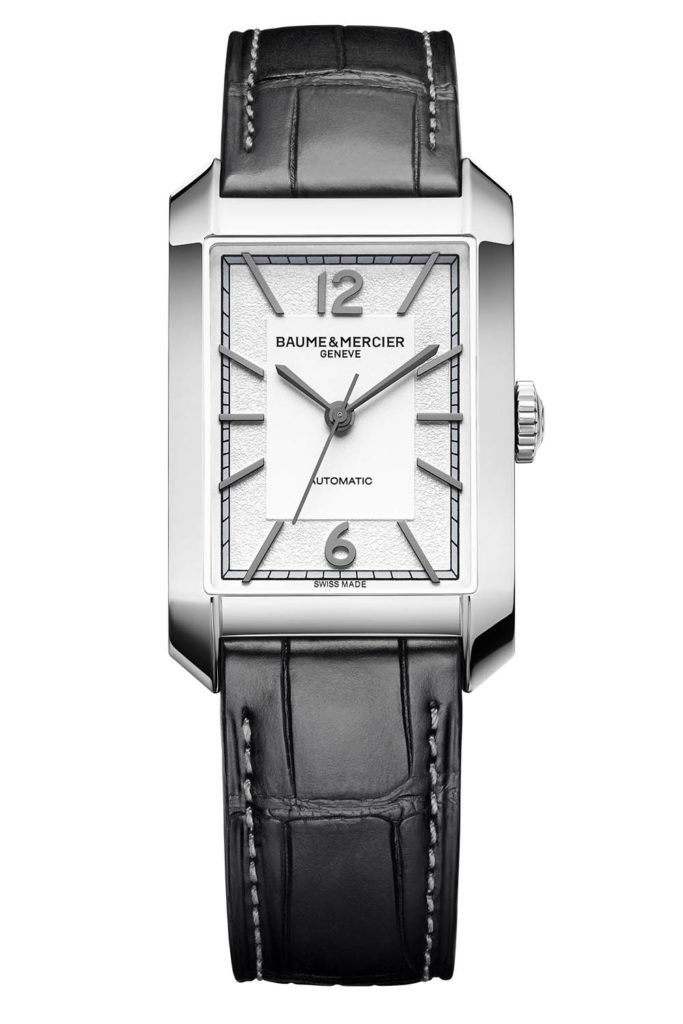 Next up is the Hampton Automatic, which measures in at 43mm x 27.5mm. It uses an ETA 2671 for its power, and it has a 4Hz beat rate and 36-hour power reserve. It'll cost CHF2,200.
Then we have the Hampton Small Seconds Date, which sits in a case measuring 48mm x 31mm. It has an ETA 2895 calibre which also runs at 4Hz for a total of 42 hours. This watch will retail for CHF2,400.
Finally, we have the Hampton Big Date Dual Time, which has the same length and width dimensions to the case as the Hampton Small Seconds Date but is fractionally thicker. This one doesn't use an ETA movement, either, but a Soprod TT 651 that has a 42-hour power reserve and a 4Hz beat rate, as well as a funky day/night indication. The Big Date Dual Time will cost CHF3,650, which is quite a lot.
Visit Baume et Mercier here.