Jaeger-LeCoultre has already wowed us this year with some spectacular watches including the new Master Grande Tourbillon Céleste, Master Grande Tradition Repetition Minutes Perpetuelle and the Hybris Mechanica Grande Tradition Gyrotourbillon Westminster Perpetual watches. Now, they're recommencing their war on A. Lange & Söhne, Vacheron Constantin and watches with short names with their new Master Grande Tradition Gyrotourbillon 3 Meteorite and it's an absolute beast.
Strictly speaking, this isn't an entirely new watch. The Master Grande Tradition Gyrotourbillon 3 Jubilee watch is one that occasionally pops up in boutiques but is rarely spotted outside of them. That's not surprising, to be honest. It was limited to just 75 examples and cost around half a million dollars to buy. This new one is not an exception to that rule, either, as there will only be eight of these made in total and they will each cost $550,000, which is a lot by any standards. But, with these you're not just paying for a watch with a lot of bits and bobs in it, you're paying for all of the craftsmanship that went into it, and there's no shortage of that.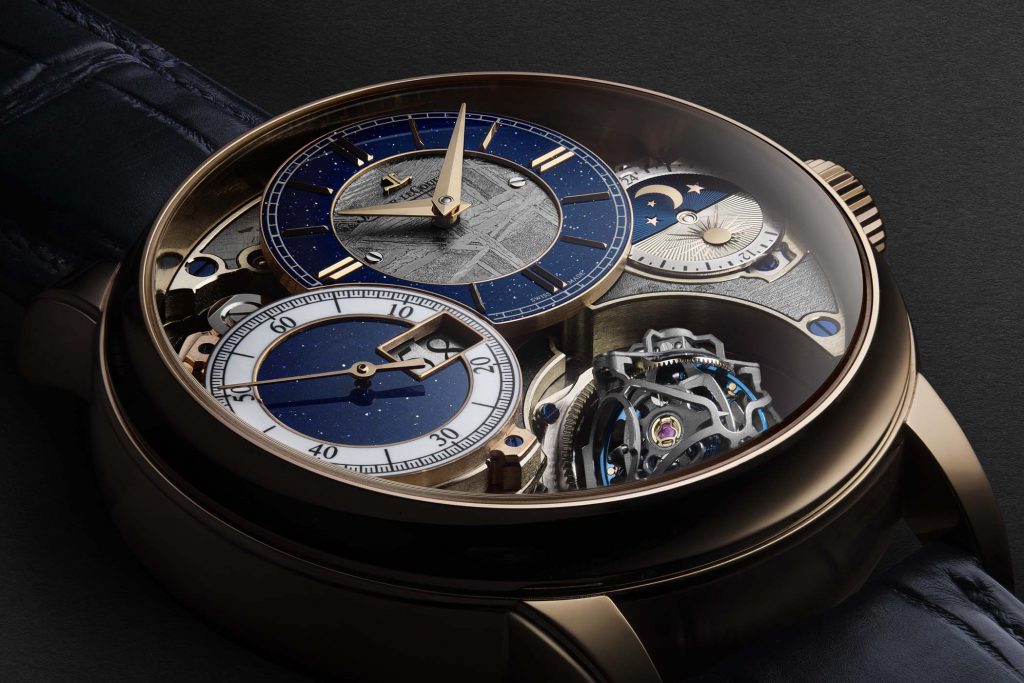 The dial side has changed a little since the Jubilee variant of 2013. That watch was to celebrate 180 years of the manufacture Jaeger-LeCoultre which was founded in 1833 and came with a smart white time dial and simple sub-seconds. On this one, it seems that Jaeger-LeCoultre has let their hair down a bit as the time dial now features an insert of the Gibeon meteorite which crashed into Namibia, wrapped up in a glittery aventurine ring. The seconds subdial features the same glittery ring but also a Grand Feu enamel centre instead of meteorite, for variety, probably. There's a day/night indicator too which has been decorated impeccably with hand guilloché and gold.
It's not just song and dance on the dial side, though, the most stand out feature is the Gyrotourbillon which takes up a large portion of the view. In layman's terms, it cancels out the effect gravity has on the delicate components of the escapement. You might say "ah yes, I've heard of the tourbillon, but why does this one look so different?". The reason is that the traditional tourbillon was designed for a pocket watch which sits vertically all the time. A wristwatch can move in any and every direction along any axis, which means that gravity is no longer affecting the escapement assembly in the same way. To do that, Jaeger-LeCoultre put the escapement into a tourbillon which is then mounted inside a cage that rotates on another axis. This means that instead of turning the balance wheel, it's now tumbling in different directions, thereby negating the effects of gravity in any direction. Watchmakers from Jaeger-LeCoultre and those familiar with multi-axis tourbillons can undoubtedly explain it better than I.
You may have noticed a pusher on the case. It's connected to a discreetly placed column wheel that sits to the left of the time dial. You may have missed it because it has a polished cap over the top as Patek Philippe does with their column wheels. The seconds dial is not a running seconds dial for the watch; it is a chronograph with jumping minutes. That's right. This watch just added a sucker-punch to its already substantial arsenal of horological goodness.
The back of the case is impressive, too. Designed to invoke old pocket watch movements, it features a large central bridge, exposed gearing and an impressive amount of interior polishing on the angles. But, then again you'd expect that from a watch of this calibre. Jaeger-LeCoultre also uses German silver in its high end watches like the Duomètre series, though there's no mention of it the colour seems about right, it matches the 43.5mm rose gold case, anyway. The most unusual feature of the caseback is the implementation of meteorite onto the large surfaces of it. Usually, these might be engraved painstakingly by hand, but here there is a thin layer of meteorite displaying its beautifully chaotic pattern, utterly unique to every piece.
Have you won the lottery recently? Jaeger-LeCoultre is only a phone call away, how else are you going to afford it?
Visit Jaeger-LeCoultre here.