For this instalment of Watch Spotting with WristReview, we're going to have a look on what a legendary talk-show host from the United States wears on his highly popular YouTube show, while sharing his passion for automobiles with billions of petrolheads around the globe. We're also going explore what one of the coolest cats of Hollywood has worn over the last decade and finish things off with a highly talented ginger that some people with poor eyesight might mistake for Ronald Weasley from the Harry Potter universe. Let's have a look!
Jay Leno and Seiko's Sportura Kinetic Chronograph
The former host of The Tonight Show with Jay Leno may have retired from hosting television, but you'd be terribly wrong if you expected him to embark on a journey towards an elephants' graveyard. Most petrolheads are fully aware of his massive collection of both cars and motorcycles totalling almost 300 specimens, a hobby which he took to the next level ever since he began hosting Jay Leno's Garage in 2014. During an episode about a Shelby Brock Daytona Coupe, Leno wore a watch that almost instantly caught my attention due to its futuristic design and multiple dials.
Investigating this further, it turned out to be a Seiko Sportura Kinetic Chronograph. The watch features a flying seconds hand – in French, also known as a foudroyante – on a separate dial that allows the wearer to measure a race (or another time interval) down to as little as one 10th of a second, effectively just like the legendary El Primero (also known as calibre 400) from Zenith. It also features a separate dial for the chronograph minutes and hours, reminiscent of a mono-counter used by Patek Philippe and Omega, as well as a dial for the time. Lastly, it comes with a separate date window and an end of life indicator. The latter might not be easy to spot instantly, because the seconds hand on the dial for the time will jump in two-second intervals in order to remind the wearer to shake his or her watch to energise it fully.
Seiko may be frowned upon by some snobbish watch enthusiasts, but the company's rich history can be traced all the way back to 1881 when the 22-year old entrepreneur Kintarō Hattori opened a clock and watch repair store in central Tokyo. Just 11 years later, Hattori began producing clocks under the name Seikōsha, but we have to fast forward to the 1960s where it really starts to get interesting. One thing is the introduction of the Grand Seiko line and their first dive watch; another – and much more commonly known event – is that Seiko took the first steps in crippling the Swiss watch industry by introducing the world's first production quartz watch, the Astron, on December 25, 1969. Talk about Santa Claus leaving coal in the Swiss watch industry's socks for Christmas and getting chased by Krampus too.
However, if you're into chronographs – like yours truly – then you're also probably aware of another important watch released by Seiko in 1969. Yes, I'm thinking about Reference 6139.
It was built during the race between the Chronomatic Group (i.e. a consortium consisting of Breitling, Heuer, Hamilton-Buren and chronograph specialist Dubois-Depraz), Zenith and Seiko to create the world's first ever self-winding chronograph. I'm not going to debate on who won the race by nit-picking on different dates; it would, however, would be a shame not to highlight Seiko's introduction of what might very well be the world's first self-winding chronograph calibre with a column wheel and vertical clutch. Oh, it also featured their magic lever which harnesses the energy generated by the rotor in both directions, thus significantly increasing the power transfer to the mainspring and delivering faster winding speed.
In the late 1980s, Seiko premiered with what would later be renamed Kinetic; a watch with a quartz calibre, but with an oscillating weight that converted the wearer's motion into electricity and thus powered the quartz calibre. Seiko basically came up with an idea on how to get the precision and reliability of a quartz calibre while, at the same time, getting rid of the disadvantage of short battery life. Leno's Seiko stems from this exact line of watches. Leno's Seiko is most likely equipped with their hand-assembled in-house calibre 9T82, as most, if not all, of Seiko's chronograph watches from their Kinetic line are. Despite the use of a hybrid calibre – and a somewhat affordable price level – it does actually come with a respectable finish and is even by some enthusiasts considered to be a high-end calibre.
While I can't come up with the exact reference number for the model that Leno's wearing, I can with some certainty say that it's a hefty watch that demands some wrist real estate as its sibling. Reference SLQ015, measures in at 42, 5 mm from the 9 o'clock position to the 3 o'clock position and comes in with a thickness of 14, 8 mm. Leno, however, pulls it off quite nicely, and it fits his vibe with automobiles too.
Considering Leno's sincere passion for automobiles, it might not have been the most obvious choice for a chronograph watch. But it's without a doubt an interesting and original choice, partly because he has also been spotted with a Master Grand Reveil from Jaeger-LeCoultre – a perpetual calendar with a mechanical alarm. However, it's also interesting that he didn't take a swing with one of the references that the legendary car designer Giorgetto Giugiaro designed for Seiko in the mid-80s, e.g. Reference 7a28-7000 (also known as the Ripley after the heroine in the sci-fi thriller Aliens).
Time will, therefore, tell whether the beloved entertainer has a soft spot for complicated watches. Maybe you can spot them before us?
Charlie Sheen and The Reference 5980 by Patek Philippe
Well, it shouldn't come as a surprise that Charlie Sheen – the guy you'd learn love from, at least according to the American singer-songwriter Jewel – is quite keen on watches. If you grew up watching Two and a Half Men, you'd probably have noticed him sporting a Rolex Yacht-Master (Reference 16622) during season 1-8.
The once highest-paid television actor has, however, made some headlines in the media while wearing breath-taking timepieces from Patek Philippe – which appears to be his preferred choice of brand. A couple of noteworthy examples include Reference 5970P and Reference 2438J, the former is a perpetual calendar chronograph watch with a moonphase and a platinum case. The latter is the revered manufacturer's first serially produced perpetual calendar watch with a central second hand. He has also been spotted with the highly coveted Reference 5131J – a world timer with an enamel dial made by legendary artisan and miniaturist Susanne Rohr – and plenty of other desirable timepieces from Patek Philippe. Some people would question the life choices that Sheen has made in the past, but there's no denying he has shown discerning taste when it comes to watches.
Based on this, it's obvious to me that the now sobered up entertainer isn't the owner of the diamond- encrusted Nautilus Chronograph (hereinafter Reference 5980) that he's wearing in Lil Pump's music video Drug Addicts. This is further evidenced by the diamond encrusted Royal Oak (hereinafter Reference 15400) by Audemars Piguet worn by Lil Pump in the above-mentioned video and on some of the photos on his Instagram account. Both references were done in steel, gold/steel or entirely in precious metals during their production run (Reference 5980 is still in production, though only in rose gold/steel and rose gold), and this means that Lil Pump either commissioned someone to mutilate these timepieces or bought them like this.
Precious stones can look nice on certain timepieces for both men and women, e.g. the Royal Oak Tuxedo (Reference 15154BC.ZZ.D004CU.01) or Patek Philippe's Reference 5296P; but considering all the levels of finishing and fine craftsmanship that go into creating the delightful play between satin-brushed and polished surfaces of the bracelet and case of these watches especially, I'd much rather see them all original with battle scars from daily wear. It adds character and a certain unreplicable uniqueness.
Reference 5980 in steel was introduced in 2006 – coincidentally also the 30th anniversary of the first Nautilus (Reference 3700) which was designed by the legendary watch designer and artist Gérald Genta in roughly five minutes on a napkin. Unlike its svelte and casually elegant forefather that had a monocoque case (i.e. two-part case construction), Reference 5980 in steel was more masculine and sportier due to its 44 mm case and was also easier to manufacture as it had a three-part case construction. It had a water resistance of 120 meters (or roughly 65 fathoms) and was equipped with calibre CH 28-520 C – the revered manufacturer's first-ever self-winding chronograph developed and manufactured in-house.
This exquisitely finished calibre boasts a power reserve between 45 and 55 hours (depending on how long the chronograph is kept running) and also comes with a fly-back – in French, also known as retour en vol – which allows the wearer to reset and start the chronograph for a new time interval with a single push on the reset button at 4 o'clock. Not only does the calibre look pretty. It also endures sports activities to some degree if you're the type of guy or gal who actually wears your Nautilus (or Aquanaut) more or less frequently.
In recent time, rappers and other types of celebrities have gravitated towards The Nautilus, thus taking some of the spotlight away from the usual suspects in the guise of Rolex and Audemars Piguet. This may also have had some influence on the drastic price increase and demand we've witnessed in recent years on the secondary market and the increased demand at the authorised dealers around the globe as well. Of course, Thierry Stern's decision to raise the price by 20% on only two references from their Nautilus collection, References 5711 and 5712, did most of the job in this instance, but there's no denying that the influence from celebrities in recent years also has had some effect on the current state of the extraordinary hype.
Speaking about Reference 5712 leads my thoughts towards the unmutilated specimen that Sheen wears in Jensen's interview, where the former appears more insightful and sympatric. All I can say – apart from complementing him on his choice of watch sans sprinkles (i.e. diamonds) – is to keep up the good work with staying on the wagon – and thanks for your contribution towards HIV-awareness – Charlie!
Ed Sheeran and The Royal Oak Tourbillon Extra-Thin by Audemars Piguet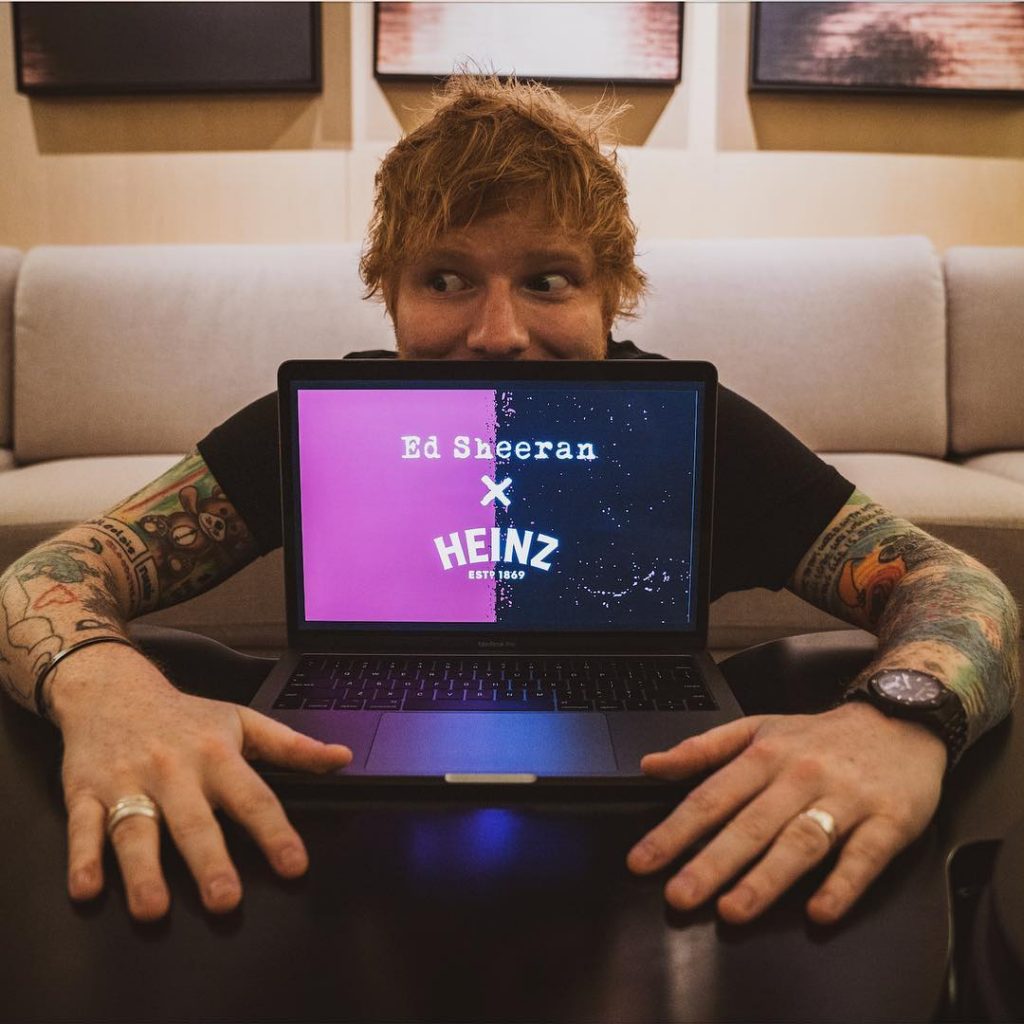 If there's one watch enthusiast I'd love to share a drink and talk about watches with before kicking the bucket – apart from Ellen DeGeneres – I'd definitely say Ed Sheeran. One thing is his ability to bring every member of a crowd together with his enjoyable music. Another aspect is the 28-year old musician's excellent taste in watches.
This includes an RM 27-03 by Richard Mille, a Royal Oak Concept GMT Tourbillon by Audemars Piguet (Reference 26560IO.OO.D002CA.01), Reference 6239 by Rolex, Reference 5130R by Patek Philippe (the second generation of the esteemed manufacturer's line of self-winding watches with the world timer complication), Reference 5726 by Patek Philippe (a Nautilus in steel with the annual calendar mechanism which was patented by them in 1996), Reference 5980 by Patek Philippe and additional watches that I'd much rather dive into in a personal interview with Sheeran as he is undoubtedly serious about watches.
However, until then, and if it ever were to happen, of course, I did notice another interesting watch on the talented musician's wrist: the Audemars Piguet Royal Oak Tourbillon Extra-Thin in black ceramic (Reference 26522CE.OO.1225CE.01). It was released this year in a limited edition of only 100 examples and it's the third Royal Oak to be crafted in black ceramic – a material that is reported to be seven times harder than steel. The timepiece isn't only light and scratch resistant due to the use of ceramics. It is also svelte as it only measures 9 mm in thickness. As if this wasn't impressive enough, it takes approximately 30 hours to accomplish the machine and hand-finish of the case and bracelet – which, in comparison, is five times longer than a stainless version of the Royal Oak – and this is impressive considering the uniform finish of this ultra-hard material.
Audemars Piguet went with a monochromatic theme as the entire watch is black, including the dial decorated with their Tapisserie Evolutive pattern, which not only makes it appear smaller than it is in real life. It also draws the wearer's attention to the large tourbillon carriage made of steel at the 6 o'clock position as well as the white gold applied hour-markers and Royal Oak hands with luminescent coating due to their contrasting colours. We can't forget the iconic octagonal screws in 18 ct white gold on the bezel too.
The watch is powered by calibre 2924 which is manually wound and ticks away at 3 Hz (21,600 vph) for 70 hours once fully wound which is more than sufficient for a concert with the charming singer from Great Britain. The autonomy of the watch can be monitored by the power reserve indicator placed on the back of the calibre. Calibre 2924 is meticulously finished with mirrored chamfering (in French, also known as anglage) on every part of the three-quarter bridge, black polishing (in French, also known as poli noir or spéculaire) on the tourbillon bridge, including the spokes of the tourbillon cage.  There is also (finishing) on the screws holding the three-quarter plate, abrasive Côtes de Genève across the three-quarter plate and much more. Not only is the calibre exquisitely finished, but it's also sturdy thanks to the three-quarter bridge construction and tourbillon carriage made of steel.
Considering the impacts a watch could receive a watch can receive during a concert, I'm curious to see whether the case and bracelet might end up getting chipped before – and if – something happens to the calibre. Either way, I think it's cool that Sheeran doesn't treat it like a baby and uses it to the fullest, despite the inherent risk of damaging it during a concert or a sailboat trip.
I'll be looking forward to your next concert in Odense, Denmark, Ed!