BY HARLAN CHAPMAN-GREEN
We see a lot of watches which are focused on scuba diving or flying a plane or even driving a really fast car, but very few watches focus on things that most of us can feasibly do (or at least attempt to do). These are things like swimming, cycling or perhaps hiking. The latter is the focus of Montblanc's new 1858 Geosphere Messner Limited Edition piece, well, an extreme form of hiking called mountaineering at least. But you could use this if you fancy a trek across some of your local countryside or perhaps a coastal walk.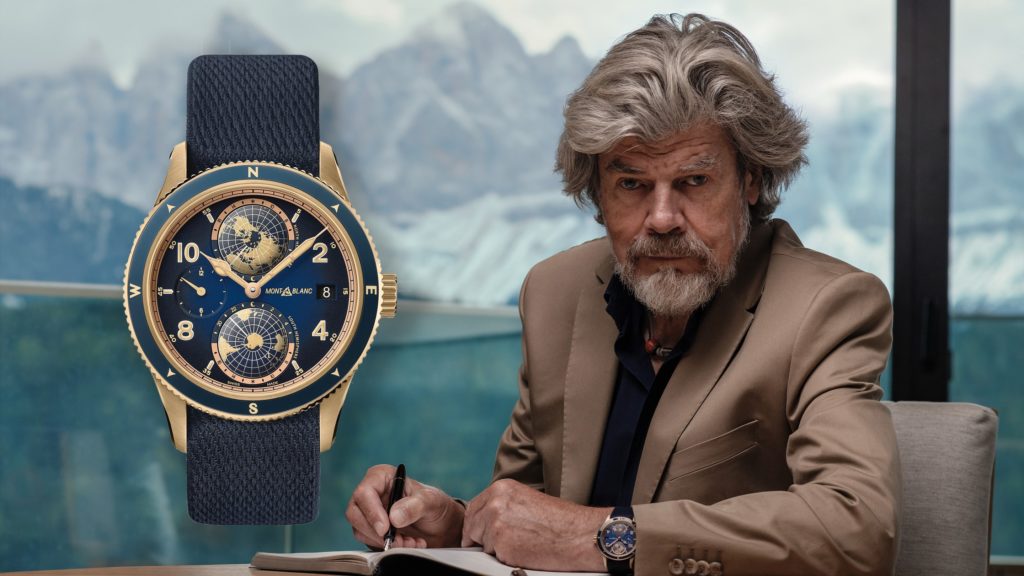 The new watch is named in honour of Italian explorer and mountaineer Reinhold Messner whose track record makes so-called extreme people like Bear Grylls seem rather inadequate. Before we check out the watch, let's take a look at the man who helped design it.
Messner was born in 1944 and grew up near Brixen in the very northern part of Italy. He fell in love with climbing at a young age, hardly surprising when he lived right next to the Alps, and would become one of Europe's best climbers along with his brother Günther in his early 20s. Messner's first major Himalayan climb was a success, but it cost him seven toes (frostbite), and it cost the life of his brother Günther who died on the descent of Nanga Parbat, the ninth highest mountain on Earth. This, however, did not stop Messner.
In 1978 Messner, accompanied by Austrian mountaineer Peter Habeler, became the first person to climb Mount Everest without the use of supplemental oxygen, defying doctors and mountaineers alike. He then did this again in 1980 by himself, becoming the first person to climb Everest alone and also without supplemental oxygen. In 1986, Messner became the first person to complete all eight-thousanders, that is, he is the first person to have climbed all 14 mountains that are higher than 8000m above sea level, which he did without supplementary oxygen. He was also the first person to cross both Greenland and Antarctica without a snowmobile or dog sled. To top that all off in 2004 he completed a 1200 mile expedition across the Gobi Desert.
With all that under his belt, you can expect the Montblanc watch to be very navigation-themed. The blue ceramic bezel has a compass within it, and the dial features the classic Geosphere layout with the view being dominated by representations of both hemispheres. These rotate and provide a world time complication, allowing you to read the time across both hemispheres. For this edition, the hemispheres have little red dots on them in certain places, these mark out the mountains on the Seven Summits list, which comprises of the highest mountains on each of the seven continents. I'm not sure about the accuracy of this, as they appear to have marked out Mont Blanc on the Northern hemisphere, but Messner's version of the Seven Summits includes Mt Elbrus which is also in the European continent. Perhaps it's a subtle way of Montblanc marketing itself.
The rest of the dial seems to be pretty standard for the Geosphere range, but that does mean you get a dial that's legible and attractive, I particularly like the slim cathedral hands and the amount of lume that's been used.
Around the back of the watch is the real part that honours Messner. An engraving of Mont Blanc takes up the majority of the caseback, around that is a list of the seven summits according to Messner (as stated, other versions use Mont Blanc instead of Mt Elbrus on the European continent and Mt Kosciuszko instead of Puncak Jaya on the Australian continent (this version includes Oceana as a part of the Australian continent). There's also Messner's signature on the back along with a Montblanc logo, a compass, a pair of crossed pickaxes and a number denoting the limited edition status of the watch.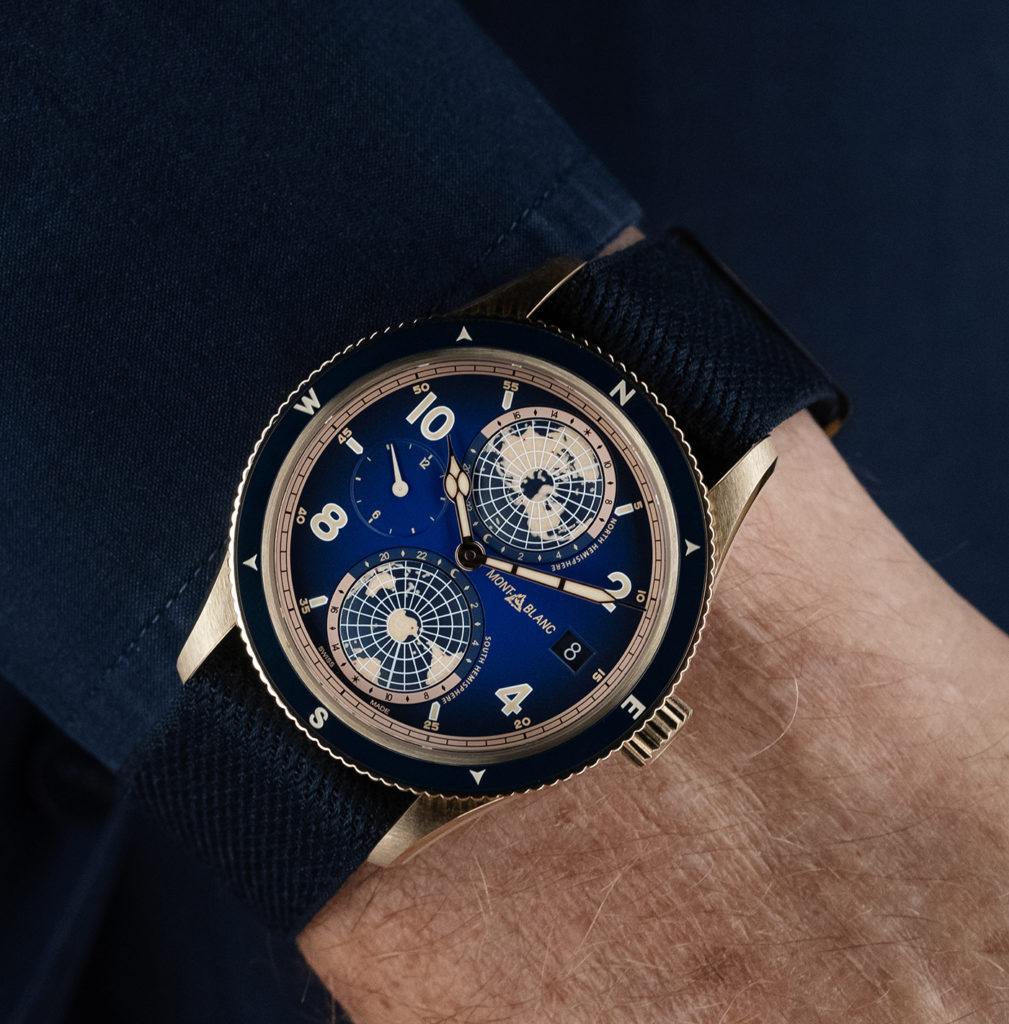 Inside the 42mm x 12.8mm bronze case is the calibre MB 29.25, which is based on a Sellita SW300-1. It has a 4Hz beat rate, a power reserve of 42 hours and Montblanc's unique world time module added to it. It also has a date feature which has been put at 3 O'clock on the dial to balance it marginally.
This watch would cost you $6500, but according to Montblanc's website, all 262 examples have sold out.
Visit Montblanc here.