HYT are makers of probably the coolest watches on the planet, past and present. For most people, using gears and hands is enough, but for HYT that's just the start. Their unique selling point is one of the trickiest tricks of the trade: using liquid to indicate the time. Now, don't get me wrong, there's an enormity of challenges before someone who makes conventional watches (i.e. pretty much everyone else) using only hands. But, when your system involves both hands and gears and is still based on the same technology as a conventional timepiece, things get more complicated. Very quickly, too.
HYT's watches use a tube connected to bellows to move liquid in such a fashion that it can be used to indicate the time. The capillary tube to hold the liquid has to be made by a company outside of HYT that specialises in glassmaking, and the liquids inside that tube need to avoid mixing. To get the effect that the blue fluid is travelling inside that watch by itself requires the use of a transparent one in front of it, a thick gel on its own might leave a residue or get stuck and ruin the effect, which is not something that can be allowed to happen on a €55,000 watch.
Now, as with other HYT watches, the new H5 Blue Fluid watch doesn't exactly put accurate time telling at the top of its to-do list. While I have no doubts that the traditional part of the mechanism with the traditional mainspring and conventional escapement assembly do their job with the utmost precision, that precision is lost somewhat by the watch's party piece. There's no accurate way to determine which minute it is, which isn't necessarily a drawback. When you have an exquisite watch like this, who cares about the time? You own the time.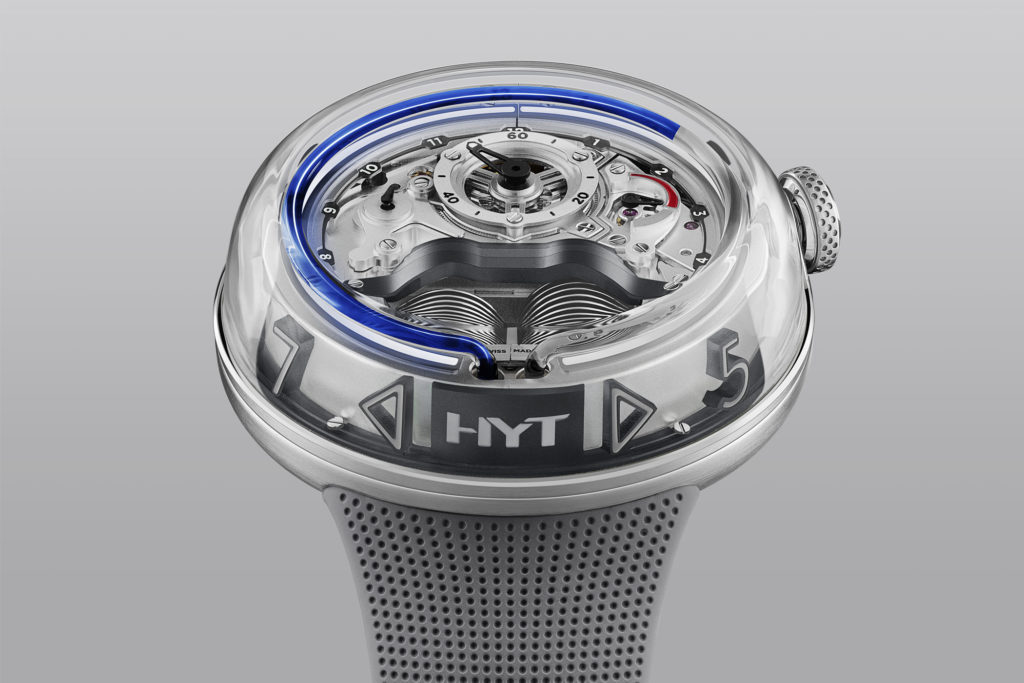 The hand-wound movement inside the watch beats at 4Hz and has a 65-hour power reserve, but the crown seems to be quite, large so winding it shouldn't be any trouble. It displays the minute at the central dial, and there's a power reserve indicator off to the right as well, but of course, the main focus will be the liquid. Underneath that capillary sits a dash of SuperLumiNova for an even cooler look at night, but perhaps not as cool as the H4 Metropolis which has an LED in it. I do like the upside-down fishbowl style crystal which stretches over the dial to encompass the entire movement as well, featuring numbers on the side for extra visual oomph.
These are limited to just 25 examples, sadly.
[button color="black" size="big" alignment="center" rel="follow" openin="newwindow" url="https://www.exquisitetimepieces.com/watch-brands/hyt-watches.html"]BUY YOUR HYT HERE[/button]