URWERK is among the few brands who believe that time telling should be a compelling and intriguing activity and their futuristic-looking timepieces are a testimony to this. Quite recently we brought you news about the URWERK UR-111C, a watch with a cool looking linear retrograde display, and now the brand has come up with a stealthy version of this watch in the form of the UR-111C Black Cobra.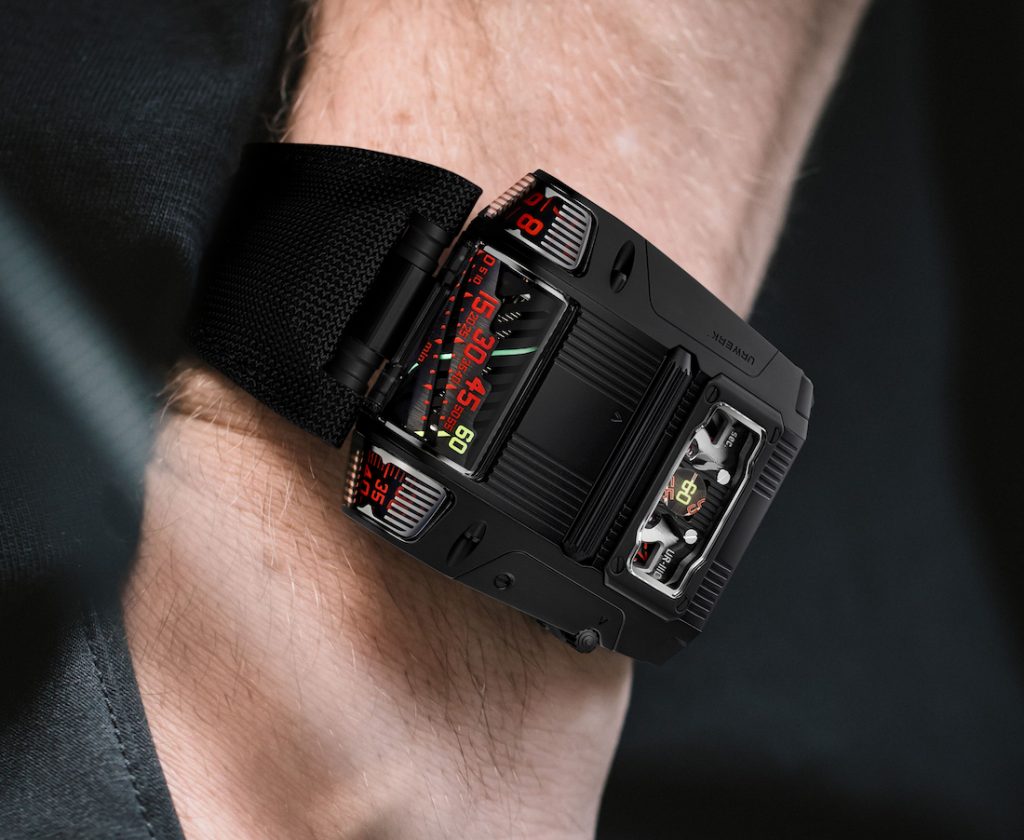 Let's begin by looking at the case. Made from titanium with a black PVD coating on top, the case on the Black Cobra bears a distinctive silhouette which is reminiscent of a gadget from a sci-fi movie/novel. The chunky case measures 42mm in diameter, is 46mm long and has a height of 15mm all of which translates into a watch which should sit comfortably on a variety of wrists but at the same time make its presence felts. The case features a total of four sapphire windows helping to read the time and is water resistant to 30 meters.
Moving on to the display, akin to the UR-111C, the Black Cobra uses multiple windows to tell the time. There is a primary display in the front comprising of three individual sections which beginning from the left display the jumping hours, linear retrograde minutes and minutes again. Yes, you read that right there are 2 windows that tell the minutes which is strange, but it blends well within the overall design and is something one would get used to with passage of time.  And finally, on top of the case is another exhibition glass which gives a nice view of the running seconds meandered across a cluster of optical fibers. While the display is actually similar to the one found on the UR-111C, what makes it intriguing is the choice of colors that URWERK has made use of in case of the Black Cobra. The heavy usage of bright red along with fluorescent green accents adds to the sporty appeal of the watch and provides a great contrast against the black case.
Powering this watch is an automatic movement which consists of 37 jewels and operates at 28,800 bph offering a power reserve of 48 hours. Interestingly the mechanism to wind the movement and set the time is as unconventional as the rest of the watch. Instead of using a regular crown and stem there is a cylinder placed on top of the case which can be used to wind the watch and there is also a hinged cylinder on the side of the case which can be pulled out to set the time.
In all the URWERK UR-111C is another idiosyncratic gem from the URWERK. The watch would be limited to only 25 pieces and would retail at a price of CHF 130,000.
Visit Urwerk here.