I haven't been this excited about a budding watch brand since I laid eyes on Rossling & Co on Kickstarter quite awhile ago. Mansfield is taking a fantastic design and adding stats to make it rugged and useful for those of us who enjoy life outside the office. I'm going to pick up several of these. Several.
Keep in mind that these are available for only $75 on Kickstarter right now…this is a great deal.
They have been funded for awhile and are now chipping away at their second stretch goal with a couple weeks of funding time left. If I were you, I'd jump on board while you can and absorb some of that stretch goal goodness while you're at it!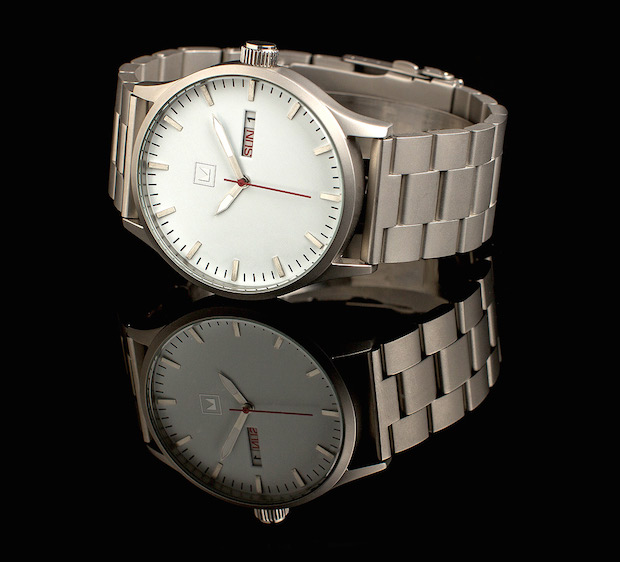 This is exactly what I want to read: "The wristwatch is one of the most vital and expensive staples of modern menswear. Yet this foundation of male fashion is dominated by industry giants who offer a plethora of overpriced, under-featured, and trendy looking timepieces which won't stay with you much longer than that new haircut. Wouldn't it be nice to have an alternative in this over-hyped market?
Mansfield was founded to build sensibly priced timepieces that endure. The Mansfield team has designed a watch collection that is truly stylish, versatile, durable, and backed with a 2 year warranty. Together we can create a new standard of quality and pricing in the marketplace for men's watches." How can you say no to that?
Specifications
• Case Material: 316L Surgical Grade Stainless Steel
• Case Diameter: 45mm
• Display: Scratch Resistant Crystal Mineral Glass
• Movement: Miyota Japanese Quartz Movement with Day & Date
• Water Resistance: 10 ATM / 300 Feet
• Band Diameter: 24mm
• Band Materials : Stainless Steel / Full Grain Leather / Silicone Rubber
• Overall Thickness: 10mm
• Warranty: 2 years
Design
The Mansfield design seems to me like an improved upon MVMT design. The case and color combinations are quite similar, but Mansfield is doing a much better job covering the rugged side of things. The waterproofing is far superior and they seem to listen to their customers/supporters more than MVMT ever did.
I love the date function and the weekday makes it even better. The overall minimalist design tickles my fancy and is the reason that these bad boys will have a home in my watch box for years to come, possibly even in the top drawer. I'm looking forward to seeing the stretch goals that they come up with and jumping on those designs as well. I really like their style, brand, and feeling that they are creating. Oh yeah, and the price is certainly right.
Options
I'm surprised by the number of watch options provided with this first spread of watches…exciting! They're all gorgeous…and I can't wait to get my hands on them.
• 4 dial options
• Black
• Choice between: black leather, black
silicone, or black stainless steel
bracelet
• White
• Choice between: natural leather,
black silicone, or silver stainless steel
bracelet
• Gold edition
• Comes with gold stainless steel
bracelet
• Midnight edition (black with luminescent markers)
• Comes with black 3 ring Zulu strap
*Be sure to visit the Kickstarter for all the videos and pictures of these options!
The Verdict
This is a startup to be thrilled about. I'm very excited and can't wait to be a part of the Mansfield success story. I'm inviting you to join me and all of the other backers in helping a great project go even further in the history books. When I get these watches I'm sure I'll have more to say and a full in depth review just in case you are hesitating. Keep an eye out!
Mark Wisdom Phillips – Contributing Writer
Mark largely collects practical watches, but never hesitates if he can snag a deal good enough to call it an economical decision. He loves taking photos of his collection and participating in the tight knit watch community on Instagram. You can see his photos and follow him here. He is highly opinionated and expects nothing but the best and at the cheapest price possible. In his eyes, a watch needs to have superb and bold design to be worthy of anybody's wrist. To him, organization creates valuable time and so you should expect it from him in his reviews. Wisdom is his middle name and he is here to share it with you. Read his articles here.