In what is most likely the last of Oris' many special edition watches of this year, we see released the Aquis Sun Wukong Limited Edition piece arrive. In Chinese mythology, Sun Wukong is a character from the 16th-century novel Journey to the West. In that particular story, Sun Wukong is a monkey which was born from a stone and was able to achieve supernatural powers such as immortality, morphing powers and the ability to cloud surf by practising Taoism. This Chinese spiritual tradition closely aligns with a lot of Jeff Bridges' "The Dude"'s ways in The Big Lebowski. In Journey to the West, Sun Wukong rebels against heaven and is imprisoned under a mountain by the Buddha. Many centuries passed before he could accompany a monk and two disciples to recover Buddhist texts from the Indian subcontinent (West of China). Sounds like a gripping story, a shame we don't have all day to talk about it.
The dial of the watch is the most unusual part of it, finishes other than sunburst are uncommon for the Aquis, but they are appreciated. The dial of this piece is meant to symbolise the movement of Sun Wukong's spinning staff from the 1961 adaptation Havoc in Heaven. Even the colours of the seconds hand are inspired by it, and they make for an interesting effect. I can't help thinking, though, that trying to explain why the dial is the way it is to your mates while at the pub will result in many glazed expressions.
Still, the 41.5mm stainless steel case means it'll fit quite well, and the downturned lugs will help it attach itself to smaller wrists with ease. It provides 300m of water resistance, as expected for a dive watch these days. It remains a functional and legible piece despite the whimsy added from Eastern culture. The caseback is solid and features a representation of Sun Wukong as he appears in Havoc in Heaven.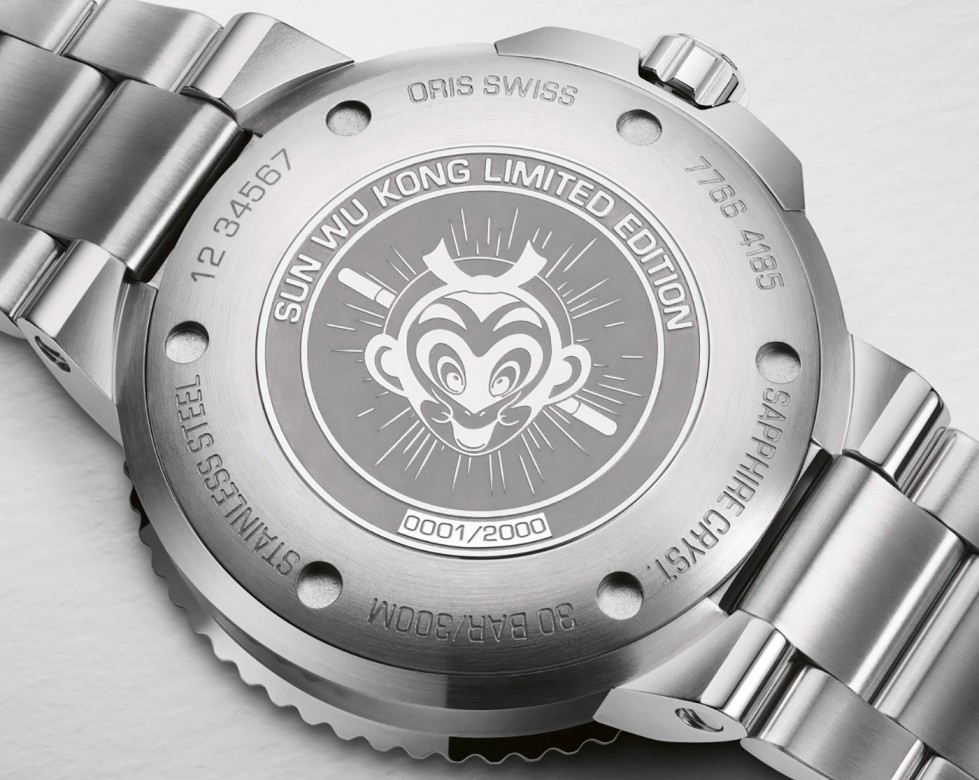 Inside is the automatic Oris 733 calibre, which is based on a Sellita SW200-1. Although it's obscured here, it features a 4Hz beat rate but a modest 38-hours of power reserve and Oris' signature red coating on the rotor.
As with most of Oris' watches, this piece combines flashy touches with some modesty, meaning it's quite comfortable with itself. It's attractive and well proportioned, but it doesn't go out of the way to innovate either. In this case, it doesn't need to, because the story of Sun Wukong will be doing most of the talking.
The price is $2600, and it's limited to 2000 examples.
Visit Oris here.