Every year is the anniversary of something, last year it was the 60th anniversary of Grand Seiko, this year it's 70 years since Panerai invented Luminor, the first lume that does away with any radioactive elements on watches. Believe it or not, that was a huge thing. Radiation was something the general population knew little about. We only found out about the damage radiation does to pretty much all organic matter after taking its toll. The Radium Girls are a classic example. They'd lick the tips of their paintbrushes for a finer point when painting watch dials with radioactive paint, only to discover their employer had effectively poisoned them.
Luminor was patented in 1949, but it didn't come into use until 1951, so Panerai has waited to release a tribute watch. Said tribute watch pays history to not only its glowing past, but also the present. Specifically, it pays tribute to Guillaume Néry, a French freediver who holds multiple sports records. Freediving takes you down to the depths of scuba divers, but you have no equipment fitted. Instead, you hold your breath. Néry's deepest freedive is 139m.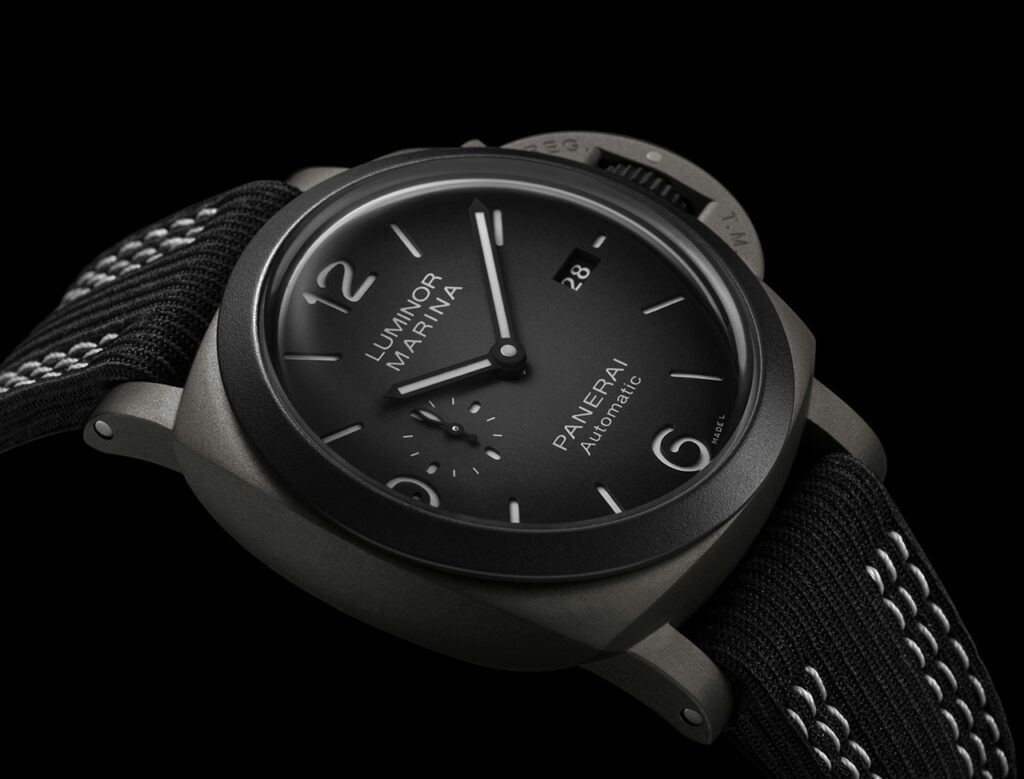 This latest model comes from Panerai's Luminor line, which takes its name from the luminous paint. The watch is 44mm in diameter and 16.2mm thick but will be very lightweight thanks to the case which is made from titanium. This is no ordinary carved-out block of titanium, though, it's been made using a technique called Direct Metal Laser Sintering (DMLS). A very high power laser blasts a specific shape into a container filled with an extremely fine titanium powder. When the laser has finished, the container lowers slightly, and an arm smoothes over the powder so the laser can blast the next layer. The sintering machine continues this until it creates the finished product, think of it as a different form of 3D printing (which is essentially what it is). Each layer is 0.03mm thick, meaning the process takes a long time and is very expensive to do.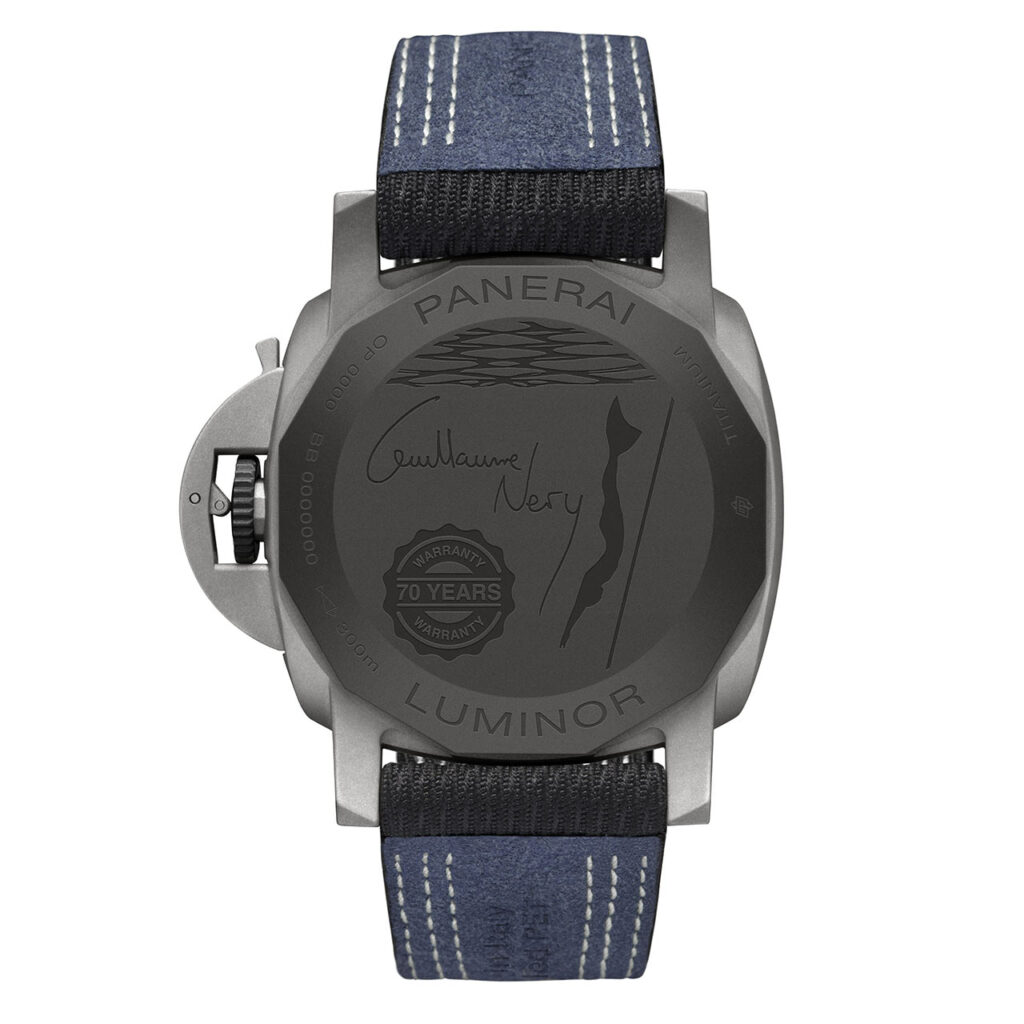 The bezel and crown are made from titanium with a rubber coating, and the caseback is also titanium but with a DLC finish. On the back is an engraving of Néry's silhouette diving beneath the waves with a badge to denote the 70-year warranty this watch has. That's thanks to the calibre P.9010 inside the case. It's automatically wound with a 4Hz beat rate and has a 72-hour power reserve thanks to two mainspring barrels. The balance wheel is supported by a balance bridge for better stability and can be hacked for more accurate time setting. There's also a quickset hours feature, allowing you to set the hours independently if changing timezones or adjusting to a daylight savings time, for example.
That robust movement powers three lumed hands above a dégradè dial (it also powers the date window). The dial is a sandwich dial, which means there's a separate dial plate underneath with lume in between the base dial and the top dial, this is a Panerai hallmark, so it's nice to see it back here. Apart from that, it's business as usual for the Luminor, meaning you get a smart and functional looking watch with no frills but a lot of character.
This watch is limited in production to just 70 examples that can only be bought from Panerai boutiques for $18,900. Happily, it does come with a couple of straps, either a white rubber piece or a black textile strap made almost entirely from recycled plastic, isn't that nice?
Visit Panerai here.