This is the end. The end of everything. Well, the end of the Horological Machine 3 anyway.
MB&F started the HM3 range back in 2008 to 2009, following on from the ever successful HM1 and HM2 and making sure everyone knew that anything to do with weirdly beautiful designs and an innovative way of telling the time signified MB&F.
Ever since then the HM3 has been in production and become one of the most successful pieces due to its design and the fact that you really can wear a piece of art more than once a month. It was designed more to be seen and yet still be of Horological significance. This idea caught on well and since 2008 there have been over 400 HM3 watches made including the special editions. To give you some more interesting figures on the success, if we include case materials then there have been a total of 19 different variations of the HM3.
With this watch MB&F really takes the idea of the bullhead layout to a whole new level, we're used to seeing watches with this configuration (i.e. the crown is located at the top and the case is usually more shield like in shape), even if they don't come along all that often. The HM3 takes a unique look at the bullhead shape by placing the 'hands' of the watch in an unusual place. In fact, they're not even hands at all to be completely honest with you. Instead, they're hand finished spherical shaped aluminium disks that rotate freely underneath the crystal and indicate hours and minutes.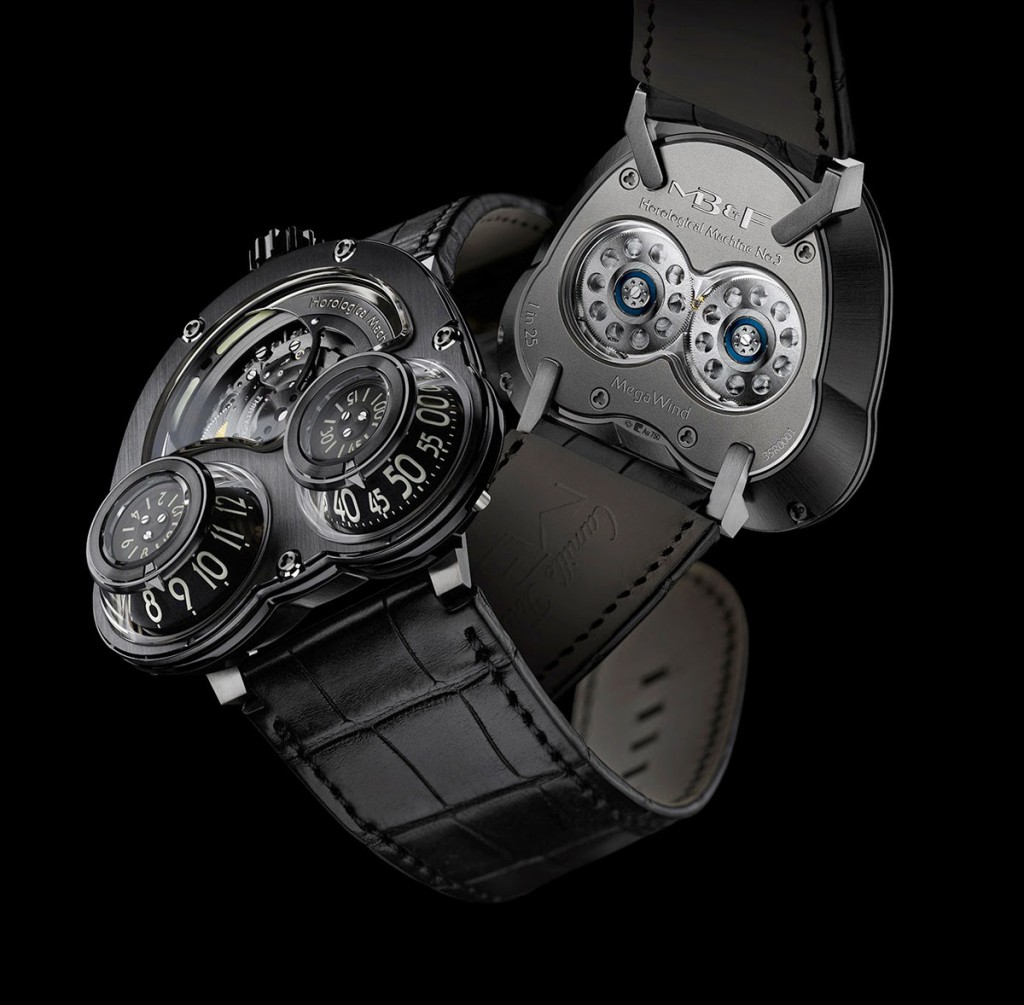 There's also a large semi-circular opening above these two that gives a unique glance at the MB&F calibre and the differently shaped 22k solid gold automatic rotor that you might remember from the Carbonmacrolon watch article I wrote. This watch is like a B2 Spirit bomber plane if it weren't for the time disks.  I say that because this watch is made of 18k gold and titanium that are given a black PVD treatment.
The MegaWind version of this watch came to us in 2013 and brought with it larger time indicators, a smaller window of the movement and a date as well. To help you use this watch in most circumstances, the time indicators are given a unique lume treatment the 'next gen' SuperLuminova which is called GL C3 Grade A. Ensuring clarity, brightness and a longer lasting glow than before. You might notice a part through the movement window which also glows, this is where the date indicator would be if this watch had one.
Each MegaWind Final Edition will set you back by $98,000, there are also only 25 of them being made too. They're all 47mm x 50mm x 17mm too, although we can't really say whether that's a good size for a dressier watch or not as almost all are circular or rectangular. However, this watch is in proportion which really helps it out a lot. We can't wait to see what MB&F will do next. For more info, please visit mbandf.com


Harlan Chapman-Green – Contributing Writer
First introduced to horology with the Patek Philippe Calibre 89 by his father two years ago, Harlan enjoys his passion for fine horology. He prefers to spend his time in the boutiques of upmarket brands, trying out new pieces constantly. His preferred 3 brands are A. Lange & Söhne, Breguet and Vacheron Constantin. Although not much for the smaller brands, he still finds the complications intriguing and wishes to own one watch from each of his three favourites. Read his articles here.