There is a reason why I like atomic clocks because they are the closest thing to perfection in timekeeping. I used to manually adjust the time of my watches including my phones but lately the electronic devices sync automatically with time servers. With this set-up we don't have to keep track of endless adjustments especially for some sensitive meetings where money is to be made, obviously time is money so missing a minute or two is simply unthinkable. Saying the above, I have the same impressions with Seiko's innovative Prospex Radio Sync Solar World Time Chronograph. It syncs time over radio waves.
You know what folks there has been an ongoing weakness in the mechanical timepieces because these watches are really relics of the electronic age. Seiko seems to understand and releasing an excellent non-mechanical timepiece brings a new player to the battlefield to even out the odds. Like it or not, the Prospex Radio Sync Solar World Time Chronograph is very sporty and trendy. It is basically designed with pilots in mind considering the ridiculously accurate time and the specialized chronograph features.
The stainless steel case comes at 47.8 mm, a comfortable size for this grade plus it also sports three variants being stainless steel and bracelet, stainless steel and bracelet with a black hard coating, and stainless steel and calf leather strap. There 4 pushers on both sides of the case which offers balanced aesthetics and provide easy control of the chronograph. The sporty screw-down crown also features easy grip which is kind of Seiko's signature trademarks. We also see beautiful lugs that are most noticeable against the leather strap. The watch also sports a multi-function bezel that is very easy to control.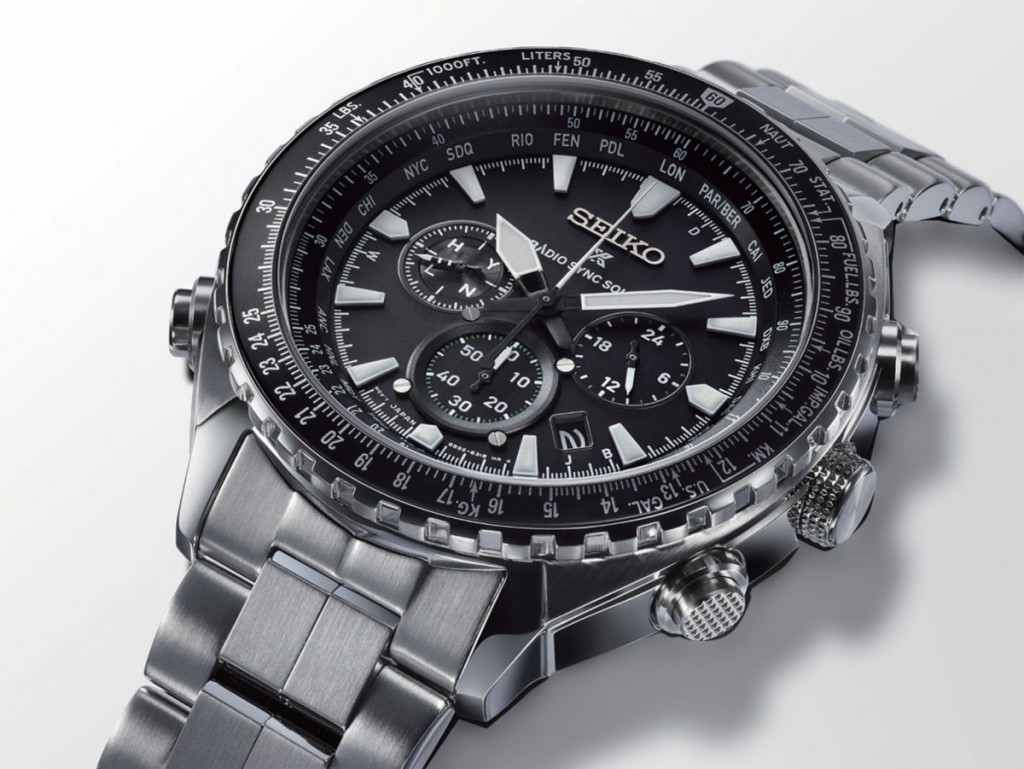 The dial is significantly dark themed which goes perfectly with the robust steel appeal including the black bezel that indicates 25 time zones. If you own a Seiko watch you will immediately notice that this watch follows the same deign principles catering mostly to function complementing this watch as a perfect tool. The sub-dials include the 24 hr indication at 3, the sporty split-seconds chronograph dial at 6, and the stylish aviator's gauge at 9. The date is subtly located at the 4. The awesome hands feature Lumibrite which is perfect for reading at low light conditions. These goodies are protected by a Hardlex crystal with anti-reflective coating for maximum readability.
The insane accuracy of the Prospex Radio Sync Solar World Time Chronograph is attributed to the new solar powered quartz calibre 8B92. Its radio coverage includes Europe, China, USA and Japan ensuring accurate time signals with up to 3 automatic syncs in a day plus manual syncs at anytime. If you happen to not get any radio signals, the watch can still offer up to +/- 15 seconds per month of accuracy, which is impressive to say at least. Besides power saving function, the solar powered self-recharging battery also means that you don't have to change it at all.
Whether you choose the trendy stainless steel bracelet with three-fold clasp with push button release and secure lock or the leather strap, you are assured that your 640 to 730 Euros are well worth it.
For more info, please visit seikowatches.com
JOVAN KRSTEVSKI – FOUNDER, PROPRIETOR & EXECUTIVE EDITOR
Jovan Krstevski has been collecting watches every since his father bought him an Omega Seamaster back when he was just a teenager. He launched Watchgeek back in 2011, which is now known as WristReview and is one of the most widely read watch blogs on the Web. He quotes 'WristReview is a site to help people find, explore, discover and enjoy wristwatches.' Besides WristReview, he also writes for a number of publications. Read his articles here