Georges Kern of IWC took over the lead role at Breiting when they worked on the Navitimer 8 collection. Along with making futuristic watches like their Emergency line or my favourite collection, the Navitimer, Breitling is also known for making vintage re-issue watches of varying faithfulness. This one, not so much. Although there are some notes taken from an old Breitling model, such as the knurled bezel, this one is more amalgamation than actual vintage tribute. My initial thought about the watches, particularly with their soft curves and the grip on the bezel, is that they closely resemble the Samsung Gear S3 smartwatch I reviewed. Let's be fair though, if you know anything of Breitling's Navitimer watches, this looks nothing like them.
Breitling Ref. 768 from the 1940s
Navitimer 8 Automatic
Let's start with the basic one first. It's three-handed, legible and not in-house. The movement inside the 41mm case is the Breitling Caliber 17, which is actually an ETA 2824-2 movement underneath. A fair movement which is robust and reliable, but also a signal that Breitling's newfangled in-house stuff they've been working on isn't ready for full-on production in every model yet. The case is made of stainless steel or black DLC coated steel. It also comes with either a leather strap or a metal bracelet. It's pretty basic but something suitable for wear every day, however, we have no information on pricing at this point.
Navitimer 8 Unitime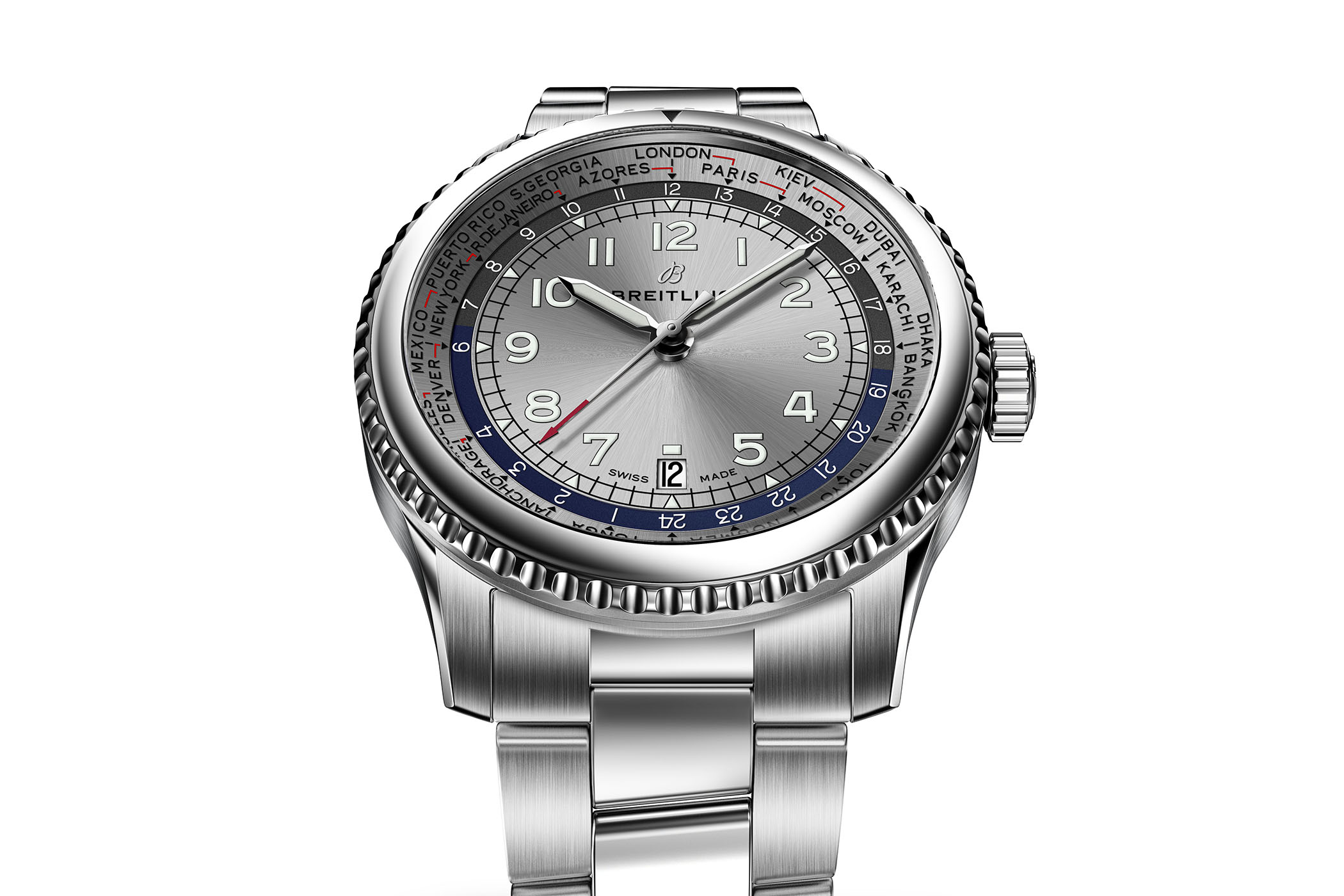 Unitime watches are a real classic piece for Breitling, something they've been doing for over 60 years. Interestingly, this one seems a little more interesting than the other additions to the collection. I enjoy the appearance of world timer watches which don't have a map of some sort on them. Yes, I do appreciate the time and effort going in to accurately representing the planet, but it does make things hard to see. This watch has a more open dial to it, reminding me of one of my favourite world timers, Chopard's L.U.C. Time Traveller One. A case of 43mm means the Unitime collection is modern in size, and, while I know some baulk at the idea of making any watch larger than 40mm, but for me, this one is a better size. Unlike the three-hander, the Calibre B35 is in-house. There is no information on pricing just yet.
Navitimer 8 Chronograph
This watch is a bit of a mystery to me, it's a chronograph movement, as one of the other watches in the series. However, unlike that one, this is not an in-house made movement, it's using a tried and true Valjoux 7750 ébauche instead. While doubling up on complications like a chronograph is uncommon, it isn't so much if one of those watches is a special limited edition piece. What perplexes me, is that as far as I know, neither of these are especially limited edition pieces. You'd have to be 'in-the-know' regarding watches to consider the B01 chronograph over this, considering the price difference (although we don't actually know what the difference is, yet. It is also in a 43mm case, just like the B01, which further confuses the lineup.
Navitimer 8 Day-Date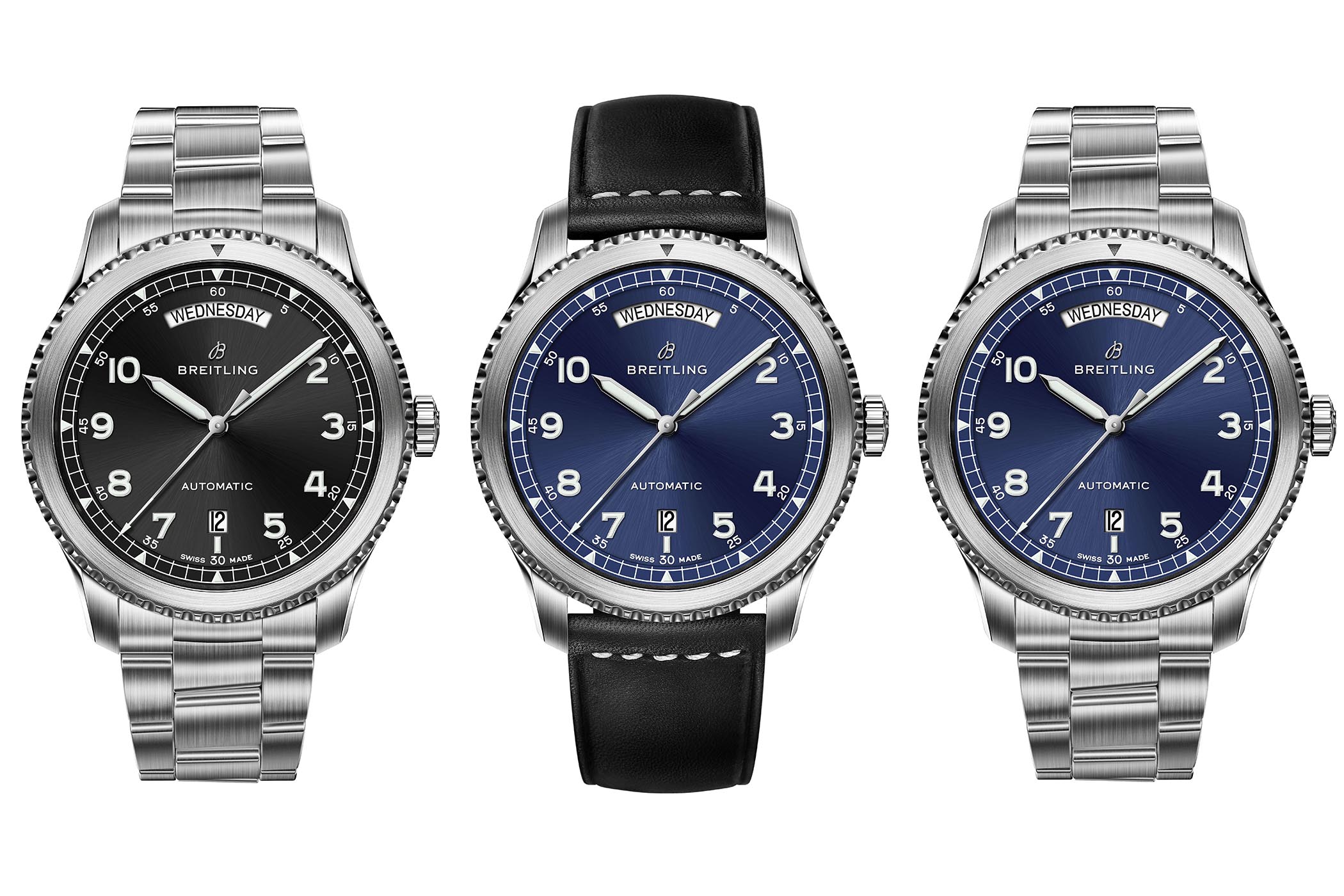 The Navitimer 8 Day-Date model, a classic complication finds itself in this lineup. Breitling has made some good looking watches which use a day-date complication in the past, but in this collection, it looks a little out of place. Especially when you consider the Navitimer 8 Unitime watch, which is easily the most classy and best looking of all the collection. Like the simple three-hander with date, this one is in a 41mm case with, you guessed it, an ETA calibre inside ticking away. Like I'd said earlier, it's not a bad movement, but consider how much these will sell for when we get a price, it will likely be pretty high. As with every watch in the collection, this watch comes with a variety of straps, bracelets, dial colours and even a black PVD coating.
Navitimer 8 B01
Again, this one also uses an in-house made movement, the Calibre B01. So, what I wonder about this is whether Breitling is simply putting an ETA calibre in the other ones for lower prices. Instead, they should really focus on producing their in-house movements serially, as their competitors have done. Still, the B01 watch does a good job of recreating one of their vintages and adding a chronograph in there, too. A complex chronograph, even, it's a column wheel unit with vertical clutch and a COSC certificate no less. Again, like the Unitime watches, the case is 43mm in diameter, a healthy size and one to get the modern audience more interested. On a black leather strap, the watch is quite attractive, what I wonder whether it would be the same if it were on Breitling's trademark bracelet with the 'wonky' bracelet links. I say wonky; they are just at an angle, not poorly built. Price is around 7100 CHF, but subject to change.
This collection is interesting, and a great entrance for Georges Kern, but, I'm not in love with it, personally. I'll stick to the classic Navitimer watches. However, if someone else bought one of these, I'd understand. breitling.com