You may remember some time ago we got to go round the Chopard factories in Geneva and Fleurier, and it was a splendid time had by all. We also got to go hands-on with some of the watches they were to unveil at Baselworld, one of which was the L.U.C XPS Twist watch. Previously in Fairmined rose gold, this new watch still makes use of all the benchmarks the previous Twist model set, and it goes in a different direction with the design this time as well.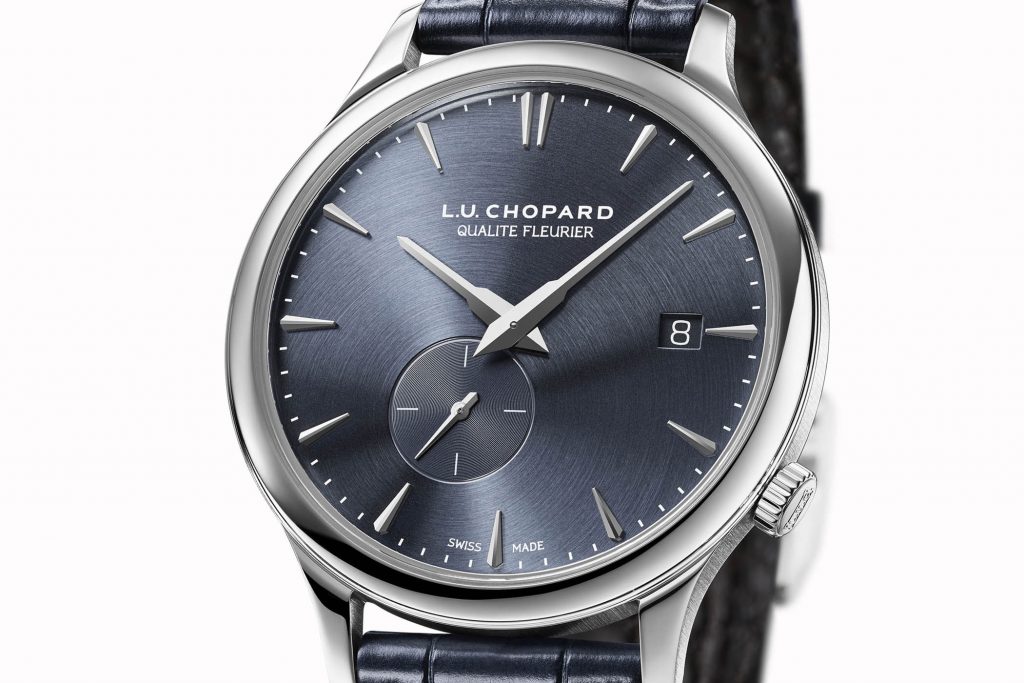 The dial has changed, now there is a circular guilloché pattern emanating from the sub seconds dial which is placed at 7 O'clock. Luckily this watch features Chopard's trademark notched dauphine hands which add in extra complications in the production process for an altogether more exciting look.
The slim and dressy case of the new watch is a reserved 40mm in diameter and is 7.6mm in thickness. For this year, the case is made of white gold instead of rose, but it is still made of Fairmined gold, which is more expensive to purchase but is ethically produced and ensures that everyone involved from the digging of the mine to the refining of the gold gets their fair share of wages. I maintain that while Chopard is leading the way in this, it is something that more in the industry should be doing, as far as I am aware no other watch brand uses Fairmined gold. Further, you may remember that last year Chopard announced it would make all of the gold it uses Fairmined before 2018 finished, that includes watches and jewellery.
As much careful attention to detail in producing the case (fun fact, Chopard smelts its gold in-house much like Rolex does) has also gone into the movement as well. You may remember the previous version had a wall of text on the dial and a logo, while I'm pleased the text has been reduced on this elegant piece, the real key was the logo itself. QF stands for 'Qualité Fleurier', a certificate awarded to watches which pass a super stringent set of criteria, if you'd like to find out more about the QF certification process in detail, click here.
Let's say that this movement is more durable and accurate than your standard COSC chronometer timepiece. As well as being subjected to large shocks, wear and tear of user accessible parts (the crown in this case), the watch has also had its accuracy increased. QF certification demands that a watch runs between 0 and +5 seconds per day, a watch is never allowed to run too slowly. Finally, a specialised machine subjects the watch to movements simulating day to day life, ever wondered how much force a watch is subjected to when simply throwing on a jacket or clapping your hands? It's actually quite a lot, and while this is no sports watch, it's nice to know it's not a delicate flower either.
The in-house calibre L.U.C. 96-26-L in the watch has been given a polish up, and the rotor now has the same design as the other watches with a straight sunburst finish. Two barrels provide the watch with 65 hours of power reserve, and the balance wheel runs at 4Hz. There are also 29 jewels in this one and for convenience a semi-instantaneous date as well. The blue leather strap has been stitched by hand and is made of CITES (Convention on International Trade in Endangered Species of Wild Fauna and Flora) certified alligator leather.
If you want one of these beauties, and I know I do, they are sadly limited to 250 pieces worldwide with a price tag of 19,800 Swiss Francs. Visit Chopard here.