The world of horology is full of surprises. Some might think that there are no good modern-day watches anymore. I think that's largely incorrect. Today's manufacturers have the ability to captivate just as they did fifty years ago if you know where to look. Romain Gauthier is one such place, a small independent watchmaker building watches for the sake of it.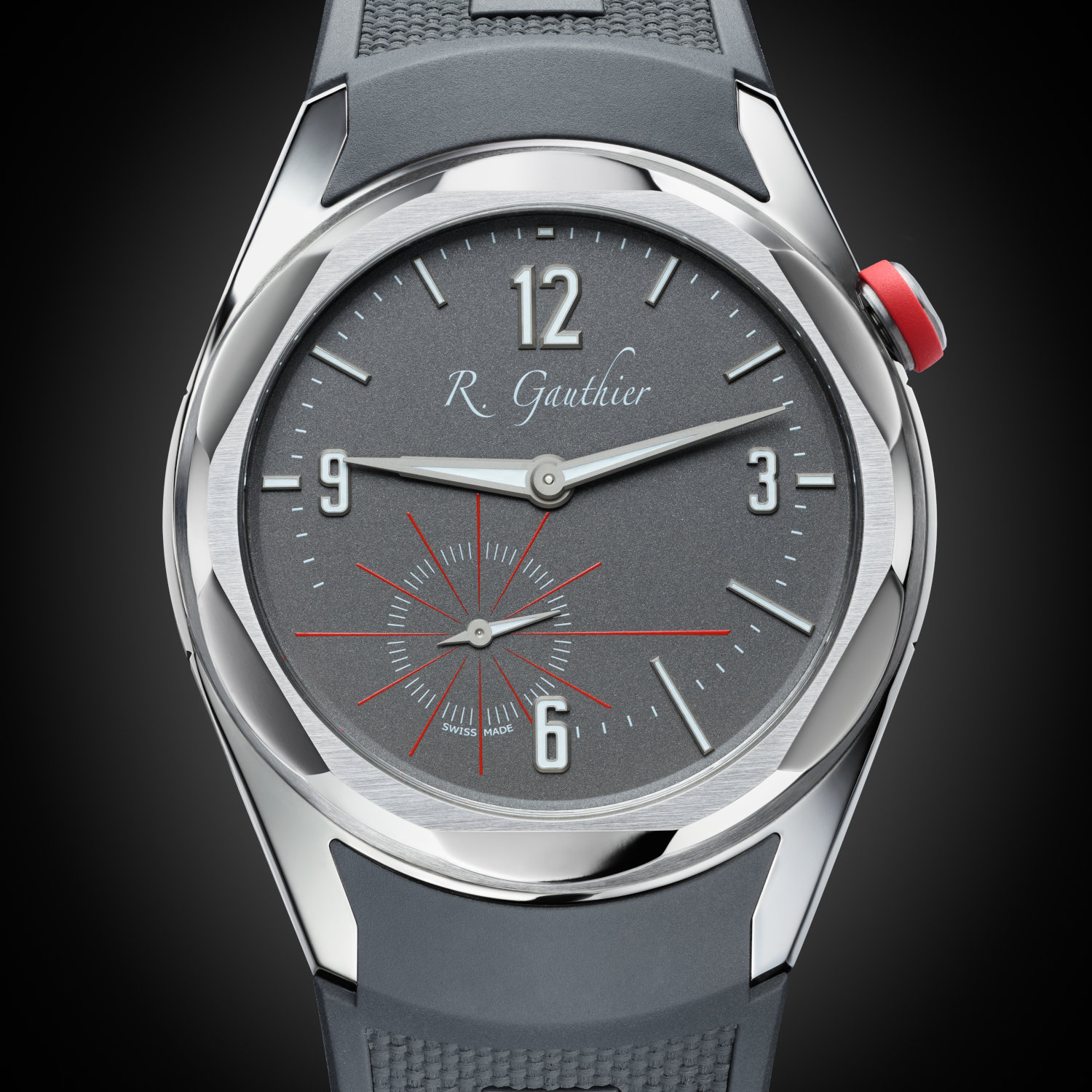 If you've heard of this name and are aware of their watches, you might be a little surprised to see something like this from the brand. The Continuum appears to fall into the category of smart/casual sports watches that I'd place things like the Omega Seamaster Aqua Terra, Breguet Marine and the seemingly eradicable Patek Philippe Nautilus. Even without the sportier touches, I'd still put it in that category. 
One thing that separates the Continuum from the rest is whether or not I like it. I feel I'm pretty decisive and, to be honest, I think my decision is against it. Although it flows nicely, the notched bezel seems to be redundant, and the off-centred dial doesn't sit well with me despite being assembled flawlessly. It appears to be highly legible at a glance, with extended hands, clear markers and touches of lume. The red exploding out from the sub-seconds contrasts nicely with the grainy grey dial while matching the ring around the off-centred crown. For me, off-centred dials don't always work, I don't know how Breguet makes theirs work, but they do. This seems a little too much like it's been squidged at the top for no real reason, especially when the crown is up there too.
The crown connects to an in-house made movement. I mean, look at it, did you expect it to be anything but in-house? The highly decorative wheels with their unique spokes, which, I think, look like the wheels of an Alfa Romeo, look marvellous here. There's plenty of hand-applied finishing, polishing and graining (although the polished anglage that tops Romain Gauthier movements is missing here). From the press photos, I'd expect there to be an impressive level of depth to this, but alas, I cannot see it in person. Even the tops of the screws are unique and add a layer of charm.
That doesn't stop it from being practical, though. The balance wheel, highly finished and with unique spokes, is free-sprung so that it can better deal with shocks. It has a 4Hz beat rate, is hand-wound and has a power reserve of 60-hours, so it's ready to take on modern life.
Being a maker of high-end watches, Romain Gauthier doesn't tend to use the same materials as the watch brands we regularly cover here, so when it says its watches are made of titanium, you know something special is happening. To aid that, the case is made of titanium. The case measures 41mm x 9.55mm and is water-resistant to 50 meters.
You won't be seeing it swimming around in your local pool anytime soon. However, it's limited by Romain Gauthier's generally low production rates. Also, they've capped the number they make to 28. It is more affordable than most Romain Gauthier watches tend to be, though. While we'd be hard-pressed to say that CHF37,000 (before tax) is a bargain, it gets you a lot more than a certain aquatically-themed watch would on the pre-owned market.
Visit Romain Gauthier here.